Nissan Frontier
Model Overview
New Nissan Frontier

Used Nissan Frontier
Nissan Frontier Questions
My 2007 Nissan Frontier Wont Start. Changed Battery , Engine Turns So What ...
drove truck to store. few minutes later, get in truck engine turns over and i'm reversing out of park space and truck dies. towed home and changed with new battery. now truck wont start.
2002 Nissan Frontier Obd2 Will Not Communicate With Pcm
I have a 2002 nissan frontier 3.3L 2wd the truck has been sitting for 3yrs plus and the OBD2 has power but will not connect to the pcm so I cant read the codes. My question is im assuming I will nee...
Shifter Automatic Transmission
My son just bought an 08 Nissan frontier he was going to pick up a friend for work went to turn around and seems that it is stuck in neutral told him to pull the console up and shift the truck he ...
How Inable The Anti Theft System
I knocked off the Anti Theft system device and now the car won't start.
Where Is Fuse For 2011 Nissan Frontier Power Windows
Older Nissan Frontier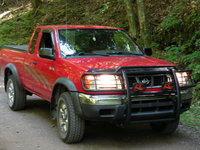 1998 Nissan Frontier reviews:
Nissan Frontier
Overview
The Nissan Frontier started life as a compact pickup truck, but it's now closer to a mid-sized truck. It replaced the uncreatively named Nissan Hardbody Truck.
The Frontier is the latest in a long, distinguished line of Nissan mid-sized trucks. Nissan gets credit for many pick-up truck innovations, including the extended cab.
Nissan was the first automaker in the U.S. to offer a compact truck (the Frontier's predecessor), with Toyota following close behind. The Frontier was the first compact truck in the U.S. to offer a four-door crew-cab style as well.
The Frontier's latest redesign was for the 2005 model year, which is when it was reclassified as a mid-sized truck. It now has 265 horsepower and 284 lb-ft of torque, which makes its engine the strongest in its class. It shares many characteristics with its big brother the Titan. With its boxed frame and front grille styling, they are easily confused from a distance.