Nissan Frontier
Model Overview
New Nissan Frontier
Used Nissan Frontier
Nissan Frontier Questions
Engine Won't Start ...clutch Safety Switch Involved /manual Transmission
Beware....If your truck has a manual transmission and truck won't start. There is a good chance its not a dead battery. The first thing to check is the cheap plastic nipples on the clutch pedal post...
PREWIRED OFR FOG LIGHTS
IS MY 2012 NISSAN FRONTIER SV WITH A PLASTIC BUMPER PREWIRED FOR FOG LIGHT INSTALIATION/
3.3 Nissan 2001 Scan Tool 60.35 Degrees Advanced
2001 Nissan 3.3 no spark scan tool reads 60.35 degrees advanced new distributor timing belt crankshaft sensor temperature sending unit now intake air sensor reading 163 degrees
What Do The ECM LOOK LIKE ON W99 NISSAN FRONTIER 3.3 V6 4 WD.
What do the ECM LOOK like on 99 Nissan Frontier 3.3 v6 4 WD
Radio
How to add the title and artist to the main screen on my 2019 Nissan Frontier
Older Nissan Frontier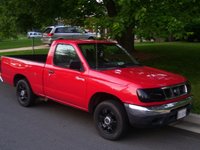 1999 Nissan Frontier reviews: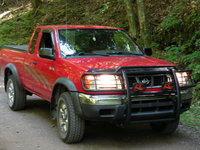 1998 Nissan Frontier reviews:
Nissan Frontier
Overview
The Nissan Frontier started life as a compact pickup truck, but it's now closer to a mid-sized truck. It replaced the uncreatively named Nissan Hardbody Truck.
The Frontier is the latest in a long, distinguished line of Nissan mid-sized trucks. Nissan gets credit for many pick-up truck innovations, including the extended cab.
Nissan was the first automaker in the U.S. to offer a compact truck (the Frontier's predecessor), with Toyota following close behind. The Frontier was the first compact truck in the U.S. to offer a four-door crew-cab style as well.
The Frontier's latest redesign was for the 2005 model year, which is when it was reclassified as a mid-sized truck. It now has 265 horsepower and 284 lb-ft of torque, which makes its engine the strongest in its class. It shares many characteristics with its big brother the Titan. With its boxed frame and front grille styling, they are easily confused from a distance.
Great deals from top-rated dealersTM
Search