Nissan Frontier
Model Overview
New Nissan Frontier

The 2021 Nissan Frontier has been announced, but it is not yet available for purchase.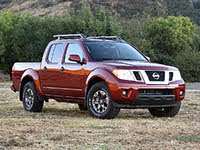 Used Nissan Frontier
Nissan Frontier Questions
What Does It Cost To List A Vehicle On CarGurus?
RPM Dropping And Jumping While In Gear While Stopped
RPM dropping and jumping while in gear while stopped. Hasn't died or throw a code. Runs fine in park and neutral.
How Do I Fix No Crank No Start?
2.4L 4cyl manual Nissan wont crank and wont start. Ran fine and the next day it stopped working. When I turn the key power comes on and everything works fine UNTIL I try to start it. When clutch...
Reset Check Engine Light After Service
How do I reset the check engine light now that I have completed the service.
Wont Shift Out Of 4wd Lo
needed 4wd lo and when i got to pavement, now it wont shift out of it. the 4wd light blinks like its trying to shift out, but won't actually do it. now i can't drive it on pavement... is there a quick...
Nissan Frontier
Overview
The Nissan Frontier started life as a compact pickup truck, but it's now closer to a mid-sized truck. It replaced the uncreatively named Nissan Hardbody Truck.
The Frontier is the latest in a long, distinguished line of Nissan mid-sized trucks. Nissan gets credit for many pick-up truck innovations, including the extended cab.
Nissan was the first automaker in the U.S. to offer a compact truck (the Frontier's predecessor), with Toyota following close behind. The Frontier was the first compact truck in the U.S. to offer a four-door crew-cab style as well.
The Frontier's latest redesign was for the 2005 model year, which is when it was reclassified as a mid-sized truck. It now has 265 horsepower and 284 lb-ft of torque, which makes its engine the strongest in its class. It shares many characteristics with its big brother the Titan. With its boxed frame and front grille styling, they are easily confused from a distance.
Find great deals from top-rated dealersTM
Search