Nissan Frontier
Model Overview
New Nissan Frontier
Used Nissan Frontier
Nissan Frontier Questions
Starter Solenoid
I have a 2003 Frontier Crew Cab w/ supercharger. Just replaced battery, battery terminals and starter. When I went to reattach battery cables I got a small spark at the post and there was power to th...
Nissan Transmission Or Clutch
2000 Frontier Will Not Start, Clutch Issue?
Drove truck to gas station and when I left, turned the key and nothing happened. Thought floor mat might have gotten behind clutch but that was not the problem. I was parked on an incline, so got t...
Hi Why I Can't Add My Vin Number?
I try to add my vin but it keep saying there is another listing under that vin number?
Which Rear Wheel Pulls On My 2002 Nissan Frontier Rwd
Wanting to make a sand bag to put over rear wheel that pulls for up coming winter driving.
Older Nissan Frontier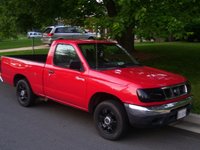 1999 Nissan Frontier reviews: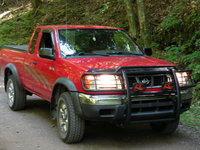 1998 Nissan Frontier reviews:
Nissan Frontier
Overview
The Nissan Frontier started life as a compact pickup truck, but it's now closer to a mid-sized truck. It replaced the uncreatively named Nissan Hardbody Truck.
The Frontier is the latest in a long, distinguished line of Nissan mid-sized trucks. Nissan gets credit for many pick-up truck innovations, including the extended cab.
Nissan was the first automaker in the U.S. to offer a compact truck (the Frontier's predecessor), with Toyota following close behind. The Frontier was the first compact truck in the U.S. to offer a four-door crew-cab style as well.
The Frontier's latest redesign was for the 2005 model year, which is when it was reclassified as a mid-sized truck. It now has 265 horsepower and 284 lb-ft of torque, which makes its engine the strongest in its class. It shares many characteristics with its big brother the Titan. With its boxed frame and front grille styling, they are easily confused from a distance.
Find great deals from top-rated dealersTM
Search