Hyundai Sonata
Model Overview
About the Hyundai Sonata
Available Now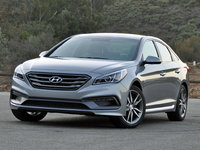 For drivers with fine taste and a dainty budget, the Sonata has long been the choice for affordable luxury. Year over year, even the baseline trims welcome riders and drivers with all the comforts and conveniences of a five-star hotel on wheels, but at the same price as "just a car." This year Hyundai has raised the bar on performance and handling, again aiming for that extra unexpected mile in more than just appearance.
The 2011 Sonata trims stay true to that spirit with a wow-inspiring GLS, slick SE, and totally unlimited Limited. And keep your eyes peeled for the much-acclaimed Hybrid Sonata, expected in late 2010.
Standard features across the board include iPod, satellite radio, and Bluetooth connectivity with steering-wheel-mounted audio controls, Volvo-borrowed climate control, remote keyless entry, and even heated power mirrors. Beyond intuitive, the spacious 2011 Sonata has just the right spots to put those things otherwise kicked around on the floorboard and invites you to simply sit back and enjoy the ride.
The engine is a totally new and surprisingly efficient 2.4-liter inline four-cylinder (I4) producing 198 hp and 184 lb-ft torque, and it gets 23/35 mpg. Despite those numbers, this Sonata is one peppy four-banger straight off the line, streaking down the quarter mile in just 15.8 seconds - a mere 3 seconds longer than that stretch of pavement's hottest trotters.
Disappointingly the SE bumps up the hp and torque numbers only a hair - 2 each, to be precise - but not all the new Sonata SE's superpowers reside directly under the hood. The sport suspension and steering with dual exhaust and larger tires on 18-inch alloy rims provide improved control and power over the GLS and Limited, but reviews indicate even the SE's handling is still a bit sluggish at high speeds. Of course, what would be a sport edition without sporty style perks - the SE boasts a touch of chrome on the outside and a bit of leather for your steering wheel and tranny knob on the inside.
Last but certainly most, the Limited goes the distance with trimmings like a full leather interior, heated front seats, HD stereo with 6-CD changer, power sunroof, mirror-mounted turn signals and 17-inch alloy rims.
Although none of the trims offer a V6 option, the SE and Limited can be upgraded to a 274-hp turbocharged 2.0-liter I4 engine, but only with a six-speed automatic. The GLS comes manual with the automatic as an option.
Other 2011 Sonata drivers call it a real head-turner, but not so great as a wheel-turner - handling is the biggest complaint due to over-steering. Some drivers feel the transmission is periodically sluggish and sometimes defective, but that seems to come from the early release Sonata, manufactured before July 2, 2010.
Model History
Since its inception in 1985, the Sonata has consistently raised the bar on how much four-banger you should get for your buck. Its historically jaw-dropping style and creature comforts more than make up for what it may lack in the opinion of Mario Andretti or Dale Earnhardt, having won design awards in both Australia and Japan. Although performance never was very high on Hyundai's priority list for this model, Consumer Reports called it one of the most trouble-free cars.
This is a model tailor-made for the tortoise -- comfortable, beautiful, intelligent, and built to go the distance at a pace that allows its perks to be fully appreciated.
The Sonata was born in 1985 exclusively for the South Korean market. With a body based on the Hyundai Stellar and an engine by Mitsubishi, it was little more than Hyundai's first step toward engineering its own technology.
The U.S. market first laid eyes on a Sonata in 1988, when it finally met emissions standards, although the model was already a year old to South Koreans. Sporting a Galant platform and engine, the 1989 Sonata was still primarily Mitsubishi-engineered, but it successfully replaced the Stellar as Hyundai's large family car in South Korea and North America. Total sales were over 250,000, but that wouldn't last long -- they gradually dipped below 100,000 by 1998.
This version was manufactured in Canada and South Korea until 1994, getting a GLS trim with a 3.0-liter V6 engine that put out 146 hp for 1991 and a facelift for 1992 with a 2.4-liter I4 producing 110 hp for the GL. Before the facelift, the GL had a 2.0-liter I4 engine producing 131 hp - arguably the better engine. The 1994 release saw a significantly improved style strikingly similar to the Mazda 626 of the time, with a 2.0-liter 126-hp I4 engine. A 3.0-liter, 142-hp V6 was available in some markets.
Hyundai stopped production at its Quebec plant in late 1993, leaving Sonata production entirely up to South Korea until 2005. Sales were too low in North America to warrant keeping it open with poor quality plaguing their reputation. Although the Quebec plant had the capacity to produce 100,000 Sonatas, the peak demand was just over 28,000 in 1991 -- and other years were lucky to reach half that.
The next Sonata, also called a Sonata 2 in South Korea or the Sonica in Italy, began production in 1994 with basically the same engine line-up, but much-improved style. The 1995 model, also known as the Sonata 3 in South Korea, was born to be a true luxury-brand competitor, borrowing Jaguar and Mercedes-Benz style for the front and rear ends, and setting the Sonata standard on elbow room for the next 11 years.
Under new management, Hyundai struck gold with the 1999 Sonata - and dug out a few nuggets for its drivers. This is the model that started the EF series and the Sonata legacy we know and love today, stuffed with all the trimmings of a luxury car for a lot less than the typical arm and leg. The engines were at long last Hyundai-engineered, including 1.8-liter, 2.0-liter, and 2.4-liter engines producing up to 138 hp, and a 2.5-liter V6 throwing out an impressive 159 hp. Unfortunately the V6's automatic transmission had a defect in the speed sensors, but sales volume picked up massively thanks to the improved quality and special 10-year warranty.
The 2002 facelift kept the 2.4-liter, 149-hp I4 and upgraded the V6 an entire 3 hp, but the body style was vastly improved - so much so that Kia borrowed bits for its Optima, and the platform was also shared by the Hyundai Santa Fe. Sales were over 300,000 units in 2001 and 400,000 for 2003, implying Hyundai was smart to keep the Sonata essentially unchanged from '99 to '05 - and then they got daring.
Hyundai launched a major expansion and the NF series in 2005, opening assembly in the U.S., India, Turkey, Egypt, Thailand, Russia, and Sudan. The Montgomery, Alabama, plant was built to handle five times the volume of its Quebec predecessor, and it is kept pretty close to capacity with the latest models. The 2010 Sonata is poised to become the first Korean car to become a top-10 bestseller in the U.S. However, of the fourth-generation Sonatas, the 2006 through 2008 models are most popular by far.
Inspired by the 2005 Audi A6, this Sonata was noticeably roomier with a modernized suspension that dramatically improved control, ride, and handling. Until this version the Sonata trim line-up included a GL, GLS, and LX, but that changed to GLS, SE, and Limited for this generation. Available engines included the first Theta, a 162-hp, 2.4-liter all-aluminum I4, and a beastly 3.3-liter, 234-hp V6. The 2009 facelift improved the exterior and dash styling, plus a few nifty gadgets like satellite radio, Bluetooth, and iPod connectivity got stuffed into the mix. In fact, the only significant change from the 2009 to the 2011 model - aside from the slightly improved engines and exclusion of a V6 - is that the GLS and SE trims now include formerly Limited features standard.
Used Versions
The favorites for a used Sonata, by far, are the fourth-generation models between 2006 and 2009. This is a new-to-you car with a sense of pride, sporting competitive fuel-efficient engines, more room than you can shake an elbow at, handy gadgets, luxurious style, and best-in-class reliability. Two independent tests found zero defects after one year and 40,000 miles, and Consumer Reports called this generation one of the most trouble-free cars of the time.
At the start line, three trim levels were offered; GL, GLS and LX. The second year saw a shuffling of the trim levels to the current format, including SE and Limited outfits. Initially, the 2.4-liter four-cylinder produced 162 hp and was standard in the GL and GLS trims. A five-speed manual was standard (GL only for 2006) and a four-speed automatic was optional with this engine.
Optional in the GLS and standard in the LX, SE and Limited was a 235-hp version of the 3.3-liter V6, matched to a five-speed automatic transmission. For 2008, the four-cylinder 26/38 mpg engine became standard in all trim levels, and the 23/35 mpg V6 engine became optional. That year also saw a few more standard features added to the SE and Limited trims, such as satellite radio, Bluetooth, and iPod connectivity.
The most notable changes are in the 2009 model - engine outputs were increased to 175 hp for the I4 and 249 hp for the V6, and the interior was spiffed up with a new dash and higher-quality materials. There were also two prominent additions to the features lists - a standard auxiliary audio jack and an optional touchscreen navigation system.
Up to the 2008 model, the cabin had respectable build and materials quality along with a precise feel to the controls, but it wasn't quite what you might call "lush," and the dash controls were oddly arranged - the audio controls were placed too high and climate controls too low. Beyond that, the spacious cabin remained unchanged, and although the exterior had a few nips here and tucks there, you will be hard-pressed to tell the difference between Sonatas of this generation.
The Sonata typically prioritizes ride comfort over precise handling, and the fourth generation is no exception. It smothered bumps well and delivered a luscious highway ride, but with its significant body roll and loose steering, it wasn't particularly fun to drive. Power from the efficient four-cylinder engine was competitive, and although the V6 wasn't quite as potent as those in rival sedans, it still got the job done while returning good fuel economy. Inside, soft, high-quality plastics were plentiful, and the overall design was eye-pleasing.
Pre-2006 Sonatas remain a risky used-car proposition even though they are exceptionally affordable after depreciation. Just remember, you get what you pay for -- only in recent years have we seen the kind of build quality and structural integrity which can promise long-term durability.
Nevertheless, the previous (third) generation Hyundai Sonata was originally introduced for 1999 with a vastly improved appearance, far better engines and significant improvements made in noise and ride quality versus its lamentable predecessors. The base car featured a 138-hp, 2.4-liter four-cylinder, and the GLS had a 159-hp, 2.5-liter V6. These numbers may be different from what you might find elsewhere - Hyundai misstated its horsepower ratings prior to 2002, and 11 of their horses had wings and a horn. Even still, if you have to buy something older than a 2006, the '99 and its third-generation brothers are the way to go.
The second-generation Sonata was introduced for 1995 and offered improved fit and finish compared to its predecessor, but that's not saying much. It now had dual airbags, but no more power under the hood. For instance, the V6 only produced 5 more horses than the four-cylinder. For 1997, the Sonata was restyled dramatically, but not necessarily for the better. You should probably avoid this and older generations - fuel economy and power are far from comparable to modern cars, and Sonata quality before new management took over in '99 was laughable.
In short, if it's at least a '99 or built in Alabama, you have a golden Sonata. Known issues include frequent brake service, broken sun visors, faulty windshield washer pumps and a slow-shifting automatic transmission. If the bumps in the road put an extra knock in your suspension, the faulty strut-mount bushings can be retrofitted with a modern fix to correct that knock. Even still, you shouldn't expect many issues, especially if the known bugs were already gassed out by the previous owner.
New Hyundai Sonata


Used Hyundai Sonata