About the Ford Edge
Available Now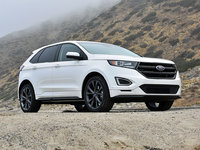 Ford put its blue oval stamp firmly on the crossover market segment with the launch of the Edge crossover vehicle in 2007. Originally marketed as a hip, youth-oriented alternative to larger SUVs as well as more sedate sedans, the Edge debuted with a sleek, low-to-the-road silhouette and sat on a midsize platform, which helped distinguish it from larger, boxier stablemates like the Explorer and Expedition. It also delivered a perfect storm of performance, cargo space, safety features, and styling pizzaz many buyers found lacking in the market at the time.
The Edge sits on Ford's global CD3 platform, which it shares with such vehicles as the Ford Fusion and the Mercury Milan, as well as the Mazda6 and the Mazda CX-9, since the platform grew out of Ford's partnership with Japanese automaker Mazda. In addition, Ford sells a rebadged version of the Edge as the Lincoln MKX. Both the Edge and the MKX are built in Ford's plant in Oakville, Ontario, Canada.
Buzz built quickly for the Edge when it launched, and it received a number of early awards, including a Top Safety Pick designation from the IIHS. In addition, AAA and Parents Magazine tapped the Edge as one of the Best Cars for Families in 2007, and the Edge was a finalist for the North American Car and Truck of the Year award in '07.
For 2011, Ford gives the five-passenger Edge its first major design refresh since its debut. Outside, the automaker rounded off some of the Edge's sharper edges, introduced three new powerplants, and added a number of new features, including the MyFord Touch driver-connect system. Ford offers the Edge in SE, SEL, Limited, and Sport trims, with either front-wheel drive or available all-wheel drive for all but the entry-level SE trim.
A new 285-hp, 3.5-liter V6 engine powers the Edge SE, SEL, and Limited trims, while the Sport comes equipped with a new 3.5-hp, 3.7-liter V6. The smaller V6 posts fuel economy numbers of 19/27 mpg, while the larger V6 manages numbers of 18/25. Later in the 2011 model year, Ford will offer a new fuel-efficient, 2.0-liter EcoBoost four-cylinder, which reportedly will improve fuel economy by 30 percent, when compared to the Edge's original V6 from 2006, according to the automaker.
Perhaps due to its stand-out-from-the-crowd exterior design as well as its comfortable interior and solid performance, the Edge garnered plenty of attention and accompanying accolades when it debuted. However, in the years since, the crossover market segment has become increasingly competitive, and most reviewers agree the 2011 refresh was greatly needed to help the Edge maintain its, well, edge.
With the freshened Edge just rolling into showrooms, prospective buyers shouldn't expect a new, second generation for at least a couple years. Some observers are pinpointing 2014 as a likely date for a next major overhaul. However, Ford has become a master of extending its automotive lines and continually bringing something new to the table, so buyers can expect to see new tech features and possible new trim levels for the Edge in the coming years.
Model History
Ford unveiled its new Edge crossover vehicle at the 2006 North American International Auto Show in Detroit, and began production in October of '06 for the 2007 model year. The Edge was the first Ford vehicle to carry the distinctive three-bar chrome grille, which since has become a trademark of the automaker's vehicles. From the beginning, the Edge turned heads with its sleek, aerodynamic lines, tapered roof, and low, sporty stance, and represented a stylish compromise between large SUVs and less-functional sedans. While the Edge didn't offer a third-row seat, like some of its competitors, it still delivered a versatile and unique ride for buyers seeking something a little different.
Initially the Edge came in SE, SEL, and SEL Plus trims. The SE came standard with such features as air conditioning, a four-speaker audio system with CD, and 17-inch wheels, while the SEL added a power driver's seat, a leather-wrapped steering wheel, a CD changer, and foglights, among other features. The SEL Plus topped off the lineup with leather upholstery, dual automatic climate control, heated front seats, and a power passenger seat. Power came from a single 265-hp, 3.5-liter, DOHC Durated 35 V6 engine, which managed fuel economy numbers of 18/25 for front-wheel-drive trims.
Most testers and owners liked the Edge's exterior styling but found the interior unexciting. Still, owners and reviewers liked the cabin's telescoping steering wheel, well-organized controls, and large cargo space, which offered 32 cubic feet with the backseat up and in place. With the backseat down, cargo space expanded to about 70 cubic feet.
Despite all the accolades, owners and reviewers did find a few faults with the Edge. Although it sat at a lower height than typical SUVs, it still exhibited a significant amount of body lean in tight corners. Some found the rear liftgate handle cumbersome to use, although this was rectified by the second year of production. In addition, testers found the brakes mushy and complained of overly long stopping distances.
Aside from the issue with the brakes, the Edge came equipped with all the latest safety gear, including side-curtain airbags, electronic stability control, traction control, and antilock brakes. The NHTSA gave the Edge a top rating of five stars for protecting passengers in front and side impacts, and four stars for rollover protection.
In 2008, Ford gave the SEL Plus trim a new name, calling it the Limited, and added a new Sport trim, which debuted at the Chicago Auto Show. The Sport came equipped with such features as upgraded leather upholstery with Alcantara suede inserts, a premium audio system with a 6-CD changer, the Ford Sync communications system, and 20-inch aluminum wheels.
After a big bounce out of the gate and a stellar second year in production (2007), the Edge began to show its age in a fast-moving and highly competitive market segment. By 2009, sales were tapering off, making the mid-generation makeover a critical one.
Ford unveiled the new-look Edge at the Chicago Auto Show in February 2010, and received largely positive reactions from reviewers. The more rounded exterior lines were a welcome break from the more rigid lines of the original version, but reviewers were even more impressed with the Edge's new interior, which featured higher-quality materials and a more elegant design. By most accounts, Ford had succeeded in making the Edge competitive again and reclaiming some of the crossover vehicle's original buzz.
Used Versions
A quick glance at the Edge's sales numbers reveals that 2007 was the most successful year for the still relatively new crossover vehicle, with more than 130,000 units sold, compared with only about 2,200 in 2006, about 110,800 in 2008, and about 88,500 in 2009. Therefore, prospective buyers will more than likely come across more 2007 trims than any other, and it's a good place to begin a search for a used Edge. First-year problems with the rear liftgate handle were resolved by 2007, and Ford added the Sport trim for the second year, giving prospective buyers a wider range of trim options.
Buyers should also take a look at the 2009 and '10 model years, when sales tapered off in anticipation of the mid-generation refresh in 2011. Since they were built at the tail end of the production cycle, '10 trims might make good options for buyers. Otherwise, buyers will find few differences between the Edge's early model years.
New Ford Edge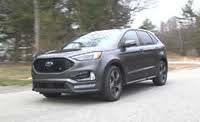 Used Ford Edge
Ford Edge Questions
Rear Suspension
At 34K miles should I replace Rear anti roll bars. Get excessive side to side roll type movement on uneven roads?
Sync 3 USB Not Working
I have a 2019 Ford Edge ST with Sync 3 Infotainment system, when I started the car after going to a resteraunt, I tried plugging in my phone to charge it and to get gps with Android Auto. It did n...
Unfortunately, We Cannot List These Vehicles On Behalf Of Your Business Fro...
My listings are not being posted because I am being accused of being a dealer. I am not a dealer. That's ridiculous. How did you come up with that? support is not replying either. This is soooo...
CPO
What does CPO mean on a listing
Find great deals from top-rated dealersTM
Search