Kia Sorento
Model Overview
New Kia Sorento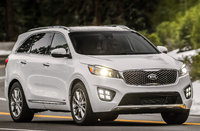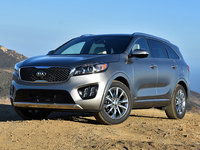 Used Kia Sorento
Kia Sorento Questions
I Have A Kia Sorento And The Back Driver Side Will Not Open From The Outsid...
2003 Kia Sorento Won't Start
My 2003 kia sorento wont start. I replaced the camshaft pos sensor and the crank sensor. Everything is on the timing marks. It will turn crank but wont fire. Is there something else i could be mis...
Interior Lights,tail Lights And Gauges Light Turn Off When I Open My Door
So when i turn on my car all the lights in the subject turn on but when i open my car door to get out suddenly all of them turn off, so to turn them back on i have to turn off the whole car, and st...
Ran Over A Deer
What does this look like? Haven't been able to figure it out? Wanna know before taking it to the shop.
Can You Tell Me What May Be Wrong With My Car
2003 kia sorento 3.5L v6..was driving my car it started running rough pulled into a parking area it was trying to die. I heard a noise like tapp/knocking..i turned it off, tried to start, didnt want...
Kia Sorento
Overview
Korea is a long way from Italy, but somehow the two names, Kia and Sorento, go together quite well. The Sorento entered the market in 2003 as Kia's compact SUV, available in either rear-wheel or four-wheel drive. Its sturdy truck platform and low-range gearing has made it a solid performer both on and off roads, and it is one of Kia's best-selling vehicles to date.
It has always been available in either LX or more luxurious EX trims. Until 2007, it was equipped with a somewhat sluggish 3.5-liter, 192-hp V6 engine matched with either a 5-speed manual or automatic. In 2007, it got a much needed boost to a 3.8-liter, 262-hp V6, but only came with a 5-speed automatic with sequential shift. Sitting on 16-inch wheels (or optional 17-inch with a sport package that also adds on a rear spoiler, fog lights, and running boards), the Kia Sorento only offers two rows of seats for up to five people, unlike some competitors of equal size that offer a third row option. The 60/40 seats do flip and fold, expanding cargo space to 66.4 cubic inches.
The LX is nicely equipped with power features, keyless entry, MP3 player and other conveniences, and the EX adds on more upscale items such as leather seats, roof rails, a sunroof, and heated mirrors. The Sorento was always well equipped with airbags, traction control, and stability control, and finally made ABS standard with its 2007 models. In 2007, in addition to the part-time 4WD, a new Torque-on-Demand option for the EX was added, for improved off-road capability. It has been rated number one in customer satisfaction for its four-wheel drive performance according to J.D Powers.

The Sorento offers a lot of features for its relatively low price tag, and now with a new engine, its performance, towing capability, and road handling are much more in line with comparable SUVs. For 2009, the Sorento will likely go through another makeover, transforming into a crossover vehicle.