Subaru Outback
Model Overview
New Subaru Outback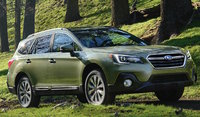 Used Subaru Outback
Subaru Outback Questions
Cvt Transmission Blown
My 2013 outback with 61,000 miles blew the transmission on the hwy @ 60mph..I have an extended warranty but the dealer is saying I was 3 quarts low on CVT fluid. With a13 quart CVT fluid capacity ...
How To Evaluate A 2006 Subaru For Purchase?
Hello. My friend has a Subaru (2010) and I had the pleasure of driving it while he was away on a Peace Corp mission, so I have become a fan. My neighbors are selling their Subaru with the specificatio...
Dash Lights Up Like A Christmas Tree
Hi all, in need of some help. I've got a MY11 Outback 2.5 which has just had a full service, engine flush and transmission service at Midas but the following lights continue to stay on / flash. (Mid...
Why Won't My Running Lights Turn Off
Have There Been Any Problems With The Subaru Outback 3.6r Engine
Subaru Outback
Overview
Subaru has always innovated. It was the first automaker to put all-wheel drive in its entire vehicle lineup. In 1995, it seemed to be the first automaker to offer what we now call a crossover SUV. The Subaru Outback debuted in 1995 as a Legacy trim and came as a wagon only. With demand for SUV height, rough-road travel, and sportiness rising amid a growing stigma attached to station wagons, Subaru introduced the Outback as a way to help reinvigorate Legacy sales.
The original Outback was basically a Legacy, with a 2.5-liter, 165-hp H4 engine, but with standard all-wheel drive, higher ground clearance, fog lights, ABS brakes, and tires and suspension tuned for off-roading. In 2000, the Outback became its own model and added a sedan to the lineup. It quickly surpassed the Legacy in sales, both for its all-wheel drive performance in tough outdoor weather and road conditions up north, and its overall quiet, smooth, and comfortable ride.
In 2001, the Subaru Outback featured the comeback of a six-cylinder engine. Using the same Boxer flat engine, the 3.0-liter engine originally hit 212-hp and was offered in the L.L. Bean and VDC editions of the Outback. The VDC edition also featured variable torque distribution in its all-wheel drive, automatically adjusting wheel torque according to the road conditions.
Today, the Outback remains a top seller for Subaru, and has added many refinements and interior conveniences over the years, including heated leather seats, six airbags, a 60/40 split fold rear seat that folds flat, and automatic climate control. Trim offerings today include the 2.5i (now hitting 175-hp), the turbo 2.5XT at 250-hp, and the 3.0R (also 250-hp), still only available in the L.L. Bean and VDC models. It continues to get praise for its quiet and smooth performance, the powerful turbo engine, and the all-wheel drive. Backseat legroom is cramped for a five-person wagon.