Subaru Outback
Model Overview
New Subaru Outback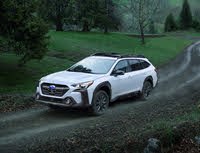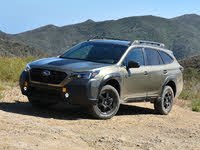 Used Subaru Outback
Subaru Outback
Overview
Subaru has always innovated. It was the first automaker to put all-wheel drive in its entire vehicle lineup. In 1995, it seemed to be the first automaker to offer what we now call a crossover SUV. The Subaru Outback debuted in 1995 as a Legacy trim and came as a wagon only. With demand for SUV height, rough-road travel, and sportiness rising amid a growing stigma attached to station wagons, Subaru introduced the Outback as a way to help reinvigorate Legacy sales.
The original Outback was basically a Legacy, with a 2.5-liter, 165-hp H4 engine, but with standard all-wheel drive, higher ground clearance, fog lights, ABS brakes, and tires and suspension tuned for off-roading. In 2000, the Outback became its own model and added a sedan to the lineup. It quickly surpassed the Legacy in sales, both for its all-wheel drive performance in tough outdoor weather and road conditions up north, and its overall quiet, smooth, and comfortable ride.
In 2001, the Subaru Outback featured the comeback of a six-cylinder engine. Using the same Boxer flat engine, the 3.0-liter engine originally hit 212-hp and was offered in the L.L. Bean and VDC editions of the Outback. The VDC edition also featured variable torque distribution in its all-wheel drive, automatically adjusting wheel torque according to the road conditions.
Today, the Outback remains a top seller for Subaru, and has added many refinements and interior conveniences over the years, including heated leather seats, six airbags, a 60/40 split fold rear seat that folds flat, and automatic climate control. Trim offerings today include the 2.5i (now hitting 175-hp), the turbo 2.5XT at 250-hp, and the 3.0R (also 250-hp), still only available in the L.L. Bean and VDC models. It continues to get praise for its quiet and smooth performance, the powerful turbo engine, and the all-wheel drive. Backseat legroom is cramped for a five-person wagon.