Subaru Outback
Model Overview
New Subaru Outback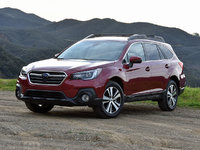 Used Subaru Outback
Subaru Outback Questions
Best Subaru Wagon To Buy
I am 70 years old. I just sold my 1999 Legacy Brighton Wagon and now want another Subaru. Cutting to the chase...What wagon is best to buy for around $10,000 with what mileage. How do you find out t...
3.6 Benefits Over 2.5 Four Cylinders??
What are the major benefits or demerits ( poorer handling ?) of the H6 engine. Is the extra two seconds or less of acceleration really worth the fuel cost. And, how much EXTRA passing power do you h...
How Do Rate 2.5 Vs. 3.6 Subaru Touring Outback? Price Diff Is Quite Substa...
I've test driven both Touring models and don't see significant difference; but, I wonder how the 2.5 will do when I travel the West Va. mountains. I will not be towing anything with this SUV.
Subaru Outback Wheel Bearings
I'm looking at a 2005 Outback with 196K miles. Just inspected and is in very good condition. Timing belt was changed at 154K miles. However, the real wheel bearings are making grinding noise and the...
Price To Replace A Head Gasket
Subaru Outback
Overview
Subaru has always innovated. It was the first automaker to put all-wheel drive in its entire vehicle lineup. In 1995, it seemed to be the first automaker to offer what we now call a crossover SUV. The Subaru Outback debuted in 1995 as a Legacy trim and came as a wagon only. With demand for SUV height, rough-road travel, and sportiness rising amid a growing stigma attached to station wagons, Subaru introduced the Outback as a way to help reinvigorate Legacy sales.
The original Outback was basically a Legacy, with a 2.5-liter, 165-hp H4 engine, but with standard all-wheel drive, higher ground clearance, fog lights, ABS brakes, and tires and suspension tuned for off-roading. In 2000, the Outback became its own model and added a sedan to the lineup. It quickly surpassed the Legacy in sales, both for its all-wheel drive performance in tough outdoor weather and road conditions up north, and its overall quiet, smooth, and comfortable ride.
In 2001, the Subaru Outback featured the comeback of a six-cylinder engine. Using the same Boxer flat engine, the 3.0-liter engine originally hit 212-hp and was offered in the L.L. Bean and VDC editions of the Outback. The VDC edition also featured variable torque distribution in its all-wheel drive, automatically adjusting wheel torque according to the road conditions.
Today, the Outback remains a top seller for Subaru, and has added many refinements and interior conveniences over the years, including heated leather seats, six airbags, a 60/40 split fold rear seat that folds flat, and automatic climate control. Trim offerings today include the 2.5i (now hitting 175-hp), the turbo 2.5XT at 250-hp, and the 3.0R (also 250-hp), still only available in the L.L. Bean and VDC models. It continues to get praise for its quiet and smooth performance, the powerful turbo engine, and the all-wheel drive. Backseat legroom is cramped for a five-person wagon.