Subaru Outback
Model Overview
New Subaru Outback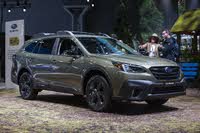 The 2020 Subaru Outback has been announced, but it is not yet available for purchase.
CarGuru's preview of the 2020 Subaru Outback
Used Subaru Outback
Subaru Outback Questions
Subaru Outback Legacy 1997
What fuse do I pull to disable the alarm system on the 97 Subaru outback legacy?
Loud Whine When Clutch Pedal Is Depressed
How Do You Reset The System And Be Able To Start The Car After Setting Off ...
I accidentally used the key to unlock the car and the alarm sounded... I quickly closed the door and I think I hit the buttons on the fob....or I re locked the door manually. I'm really not sure it ...
2018 Outback Amp Hissing
Amp under front passenger seat had a buzzing hissing sound. Subaru has part on order for too long. Can I disconnect to end the buzz and if so how and what other functions might I lose. It's feally t...
Used Subaru CVT
Have a 2011 Subaru Outback 2.5 Limited that's beginning to make the transmission squeal. My question is would a used TR690 CVT have too be from another 2011 or would a newer model year TR690 fit....
Subaru Outback
Overview
Subaru has always innovated. It was the first automaker to put all-wheel drive in its entire vehicle lineup. In 1995, it seemed to be the first automaker to offer what we now call a crossover SUV. The Subaru Outback debuted in 1995 as a Legacy trim and came as a wagon only. With demand for SUV height, rough-road travel, and sportiness rising amid a growing stigma attached to station wagons, Subaru introduced the Outback as a way to help reinvigorate Legacy sales.
The original Outback was basically a Legacy, with a 2.5-liter, 165-hp H4 engine, but with standard all-wheel drive, higher ground clearance, fog lights, ABS brakes, and tires and suspension tuned for off-roading. In 2000, the Outback became its own model and added a sedan to the lineup. It quickly surpassed the Legacy in sales, both for its all-wheel drive performance in tough outdoor weather and road conditions up north, and its overall quiet, smooth, and comfortable ride.
In 2001, the Subaru Outback featured the comeback of a six-cylinder engine. Using the same Boxer flat engine, the 3.0-liter engine originally hit 212-hp and was offered in the L.L. Bean and VDC editions of the Outback. The VDC edition also featured variable torque distribution in its all-wheel drive, automatically adjusting wheel torque according to the road conditions.
Today, the Outback remains a top seller for Subaru, and has added many refinements and interior conveniences over the years, including heated leather seats, six airbags, a 60/40 split fold rear seat that folds flat, and automatic climate control. Trim offerings today include the 2.5i (now hitting 175-hp), the turbo 2.5XT at 250-hp, and the 3.0R (also 250-hp), still only available in the L.L. Bean and VDC models. It continues to get praise for its quiet and smooth performance, the powerful turbo engine, and the all-wheel drive. Backseat legroom is cramped for a five-person wagon.
Find great deals from top-rated dealersTM
Search