Nissan Murano
Model Overview
New Nissan Murano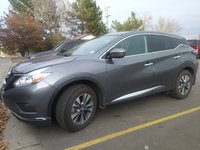 Used Nissan Murano
Nissan Murano Questions
2010 Nissan Murano Cvt Transmission Fluid Change
I've got a 2010 Nissan Murano with 69,000 miles. It hasn't ever had the CVT transmission fluid changed. I just had transfer case and differential fluids changed and the Nissan dealership service te...
How Does Rear Wheel Abs Sensor Go
How does the rear wheel sensor go
Suvs With Adjustable Pedals? (audi? Bmw? Lincoln?)
My wife has a '06 Murano with power adjustable pedals. She is just over 5' tall so adjustability is a must. She can't drive a behemoth vehicle like an Escalade/Tahoe/Yukon - we hate the entire For...
Upgrading "base Model" 2014 Murano With Options.
I'm wanting to upgrade my Base S Model AWD 2014 Murano with options like the steering wheel radio controls. It has the base stereo installed with the amber color screen and no navigation nor backup ...
Overheating
My temperature guaze keeping going up when driving and the radiator gets hot. My heat also is not working and its cold.
Nissan Murano
Overview
The Nissan Murano is a crossover vehicle, offering car styling and convenience with SUV cargo capacity. The Murano is noted for its unusual, overgrown station wagon appearance, which sets it apart from the usual boxy SUV.
Sizewise, the Murano sits between the Xterra and the Pathfinder in the Nissan SUV lineup. Unlike other midsized SUVs, Nissan chose not to include an uncomfortable third row of seats. Instead, the Murano seats up to five and offers a generous amount of cargo space.
The Murano comes standard with many luxurious features, like a rear-view camera and a continuously variable transmission--the largest car on the market to have such a transmission.
The Murano is based on the Maxima and therefore offers car-like handling, although the ride tends to be a little bouncy.