Nissan Murano
Model Overview
New Nissan Murano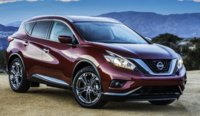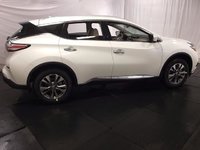 Used Nissan Murano
Nissan Murano Questions
Engine Shuts Down At 3000rpm
I have a 2009 Murano that has been an awesome vehicle. I purchased it two years ago with 79,000 miles and it now has 105,000. About a year ago the check engine light came on and the trip computer read...
TPMS
Light will not go out after the correct air pressure
2003 Nissan Murano SL Front Wheel Drive
how many quarts does it take to fill up transmission fluid 2003 nissan murano
Nissan Murano Will Not Accelerate?
Car idles and revs while in park, but gets no acceleration what so ever, ABS light on ONLY
Security Horn
The security horn goes off when the engine is shut off. The alarm shuts itself off but will happen again when the engine is shut down the next time. What's wrong?
Nissan Murano
Overview
The Nissan Murano is a crossover vehicle, offering car styling and convenience with SUV cargo capacity. The Murano is noted for its unusual, overgrown station wagon appearance, which sets it apart from the usual boxy SUV.
Sizewise, the Murano sits between the Xterra and the Pathfinder in the Nissan SUV lineup. Unlike other midsized SUVs, Nissan chose not to include an uncomfortable third row of seats. Instead, the Murano seats up to five and offers a generous amount of cargo space.
The Murano comes standard with many luxurious features, like a rear-view camera and a continuously variable transmission--the largest car on the market to have such a transmission.
The Murano is based on the Maxima and therefore offers car-like handling, although the ride tends to be a little bouncy.