Nissan Murano
Model Overview
New Nissan Murano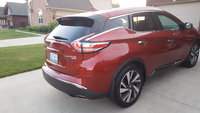 Used Nissan Murano
Nissan Murano Questions
How Can I To Offer My Car To Sale Here?
I want sale my car
Does Anyone Know Where The Device That Actually Makes The Beeping Sound (fo...
Have tried resettting
My Car Won't Turn Left????
My murano can make a right turn but shakes when i turn my wheel left and the steering wheel keeps spinning
Rattle In Blind Spot Monitoring Area
I have a rattle in my Murano. It seems to be on both sides of the vehicle in the blind spot monitoring area. I have about 25K miles. Is this common to this model? Can it be resolved easily and with...
My Car Does Not Accelerate
OK so I got in my car turned it on put it in drive and my gas pedal went down but did not accelerate but my car still moves in all gears but my pedal won't accelerate
Nissan Murano
Overview
The Nissan Murano is a crossover vehicle, offering car styling and convenience with SUV cargo capacity. The Murano is noted for its unusual, overgrown station wagon appearance, which sets it apart from the usual boxy SUV.
Sizewise, the Murano sits between the Xterra and the Pathfinder in the Nissan SUV lineup. Unlike other midsized SUVs, Nissan chose not to include an uncomfortable third row of seats. Instead, the Murano seats up to five and offers a generous amount of cargo space.
The Murano comes standard with many luxurious features, like a rear-view camera and a continuously variable transmission--the largest car on the market to have such a transmission.
The Murano is based on the Maxima and therefore offers car-like handling, although the ride tends to be a little bouncy.