Mercedes-Benz S-Class
Model Overview
New Mercedes-Benz S-Class

Used Mercedes-Benz S-Class
Mercedes-Benz S-Class Questions
What Would Be Some Reason Why My Car Shakes When I Turn It On
What would be some reason why my car shakes when I turn it on an the check engine light is on
My Key Will Not Turn In The Ignition Of My 2002 Mercedes S430
My key will not turn in my ignition of my 2002 mercedes s430. Before it stopped, I was able to jiggle it a bit and it would start, that no longer works.
Unlock The Car With A Bad Vacuum
My vaccum on my s430 has went bad. But somehow the doors locked. Now I can't into the car.
S500 Rear Aftermarket Struts
Is an 2000 e430 mercedes rear strut coil spring is it compatible with Mercedes s500 rear strut for it to work?
My S550 Will Not Start,changed Battery,instrument Panel And Radio Comes On ...
replaced battery in my 2010 s550 ,instrument panel lights and radio works, car still will not start ,engine will not turn over
Older Mercedes-Benz S-Class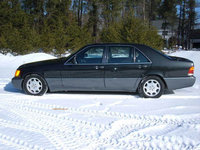 1994 Mercedes-Benz S-Class
1994 Mercedes-Benz S-Class reviews:
Mercedes-Benz S-Class
Overview
For more than 50 years, the Mercedes-Benz S-Class has set the standard for large, luxury-oriented four-passenger cars worldwide, and throughout its history the S-Class has represented the epitome of automotive luxury, innovation, and high performance. Even its nomenclature points to its exclusiveness, since the "S" in S-Class stands for Sonderklasse, a German word meaning Special Class. Although it's actually a reference to the fact that S-Class cars require premium fuel, many drivers would agree that they belong in a special class.
Early S-Class cars included the Type 220S, produced from the mid-1950s to 1960. The first Mercedes to carry the S designation and the first to receive a fuel-injected six-cylinder engine, it was available in both a coupe and cabriolet and represented a major step forward in design for Mercedes.
Throughout the years, Mercedes has equipped its S-Class cars with a number of innovations. In addition to fuel injection, S-Class cars were the first in the automaker's lineup to come with airbags, antilock brakes, electronic stability control, traction control, a navigational system, adaptive cruise control, and parking sensors, among other cutting-edge features.
For many years, especially during the 1970s and '80s, S-Class cars were available in a number of different trim levels, including SE (standard wheelbase), SEL (long wheelbase), and SEC (coupe) trims, as well as with diesel engines (SD and SDL trims). Starting with the 1994 model year, however, Mercedes revamped and simplified its naming system to more accurately reflect engine size and eliminate confusion.
Today, Mercedes uses a single "S" designation, followed by a number that refers to engine size, so the S550 refers to an S-Class sedan with a 5.5-liter engine. In addition, Mercedes split off the coupes into the CL-Class, so that the new S-Class included sedans only.
Now in its ninth generation (according to Mercedes, although some experts count fewer), the S-Class consists of four trims, including the V8-powered S550 sedan and the V12-powered S600 sedan. In addition, the V8-powered S63 AMG and the V12-powered S65 AMG feature styling and performance tweaks designed by AMG, Mercedes' in-house sport tuner.