Mercedes-Benz E-Class
Model Overview
About the Mercedes-Benz E-Class
Available Now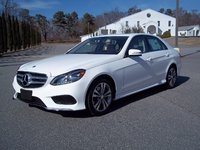 To look at the latest Mercedes-Benz E-Class inspires images of racing through exotic roads after some nefarious villain, deftly evading obstacles and sharply turning down shortcuts to outsmart your foe - but don't let your dreams carry you too far off the beaten path. James Bond never actually drove a Mercedes-Benz - he's much too reckless to pick something with such a long and widely regarded history of safety, comfort and intelligent performance.
For the second year of its fourth generation, the E-Class gains a convertible alongside the wagon's comeback and a few style tweaks inside and out. As such, the 2011 E-Class now comes in four trim levels: the E350 with a 268-hp V6, the E350 Bluetec with a 210-hp diesel V6, the E550 with a 382-hp V8 and the AMG sporting a 518-hp V8. All but the Bluetec and AMG are available as a coupe or convertible in addition to the usual sedans, with the E350 having the only wagon.
Rear-wheel drive and a 7-speed automatic transmission is the usual standard, with 4Matic all-wheel drive standard on the wagon and optional on E350 and E550 sedans. While the E350 sprints to 60 in under 7 seconds and gets just 18 mpg city/26 highway, opting for the Bluetec brings the fuel economy up to a very respectable 24/33, with the wagon expectedly worse at 16/23. The E550 does about the same, being rated at 15/23, but reaches 60 mph in just over 5 seconds. The AMG shaves nearly a full second off the E550's time, but is expectedly thirsty, getting just 13/20 mpg.
Inside every E-Class you can expect the usual luxuries, including power front seats with memory functions, dual-zone automatic climate control, auto-dimming mirrors, voice-controlled cellular and navigation systems, and a powerful sound system with 6-CD changer, auxiliary audio jack and Bluetooth connectivity. Notably, the E350 coupe adds a panoramic sunroof, and the wagon gets a power tailgate and rear-view camera, while the so-called Cabriolet convertible adds leather upholstery and the AirCap wind-deflector system.
Moving up to the E550 will gain only a few perks and sometimes bigger tires, with the bulk of feature upgrades reserved for option packs. Noteworthy options include a power rear sunshade, rear-view camera, heated front seats, audio system upgrades, adaptive high-beam assist, keyless ignition/entry, blind-spot warning system, adaptive cruise control, lane-departure warning system, parking sensors, rear-seat entertainment system, infrared night-vision camera and massaging driver seat.
Most of those are included in the E63 AMG, alongside an exclusive sport transmission, adaptive sport suspension, adjustable drive settings, high-performance brakes and sport steering wheel. A few options offer conveniences like a limited-slip differential, sportier suspension and 19-inch wheels.
Altogether, this is the car Q should have given to Bond, especially with the extensive list of safety features - although he wouldn't care for those. Indeed, all the dings and alerts would have surely driven him mad, but with its standard Attention Assist and PreSafe systems anticipating Bond's every move and securing against his recklessness, it would likely be the first Bond car brought home whole.
Sensible drivers have none of Bond's theoretical complaints, but note some deficiencies in the sunroof keeping heat out, and the transmission isn't flawless, with a small number of lemons leaving the factory. Otherwise the E-Class is an absolutely solid midsize luxury car with plenty of options available to suit any discerning driver.
Model History
Sure, James Bond never drove a Mercedes-Benz, but many villains almost got away thanks to their high-performance E-Class. Perhaps they hoped this elegant and quick tank with a brain would give them superpowers - and indeed, the mesmerizing feats their E-Class could perform would have assured escape from any lesser man - but Bond knew he only needed to defeat the driver, and so was not deterred.
Even the latest E-Class still largely leaves the driving to the driver, but nearly everything else is done for you. Although in this regard Mercedes-Benz has fallen behind the technology curve to some degree, the E-Class is still leading the pack as a well-rounded midsize luxury car big on comfort, performance and safety with a few nice technological perks - as it has since its 1986 debut.
In its first generation, the E-Class was available as a sedan or wagon powered by a V6 or turbodiesel, with the V8 arriving a few years later. The V6-powered 300E moved from a standstill to 60 in less than 8 seconds, but the '92 to '94 500E sedan with the Porsche-designed 322-hp V8 was easily the most powerful of the bunch.
While the first generation turned heads for its maker's mark, the second generation spanning from 1996-2002 made the E-Class instantly recognizable for its four ellipsoid headlights. At its debut Mercedes-Benz offered just two sedans for the E-Class - the 134-hp E300D diesel and a V6-powered 217-hp E320, with the V8-powered 275-hp E420 arriving a year later alongside a new 5-speed automatic transmission to replace the previous 4-speed in all trims.
The '98 overhaul added a wagon body style, upgraded the diesel to 217 hp thanks to a turbo infusion, replaced the 217-hp V6 with a 221-hp V6, changed the E420 to the E430 with a slightly larger V8 and 4Matic all-wheel drive became an option in the wider range of trims now available. The E55 AMG arrived for '99 with 349 horses raging from its V8, while the rest of the lineup received side curtain airbags. The following year saw a revision of the front end and more standard safety equipment, but the fuel-efficient diesel was dropped and few significant changes would be seen for the rest of this generation.
All but the wagon were overhauled for the '03 debut of the third generation E-Class, the third-generation wagon arriving as an '04 just shortly after the late-year '03 E55 AMG landed with its 469-hp supercharged V8. This generation included gadgets like rear obstacle sensors, adaptive cruise control and voice-activated cellular and navigation systems from its outset as optional inclusions in any E-Class, with a standard 6-speed automatic transmission.
The 221-hp E320 and 302-hp E500 were both available as a sedan or wagon, with 4Matic all-wheel drive available across the board and standard in the E500 wagon until its demise for '07. The diesel E320 CDI made a "quick" comeback - reaching 60 mph in under 7 seconds - and the E55 AMG wagon debuted for '05, but for '07 the AMG version was renamed to E63 for larger V8 engines without a supercharger. The E320 became the E350 for '06, now powered by a 268-hp 3.5-liter V6, and the E500 became the E550 for '07 with the inclusion of its new 5.5-liter V8. The diesel E320 received an engine tweak as well and re-emerged as a "Bluetec" clean-burning diesel, but without a name change. For '09, Mercedes-Benz just added in an updated audio system and hard-drive-based navigation system to sweeten the generational pot for its final year.
The fourth and current generation debuted for 2010 without the previous generation's wagon or diesel options, but with totally new style, materials and coupe body to fill the gap left by the outgoing CLK-Class. Traditionalists were not pleased by the revolutionary - as opposed to evolutionary - new look, while others consider it a welcome infusion of modernity, especially given the $5,000 savings over its immediate predecessor. Since the debut, a new convertible body style joined the lineup alongside a few style tweaks and a diesel and wagon comeback, ensuring just the right midsize luxury option for any driver with refined taste and the budget to support it.
Used Versions
Although the E-Class certainly has an undeniably strong safety record throughout its life, reliability is another matter. The general rule of thumb with Mercedes-Benz is to avoid first-model-runs - such as the first year of a generation and the first year of a new body style or engine - but the E-Class needs a little more leeway, taking about 2 years to fix new issues in the latest incarnation.
Buying later in each generation comes with many more perks than just better reliability, however - the latest models of the previous third generation, for instance, are almost directly comparable to the latest generation with the exception of the style and coupe body. In terms of power, comfort and features, the third and fourth generations are nearly identical, especially when purchasing '06 or later. The updated AMG debuted for '06 with the remainder of the lineup tweaked for '07 - just keep that rule of thumb in mind and skip a year or two.
If the $30,000 plus price tag on a reliable third-gen is too much to ask, going for a '98 or later in the second generation will land a solid and able engine anywhere in the lineup for around $20,000, but bear in mind these engines and the '99 AMG were not perfect at debut. However, the second generation is the most reliable to date, with only minor malfunctions in the ventilation system and engine duds only in the very first year they were introduced. Unlike the first generation, these E-Class model years featured antilock brakes and a 5-speed transmission.
These prices are not going anywhere, as the E-Class tends to quite rightly hold its value very well, so there's no need to hurry - take your time and genuinely scope out your ideal E-Class from the exceptionally broad pack available, and be very suspicious of bargains without full and complete maintenance records.
New Mercedes-Benz E-Class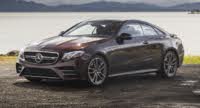 Used Mercedes-Benz E-Class
Mercedes-Benz E-Class Questions
How Many Quarts Oil And Weight Does E350 Take 2010 Model
going to service my Sons E350 Mercedes..Dealers wants Arm and a Leg for Simple LOF and air filter ...need the Specs for Service... retired tech on Chrys. and GM cars...
Price Of B3 Service
What is the cost of a b3 service for a e350
E350 Mercedes Benz
Where is the Auxiliary Battery in my 2016 E350
Auxiliary Battery Malfunction
My car started beautifully after not being driven for six months but one day later the "Auxiliary Battery Malfunction" light came on. Is this a result of the car not being driven and if I drive it f...
My 1999 Mercedes Benz E320 Wont Start! Everything Else Works, Radio, AC, Li...
Everything else is perfect, it just wont start. Could it be that I ran out of gas, or because the gas is low as well? Im completely clueless this is my first benz you guys! lol
Older Mercedes-Benz E-Class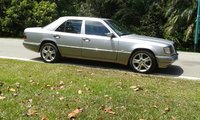 1994 Mercedes-Benz E-Class
1994 Mercedes-Benz E-Class reviews:
Find great deals from top-rated dealersTM
Search