Ford F-350 Super Duty
Model Overview
New Ford F-350 Super Duty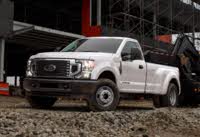 The 2020 Ford F-350 Super Duty has been announced, but it is not yet available for purchase.
CarGuru's preview of the 2020 Ford F-350 Super Duty
Used Ford F-350 Super Duty
Ford F-350 Super Duty Questions
Cranks But Won't Start
So I went out to start up my truck and after I started it up I had phone call and I was trying to get my phone out of my pocket and I was pressing on the throttle and it was hitting full revlimit...
Autumn Echeverria
I have a Ford F3 50 year 2012 truck when I turn on my truck or when I'm driving it every once in a while it will show a picture of a oil canister and it will beep I took it into the mechanic and h...
F Series Seats
Can a 2002 F-150 front drivers seat fit onto the 2002 F-35 SD?
Fuse Loacation
Trying to find the fuse #/location of the running light fuse on a F-350 Super Duty diesel?
Ford F-350 Super Duty
Overview
Based on the top-selling F-150 truck platform, but juiced up with a heavier frame, a stiffer suspension, and more rugged construction, the Ford F-350 Super Duty is a powerful consumer pickup truck with heavy-duty hauling capacity.
The Ford F350 Super Duty (like its slightly sleeker sibling, the F-250 Super Duty) was spun off as a freestanding model in 1999. The tough Super Duty trucks have appealed to drivers looking for a workhorse vehicle for ranch, farm, and job site.
Although the focus of the F-350 Super Duty brand is performance and strength, Ford offers this monster truck with a variety of creature comforts and special packages, including the popular King Ranch edition.
Too big to be EPA rated for fuel efficiency, most people estimate that the F350 Super Duty gets about 10 miles per gallon. Sure, it's not the most environment-friendly truck out there, but it definitely packs quite a punch!
Find great deals from top-rated dealersTM
Search