Ford F-350 Super Duty
Model Overview
New Ford F-350 Super Duty

2020 Ford F-350 Super Duty
The 2020 Ford F-350 Super Duty has been announced, but it is not yet available for purchase.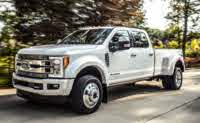 Used Ford F-350 Super Duty
Ford F-350 Super Duty Questions
I Have A 2004 F-350 Super Duty Crew Cab My Instrument Panel Lights Arent Wo...
Instrument panel lights aren't working, checked all fuses didnt locate any that looked bad does anyone know which one is for the instrument panel
2007 Ford F-350 6.0 Windows..sunroof...radio...and Rear Passenger Reading L...
while replacing the headliner after fixing the sunroof ( it worked) I was replacing a screw in the rear overhead light assembly and I did spark it to ground...it was just instant...so far: checked eve...
Death Wobble
Highway speed DEATH WOBBLE, nearly killed my family. Lawyer being consulted. This is a super dangerous problem. FORD should be ashamed and held responsible. 8 month old truck, 7,000 miles. Lifeti...
2009 F 350 Stuck In Park And No Brake Lights
Stuck in park and brake lights do not work. Changed the shift lock solenoid and the BOO switch. Also the trailer brake box in truck reads nc I assume this means not connected. Neither item has fixed t...
Q Signica Que Enciende El Simbolo De Una. Llave Como De Teparacion
Ford F-350 Super Duty
Overview
Based on the top-selling F-150 truck platform, but juiced up with a heavier frame, a stiffer suspension, and more rugged construction, the Ford F-350 Super Duty is a powerful consumer pickup truck with heavy-duty hauling capacity.
The Ford F350 Super Duty (like its slightly sleeker sibling, the F-250 Super Duty) was spun off as a freestanding model in 1999. The tough Super Duty trucks have appealed to drivers looking for a workhorse vehicle for ranch, farm, and job site.
Although the focus of the F-350 Super Duty brand is performance and strength, Ford offers this monster truck with a variety of creature comforts and special packages, including the popular King Ranch edition.
Too big to be EPA rated for fuel efficiency, most people estimate that the F350 Super Duty gets about 10 miles per gallon. Sure, it's not the most environment-friendly truck out there, but it definitely packs quite a punch!