Chevrolet Silverado 2500HD
Model Overview
New Chevrolet Silverado 2500HD

2019 Chevrolet Silverado 2500HD
The 2019 Chevrolet Silverado 2500HD has been announced, but it is not yet available for purchase.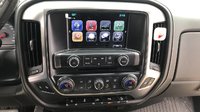 Used Chevrolet Silverado 2500HD
Chevrolet Silverado 2500HD Questions
Electrical Problem
The lights flicker when braking,cruse turns off when using blinker.Turn on high beam lights and transmission down shifts from 6th to 2nd gear. All gauges lose power. This last a short time then retur...
I Have A Chevy 3500 Hd 2017. There Is No Passenger Seat Icon On Dash If Not...
Cluster Issues 2003 Chevy Silverado 2500hd
My cluster is on coke. I'll be driving along, and all the gauges etc will reset like I just started it, and sometimes when I first get in and drive it they wont work at all. This usually happens wh...
2004 2500hd 6.6 Duramax Diesel Bogs Down And Dies When Put Into Gear
The truck starts up fine and has oil pressure and idles when put into any gear it bogs down and dies what could be wrong any help is greatly appreciated
Diesel Or Gas?
im looking to buy a Chevy 2500HD, i will be using it for work over the summer, landscaping and hauling and towing, and putting a plow on for the winter next year, and im stuck on whether or not to b...
Chevrolet Silverado 2500HD
Overview
Introduced in 2001, the Chevrolet Silverado 2500HD is a heavy-duty version of the 2500 light-duty truck and a key part of Chevy's best-selling Silverado series. Attesting to its popularity and quality, MotorTrend named the Silverado Truck of the Year for 2007, and it was also designated the North American Truck of the Year at the 2007 North American International Auto Show in Detroit.
The 2500HD is designed for demanding cargo and towing jobs. The 2007 model of the 2500HD can tow up to 13,000 pounds when equipped with a Duramax Diesel V8 turbo engine and automatic transmission and can carry a cargo of over 3,800 pounds in certain configurations.
Since its introduction, the three-quarter ton 2500HD has been available with a choice of cabs and cargo bed lengths, as well as with either two-wheel or four-wheel drive. Regular, extended, or crew cab models are available, as are standard and long cargo beds.
The standard engine for the 2007 2500HD is a 6.0-liter Vortec V8 engine that produces 353 horsepower, while the standard transmission is a six-speed Hydra-Matic electronically controlled automatic transmission. A Tap Up/Tap Down driver shift control attached to the steering wheel enables the driver to manually shift up or down, depending on cargo and driving conditions.
An optional powerplant is the 6.6-liter Duramax Diesel V8, which produces 365 horsepower and is compatible with B5 biodiesel fuel. Also optional is an Allison six-speed automatic transmission, which is the same make of transmission used in the M1 Abrams tank. It also comes with the Tap Up/Tap Down driver shift control lever.
Other features and options, available on various models, include six-way power-adjustable front seats, dual-zone automatic climate control, steering-wheel mounted audio controls, heated front seats, an AM/FM/CD audio system with an MP3 input jack, and an integrated trailer brake controller.
Chevrolet Silverado 2500HD Experts
View All