New Audi TT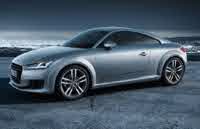 Used Audi TT
Audi TT Questions
Radio Malfunction Audi TT 09
After a hit-and-run accident with someone backing into my friend's car her radio is turning on and off sporadically. We don't live very close to one another so I can't really see the car but she di...
Audi 2002 Q Will Start Only 75% Of The Time After Replacing The Clutch
I just had my clutch replaced and got it home and sometimes it'll start, sometimes it won't. Took it in to see if the battery was bad, no it's good. When I push in the clutch and it doesn't start, ...
Audi TT 2.0TFSI Quattro 2015
I just bought a Audi TT 2.0 TFSI quattro 2015, and i wonder if it's worth getting a chip tuning to get about 300 hp. As far as i know, the TTS which has 310hp as standard shares almost a same engine...
Fuel Gauge Not Working Properly
Had fuel pump replaced in my 2002 audi Quattro last week since then petrol gauge keeps changing as to how much fuel I have and I have put £50 petrol in to do a 60 mile journey but my Guage goes from...
Dash Warning Lights,on Audi Quatr O Tt
Yellow warning light on my Audi Quattro tt,has come on ,I have no manual so don't know what it's for,help
Older Audi TT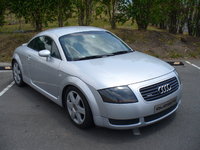 Audi TT
Overview
Making its debut as a concept car at the 1995 Frankfurt Auto Show, the Audi TT luxury sports coupe drew curious stares and fascinated wonder at its unique body design -- all curves and domes and energized circles, there was nary a straight angle on its anodized aluminum frame. You'd never know it was built on a Volkswagen Beetle platform.
Named for the Tourist Trophy road race on the Isle of Man, whose TT acronym was used by the 1960s NSU TT racer (Audi absorbed the carmaker in 1969), the TT redefined sports cars. Offered in either front-wheel drive or quattro all-wheel drive, it displayed the precise handling and crisp cornering common in so many Audi automobiles. Its initial power, though, was inadequate for the weight of the car (especially the quattros), and Audi soon added stronger engines and more streamlined transmission options over the years.
Initially offered as a coupe, a soft-top convertible Roadster quickly joined the TT lineup. The TT looked great on the road, low to the ground with wheels ferociously poised to strike. It was on Car and Driver's Ten Best List in 2000 and 2001. Audi continued to offer many luxurious standard features on the TT, though most drivers wondered why power seats were never standard for such an expensive car. It offered plenty of comfortable legroom and supportive sports seats for the front two passengers, and the leather upholstery and aluminum-trimmed instrument panel dressed it up as a sleek and sexy upscale racer. The backseat was advertised to hold two children, but was better suited for cargo and could be folded down to expand the deceptively large trunk.
2007 represents a new generation of the Audi TT. Since the curvy bubble has become its calling card, it has gone through minor stylistic design changes, but Audi continues to make improvements to the rear suspension, engine power, and chassis in an effort to offer the maximum sporty performance that a car with this kind of personality deserves.