Hyundai Azera
Model Overview
New Hyundai Azera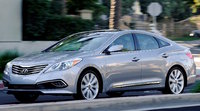 Used Hyundai Azera
Hyundai Azera Questions
Hyundai Azera Limited
My radio turns on. But I don't get any sound from my speakers.
Radio
Radio turns on but no audio. 06
Why Does Car Stall, Usually In Hot Weather & When Slowing Down Or Turning?
I Have A 2006 Hyundai Azera Limited. That The Radio Will Come On But No Sou...
I checked all fuse and had battery recharge. And still no sound thru speakers
Would You Consider It A Deceptive Practice To Show A Price On The Advertise...
Hyundai Azera
Overview
After a rocky period in the '80s, Hyundai has remade its reputation heading into the new millenium. The Azera sedan represents a prime example of the Korean automaker's renewed commitment to quality. As of 2007, the car comes in two trims and sports a 3.8 L, 263 hp V6 engine.
The Azera made its debut in 2006, replacing the XG350. As for acceleration, you'll go from 0-60 mph in 7.2 seconds. At this point, it looks like the Azera will emphasize its roomy interior and quiet, smooth ride as it carves out its niche in the foreign sedan market.