Honda Pilot
Model Overview
About the Honda Pilot
Available Now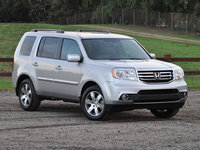 The Honda Pilot full-size crossover SUV debuted in 2003 as a replacement for the Honda Passport. At the time, Honda was in the process of establishing itself in the SUV market segment with its own vehicles, as the Passport was simply a rebadged Isuzu Rodeo. Honda's only other SUV was the compact CR-V, which was loosely based on the Civic. The larger Pilot quickly gained a foothold in the marketplace, thanks to its roomy cabin and three rows of seating, which could accommodate up to eight passengers. Add a capable V6 powerplant, decent fuel economy, and Honda's reputation for quality and reliability, and it's easy to see why the Pilot quickly became a hit with buyers, selling more than 100,000 units during its second year in production.
Honda drew from several resources when creating the Pilot, including the Accord sedan and the Acura MDX luxury-oriented crossover SUV, which itself was based on the Odyssey minivan. The Pilot delivered a comfortable, car-like ride with good handling, although its interior design and braking performance didn't live up to the standards set by its competitors, according to reviewers. However, thanks to its beefed-up frame and body, the Pilot performed adequately for light off-road use and towing.
Currently in the midst of its second generation, the Pilot comes in base LX, midlevel EX, upper-class EX-L, and top-of-the-line Touring trims for 2011. All feature a standard front-wheel-drive configuration, though owners can add four-wheel drive (4WD) at each trim level. Power for all trims comes from a 250-hp, 3.6-liter V6 matched with a five-speed automatic transmission. Fuel economy numbers check in at 17/23 mpg for FWD trims and 16/22 for 4WD trims.
In recent years, the Pilot has faced stiff competition from such category challengers as the Ford Flex, Nissan Murano, Toyota Highlander, Mazda CX-9, Chevy Traverse, and Buick Enclave. The Pilot competes well in areas like seating capacity and exterior styling, and has regularly made Car and Driver's annual list of Best SUVs. But reviewers are less impressed with the Pilot's performance and interior design. In other areas, such as pricing and fuel economy, the Pilot ranks in the middle of its automotive segment.
As it enters the second decade of the 21st century, the Pilot shows some signs of age, since its current design dates back to 2008. As a result, sales have slumped in the past few years. However, prospective buyers can expect a mid-generation refresh, possibly for 2012. While the Pilot's mechanics probably won't change much, buyers can expect to see some updates to the exterior design and interior components in an effort to goose sales.
Model History
Honda was one of the first automakers to the market with a full-size crossover SUV with three rows of seating. When the Pilot debuted, it helped define a new automotive segment, aimed squarely at the needs of American buyers who required plenty of seating and cargo options, yet were looking for something other than a minivan or top-heavy SUV. While many SUVs at the time sat on truck platforms, the Pilot rode on a platform borrowed from the Acura MDX and the Honda Odyssey, as well as the Honda Accord. It featured a unibody design and a suspension tuned to provide responsive handling and a comfortable, car-like ride.
Initially the Pilot sat on a 106.3-inch wheelbase, with an overall length of 188 inches. Despite seating for up to eight passengers, the third-row bench seat offered minimal legroom, making it a tight fit for most adults. The second row provided plentiful legroom for all but the tallest adults, however. The rear seat split 60/40, and both rows could be folded flat to expand cargo space, which topped out at 90.3 cubic feet. With the second row up and in place, cargo space checked in at 48.7 cubic feet. The Pilot's width (77.3 inches) allowed it to carry cargo up to four feet wide.
Honda initially offered the Pilot in LX and EX trim levels. Both were well-equipped with such standard features as cruise control, a climate-control system with rear vents, and power windows and door locks. The EX added automatic climate control, a power-adjustable driver's seat, keyless entry, and a multifunction steering wheel. An EX-L trim added a leather upholstery package to the EX trim level. Options available only for the EX-L trim included navigation and a DVD entertainment system.
The first-generation Pilot borrowed its engine from the Acura MDX. The 3.5-liter aluminum-alloy V6 engine produced 240 hp and linked to a five-speed automatic. The V6 pushed the Pilot from 0-60 in 7.6 seconds, and managed fuel economy numbers of 16/22 mpg for FWD trims and 15/20 for 4WD trims. Towing capacity topped out at 4,500 pounds. Owners could add Honda's Variable Torque Management 4WD system as an option. The system sent torque to all four wheels when it detected slippage, but defaulted to front-wheel-drive operation during normal driving conditions.
Safety features for the first-generation Pilot included dual-stage front airbags and antilock brakes with electronic brakeforce distribution. The Pilot scored five out of five stars in both front and side crash tests conducted by the NHTSA, and received a top score of Good from the IIHS.
In 2004, Honda added heated front seats as a standard feature for EX-L trims, and in 2005, the automaker boosted horsepower for the Pilot's 3.5-liter V6 engine to 255 hp.
For 2006, the Pilot received a mid-generation refresh, which included a number of exterior updates. Honda revised the Pilot's front fascia and grille, and redesigned the headlights and taillights. Interior updates included a new instrument cluster and center console. In addition, Honda updated the 4WD system to make it more fuel efficient, and added variable valve management to the V6 engine, which shut down three of the six cylinders when cruising to improve fuel economy. As a result, the EPA estimated fuel economy numbers of 18/24 mpg for the updated V6.
The second-generation Pilot debuted in 2008 with a more rugged appearance, which drew mixed reviews. Some liked the boxier, bulkier look, while others preferred the softer, more rounded lines of the previous generation. Exterior design features included a higher hood line, a tall oversize grille, and larger 17-inch wheels. The wheelbase and overall length increased by nearly 3 inches each, to 109.2 and 190.9 inches, respectively.
Honda added a new top-of-the-line Touring trim for 2008 and equipped the Pilot with a new 250-hp, 3.5-liter i-VTEC V6 borrowed from the Accord. In addition, Honda strengthened the Pilot's body to increase rigidity, and reduced the Pilot's turning ratio to improve maneuverability, making it more sedan-like.
Used Versions
For 2010, Kelley Blue Book awarded the Pilot with its Best Resale Value Award in the Full-Size Utility Vehicle category. The award spotlights vehicles that are expected to have the best resale value five years after purchase. Although the award focuses on the Pilot's resale value in the future, it also provides an indication of the resale values of past Pilots. As a result, prospective buyers can expect to pay a premium price for used Pilots. However, given the Pilot's slumping sales over the past few years, buyers might be able to find some good values in a used vehicle.
First-generation Pilots will probably make the best options for prospective buyers. They came equipped with many standard features currently available on new Pilots, including cruise control, a climate-control system with vents for rear-seat passengers, and power windows and door locks, as well as antilock brakes, front side airbags, and 60/40-split second- and third-row seats. As an added bonus, many reviewers prefer the exterior styling of the first-generation Pilot over the second generation, which debuted in 2008.
Honda boosted horsepower for the Pilot's V6 engine to 255 hp in 2005, so buyers who seek better performance might want to focus on vehicles built from that year forward. A mid-generation refresh in 2006 resulted in better fuel economy for the V6, so owners who place a premium on this aspect should seek out trims built in '06 or after.
The second-generation Pilot displayed a more rugged exterior design, which drew mixed reviews. However, some buyers will find it appealing. In addition, the second-generation Pilot grew in length, resulting in more interior space, including more legroom in the rear seat, which many found tight in first-generation trims. Honda also tweaked the Pilot's turning ratio with the second generation, resulting in better handling and maneuverability in tight spaces such as parking lots.
Buyers seeking luxury-oriented trims will want to look for EX-L trims from the first generation or Touring trims from the second generation, both of which come standard with leather upholstery. In addition, some high-end trims will come equipped with optional navigation or DVD entertainment systems. However, Honda was unable to equip the Pilot with both optional systems, since the dashboard lacked room to accommodate equipment and controls for both a navigation and a DVD system.
New Honda Pilot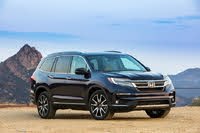 Used Honda Pilot