Ford Excursion
Model Overview
Used Ford Excursion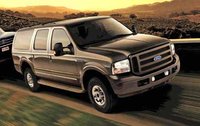 Used 2005 Ford Excursion For Sale
| | |
| --- | --- |
| | 11 GOOD Deals |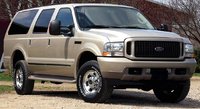 Used 2004 Ford Excursion For Sale
| | |
| --- | --- |
| | 6 GREAT Deals |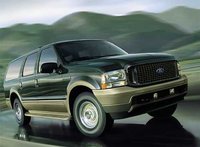 Used 2003 Ford Excursion For Sale
| | |
| --- | --- |
| | 4 GOOD Deals |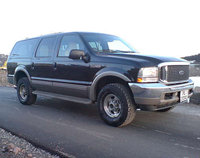 Used 2002 Ford Excursion For Sale
| | |
| --- | --- |
| | 3 GOOD Deals |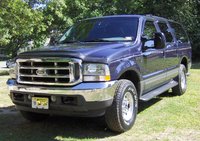 Used 2001 Ford Excursion For Sale
| | |
| --- | --- |
| | 12 GOOD Deals |
Ford Excursion Questions
Excursion Bench Swap For Bucket
I'd like to swap out my bench seat for buckets, 2004 Eddie Bauer, two tone tan. Anyone want a bench seat in trade?
03 Ford Excursion Random Stalling
Truck stalls at random times. Where it's warmed up, cold start, driving, idling, in park, there's no pattern. There's no warning, it just goes from running perfect to off. Sometimes you can start i...
Rims And Tires
Will I need to lift my truck if I put 28 inch rims and a 325 35 28 tire all around
Looking To Swap 2004 Excursion Limited 2nd Row Bench For 2nd Row Excursion ...
I found the Excursion for my family, but really need the 4 captain chair configuration. So, I am looking for someone with a 2004 Limited 4x4 with two 2nd row captain chairs (bucket seats) that are t...
04 Ford Excursion
Does the 2004 excursion have a fuel pump driver module? If so where is it located? Truck cranks wont start brand new fuel pump has been put in no fuel is being pulled.
Ford Excursion
Overview
The Ford Excursion was a great example of the 'bigger is better' mentality that dominated the US auto industry during the SUV era. Ford responded to strong sales from the GMC Yukon XL and the Chevy Suburban by beating them at their own game with the mega-sized Excursion.
The Excursion was based on the Super Duty truck platform, and classified as a heavy-duty commercial vehicle. Weighing in at three and a half tons, the Excursion was, when it was launched, one of the largest vehicles ever marketed widely for passenger use.
Not surprisingly, the Excursion's gas mileage was pretty dismal. Still, the Excursion did find a following among people who needed (or just wanted) to drive a sport-utility vehicle the size of a small European nation.
The Excursion was axed in 2005, a victim of rising gas prices. It's still a favorite with tuners and project enthusiasts, though; there's a lot of Detroit steel to work with, and it's fun if you're not planning to drive very far.