Toyota 4Runner
Model Overview
New Toyota 4Runner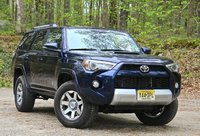 Used Toyota 4Runner
About the Toyota 4Runner
From a covered-up pickup truck to a near-luxury sport utility vehicle, the Toyota 4Runner has had a mixed history since its introduction in 1984.

The first generation of the 4Runner was identical to the Toyota Pickup, but with a fixed canopy on the bed. The original vehicles were panned for being unsafe--they were nearly undrivable at highway speeds and extremely likely to topple over. Later versions had a wider wheelbase and many other safety features.

The 4Runner has gone through a stunning transformation, going from a cobbled-together pickup in disguise to a fully formed, comfortable SUV with available options like a V8 engine. Toyota also upgraded the exterior, and the newer versions suggest a mini Land Cruiser.

This mid-size SUV has had the option of having the same engine put into much larger vehicles, such as the Land Cruiser and Sequoia. As a result, this sporty SUV can have great pick-up and is generally fun to drive. It has remained one of the longest-lasting and most dependable SUVs. It can be an awesome off-road vehicle.