Honda Odyssey
Model Overview
About the Honda Odyssey
Available Now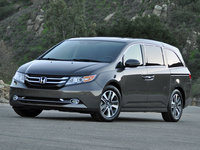 Developed with the U.S. market in mind, the Odyssey was Honda's first take on a large, roomy, functional minivan. Borrowing design and styling cues from bullet trains and "personal jet" planes (resulting in the designation PJ as the vehicle's development code), Honda's engineers created a front-wheel-drive minivan based on the Accord platform. Debuting in 1995, the Odyssey came equipped with three rows of seats for up to seven passengers, including a third-row bench seat that folded into the floor to expand cargo space. The first-generation Odyssey was built in Japan, but by the second generation, North American versions of the Odyssey were manufactured at Honda's plant in Alliston, Ontario, Canada.
For the fourth-generation Odyssey, which debuted with the 2011 model year, Honda unveiled a new top-level Touring Elite trim, which comes equipped with such features as a power tailgate, power side mirrors with integrated turn signals, high-intensity discharge lights, and 18-inch wheels. In creating the fourth-generation Odyssey, Honda focused on a "lightning bolt" design, characterized by the vehicle's low, athletic stance, rear-sloping roof, and distinctive, sportier lines from front to rear. It all makes for a shape that resembles a tall, elegant wagon rather than a clunky, unexciting minivan.
Other Odyssey trims for 2011 include the entry-level LX and mid-level EX and EX-L. Power for all trims comes from a 248-hp, 3.5-liter i-VTEC V6, which manages fairly respectable fuel economy numbers of 18/27 mpg.
As in previous generations, the new Odyssey excels when it comes to safety features and reliability. In addition, testers give the new Odyssey top marks for performance, build quality, and interior functionality. Most reviewers put the Odyssey at or near the top of its highly competitive class, which also includes such vehicles as the Toyota Sienna, the Kia Sedona, the Chrysler Town & Country, the Volkwagen Routan, and the Dodge Grand Caravan.
Model History
Launched in 1995 and built in Japan, the first-generation Odyssey featured a unibody design, a wishbone suspension, dual front airbags, dual-zone climate control, and antilock brakes, which helped establish the Odyssey as a premium minivan, with a pricetag somewhere north of average minivan pricing at the time. In addition, the Odyssey featured four car-like, swing-out passenger doors, rather the the sliding doors common in most minivans. Power came from a 140-hp, 2.2-liter four-cylinder engine, which left the Odyssey feeling underpowered at times, according to some owners. Trims included the LX, which offered seating for seven, and the better-equipped EX, which swapped out the middle-row bench seat for two captain's chairs, reducing seating capacity to six.
Honda shared the first-generation Odyssey with Isuzu, which repackaged and sold the vehicle as the Isuzu Oasis. Honda reciprocated by selling Isuzu's Rodeo and Trooper SUVs as the Honda Passport and SLX. However, this arrangement would last only for the Odyssey's first generation.
In 1998, Honda introduced a new 2.3-liter four-cylinder engine for the Odyssey, which bumped horsepower up to 150. It helped improve the Odyssey's performance, but some owners still considered the vehicle underpowered when accelerating or passing.
Due to the first-generation's production in Japan, the initial version was a smaller vehicle than the current Odyssey, sitting on a 111.4-inch wheelbase, with a 187.6-inch overall length. When production of the second-generation Odyssey moved to Ontario for North American dealerships, the minivan grew in size. The Odyssey's new wheelbase measured almost 4 inches longer, checking in at 118.1 inches, while overall length stretched to 201.2 inches, making it one of the longest minivans available at the time.
Honda also introduced a new V6 powerplant for the second-generation Odyssey. The 3.5-liter powerplant, which replaced the four-cylinder, produced 210 hp and finally provided the performance Odyssey owners had been seeking for years. In addition, Honda swapped out the hinged sedan-style doors for two sliding doors on either side of the vehicle. Power sliding doors were a standard feature on the EX trim and available as an option on the LX trim. Other new features included traction control on the EX trim.
In 2000, the Odyssey became to first minivan to offer an optional navigation system, and in 2002 Honda added side torso airbags as standard equipment, resulting in near-perfect safety scores for the vehicle. A mid-generation refresh in 2002 added a new five-speed automatic transmission as replacement for a trouble-prone four-speed automatic, and Honda boosted horsepower for the V6 to 240.
The Odyssey grew slightly in size for its third generation, which debuted in 2005. Although wheelbase and overall length stayed about the same, the Odyssey's width grew to 77.1 inches, up from 75.6 inches for the previous generation. In addition, the lineup expanded to include LX, EX, and EX-L trims, as well as a new Touring trim, which included power-adjustable pedals, tri-zone automatic climate control, a power tailgate, and a premium audio system.
In addition, Honda introduced a new 3.5-liter V6 engine, which generated 255 hp. For the EX-L and Touring trims, Honda equipped the V6 with a new Variable Cylinder Management (VCM) system, which improved fuel efficiency by shutting off three cylinders at cruising speeds. The high-end trims with the VCM system achieved fuel economy numbers of 20/28 mpg, while the base engine posted numbers of 19/23. Honda also added side-curtain airbags and electronic stability control to the Odyssey's standard feature list for 2005 and equipped the minivan with 16-inch wheels.
Honda gave the Odyssey a minor mid-generation refresh in 2008. Updates included a new hexigonal grille borrowed from the Accord, as well as revised headlights and taillights, and a new alloy wheel design. Inside, new features included active front head restraints and an MP3 input jack for the audio system. In addition, the automaker added its Plus One second-row jump seat to the standard feature list for EX-L and Touring.
In 2009, Honda made the power tailgate a standard feature for the EX-L trim. Previously it had been standard only on the Touring trim. In addition, the automaker increased horsepower for the V6 engine by 3 hp, to 244.
Used Versions
For the most part, the Odyssey changed very little during each generation, so prospective buyers will want to look at the exterior aesthetics, standard and optional features, and overall performance offered by each generation when choosing a used vehicle. The first-generation Odyssey, for instance, achieved stellar safety ratings unmatched by any other generation, thanks to such initial standard features as dual airbags and antilock brakes. Naturally, the current-generation Odyssey comes better equipped in the safety department, with such standard features as electronic stability control and side-curtain airbags. But for its time, the first generation was truly cutting edge.
On the flip side, owners of the first-generation Odyssey frequently complained about the performance of the vehicle's four-cylinder powerplant. The V6 engine debuting with the second generation greatly improved performance, and Honda has continually increased horsepower and fuel economy for the engine into the current generation.
Owners should also keep the side doors in mind when choosing an Odyssey. First-generation trims came with hinged, sedan-style doors, which many owners preferred to the sliding doors of later generations. Upper-end trims usually included power-sliding doors, as well as a power liftgate.
From the beginning, the Odyssey was applauded for its high build quality and good reliability. But some model years proved problematic in terms of quality. Owners of 1995 Odysseys, for instance, reported problems with the exhaust system, while the four-speed transmission in 1999 to 2001 Odysseys also caused problems for owners. A new five-speed transmission, which debuted in 2002, helped solve the problem, although some owners reported problems with that transmission as well.
Owners who put interior versatility and cargo space at a premium should look for Odysseys equipped with the 60/40-split rear seat and second-row Plus One jump seat, which expands seating capacity to eight.
New Honda Odyssey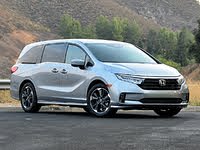 Used Honda Odyssey
Honda Odyssey Questions
Van Was Running Fine Then Went To Start And It Wouldnt Even Turn Over. Ligh...
what should i do next? Battery is new. Cables are fine. I can do anything but start it.
How Do I Turn Alarm Off ?
My security alarm goes off for no reason while it's locked and off .
To Post An Ad On Cargurus
I do not see an option to post my advertisement
DrIver Side Sliding Door Won't Close
I have a 2006 Honda Odyssey EX. The driver side sliding power door will not close since last night. Tried switching to manual; still the door won't close. Showing "Slide Door" sign on the Instrument ...
2007 Honda Odyssey Doesn't Turn Over.
I have a 2007 Honda Odyssey. I'm having a problem that might be key or sensor related. I had the green key flashing and checked the ACG fuse. Fuse is fine. Tried both key sets and tried with the key...
Find great deals from top-rated dealersTM
Search