Porsche Boxster
Model Overview
Used Porsche Boxster
Porsche Boxster Questions
Boxter Gen V Boxter S 2014
Can I ask if there is any other differences in the 2014 boxter model and the s model?
How Log Does The Re-verification Process Take?
I have a buyer that wants to look at my car but I can't communicate with them until my car is re-verified.
How To Open Front Hood Of Boxster With Dead Battery When Alarm Won't Turn O...
have dead battery and so attached jumper cables to element in fuse box and the ground cable to the latch striker in door jam. This set off alarm but manually turning off the lock in driver door does...
Porsche Bixter Manual Transmission
What would cause the car will no go into any gears when it is running but will shift into gear when it is not running? I did not hear any grinding noises before I parked the car.
My Porsche Boxter Heater Doesnt Work
My heater doesnt work, the fan is Ok
Older Porsche Boxster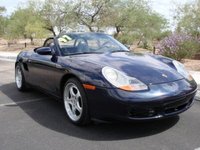 1997 Porsche Boxster reviews:
Porsche Boxster
Overview
The Porsche Boxster is a two-seat, open top roadster that occupies the position of entry-level vehicle in the Porsche pantheon. When introduced in 1997, it was Porsche's first all-new vehicle in almost 20 years, and naturally generated a lot of excitement in the period between its announcement in 1993 and its appearance in showrooms four years later. It was also an essential car for Porsche, since the German automaker was striving to keep up with its competition. The popularity of the Mazda Miata reinvigorated the market segment for two-seater convertibles, and the BMW Z3 and Mercedes-Benz SLK made that segment viable and boosted the competitive stakes. The Boxster gave Porsche a chance to wade into those competitive waters.
For its first year, the Boxster came with a water-cooled 201-horsepower, 2.5-liter flat six-cylinder boxster-style engine (which indicates that the engine was installed horizontally). Also, as opposed to being a rear engine, such as in the 911, the Boxster's powerplant was classified as a mid-engine, since it was situated behind the driving compartment but ahead of the rear axle.
In its early years, a five-speed manual transmission was standard in the Boxster, while an five-speed Tiptronic transmission was optional. The Tiptronic was an automatic transmission with a gate that enabled the driver to shift manually, depending on driving conditions.
In 2000, the Boxster S, a higher-performance model, made its debut. Power was provided by a 250-horsepower, 3.2-liter six-cylinder, which was linked to a new six-speed manual transmission. The standard, or base, Boxster also received a power boost for 2000, to a 217-horsepower, 2.7-liter six-cylinder engine.
Power was increased again in 2003, with the base Boxster getting a boost to 228 horsepower and the Boxster S seeing a bump up to 258 horsepower. A few minor changes were made to the exterior as well, although the roadster received a more extensive redesign in 2004.
For 2007, the engines for both the 2007 Boxster and Boxster S received VarioCam Plus, which continually adjusts valve timing for optimal performance. As a result, power for the base Boxster was boosted to 245, while the Boxster S's 3.4-liter six-cylinder pumped out an impressive 295 horsepower.