MINI Cooper Clubman
Model Overview
New MINI Cooper Clubman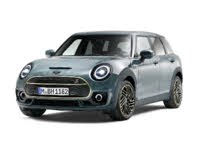 Used MINI Cooper Clubman
MINI Cooper Clubman Questions
MINI Cooper Clubman
Overview
Its origins date back to the 1970s as part of an expansion of the MINI lineup over in Europe. The original MINI Clubman was a safer version of the MINI Riley and Wolseley, which represented the luxury brands in the lineup. Existing from 1969 to 1980, the Clubman boasted a squared-off flat front end compared to the rounded signature of other MINIs. An Estate wagon version with dual rear barn doors joined the Clubman fold, and it is this particular wagon which gives its name to the newest member of the MINI fold.
Set to arrive in Europe in 2007 and in the U.S. by 2008, the MINI Clubman nods stylistically more toward the old MINI Traveller and Morris Minor wagons of the 1960s than to the original Clubman. It is basically a longer version of the current Cooper, using the same body style and platform, but riding on a longer wheelbase. This means a lot more cargo room and the possibility of fitting adult passengers in the back row. A naturally aspirated or turbo engine paired with a 6-speed manual or automatic will be the only powertrain choices in the U.S. A diesel version is likely in Europe.
The new MINI Clubman references the wood paneling of the classic Traveller by substituting painted trim around the rear window and doors. A small backseat access door on the passenger side only opens when the front door opens. The new wagon sets its sight beyond young urban singles and more towards families by offering the extra rear legroom and storage space, without sacrificing the mod retro look that made the smaller Cooper so popular.