Lincoln MKZ
Model Overview
New Lincoln MKZ

The 2019 Lincoln MKZ has been announced, but it is not yet available for purchase.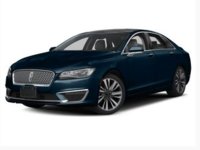 Used Lincoln MKZ
Lincoln MKZ Questions
2007 Lincoln
I have a 2007 Lincoln MKZ I drove it to 7-Eleven on because I was almost on E I felt it up I drove about 5 minutes it starts to vibrate the check engine light came on then it check engine light sta...
2000 2010 Lincoln MKC Anti-theft System
I had to replace the key reader the ring of death is I call it around the ignition where the key goes now the security system is not recognizing my key everything else functions but the security li...
Is There Anything That Should Be Turned Off Before Killing Engine ?
Battery seems to be draining after turning off vehicle but once started and driven 10 miles it starts great
Air Blowing Cold On Driver And Warm On Passenger. It Idles It Gets All Warm...
Oil Change Required
How do I get this indicator to stop appearing every time I start the car? The oil has already been changed.
Lincoln MKZ
Overview
The car now known as the MKZ has undergone enough recent name changes to make its head gasket spin. The mid-sized luxury sedan is descended from the rear-wheel-drive Lincoln LS, which was built on the Jaguar S-Type platform and debuted for the 2000 model year.
After a less-than-thrilling run of disappointing sales numbers, the LS became the front-wheel-drive Lincoln Zephyr for 2006. But then the maker's marketing minds decided to streamline their line's names into a letters-only scheme (except for the untouchable Navigator and Town Car), in hopes of attracting more - and younger - buyers.
So after just one year, the Zephyr became the MKZ, harking back to Lincoln's old (and beloved) Mark and Zephyr models and preserving the Zephyr's initial. It shows good promise among entry-level luxury sedans, standing out especially among the domestic competition.