Lincoln MKZ
Model Overview
New Lincoln MKZ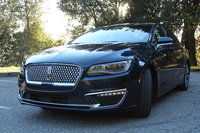 Used Lincoln MKZ
Lincoln MKZ Questions
No Breaks
I have no breaks I put new brake pads on bled the brakes Could it Be the booster how would I know if it was that or the master cylinder?
Electric Seats
Driver seat won't go up or down front or back heater works lumbar works it's a 2014 Lincoln mkz 2.0 where is the fuse for that
Front Parking Sensor
I like to install the front parking sensors for my MKz2010. Can I get them as an option?
I Have A 2007 Lincoln Mkz. I Diconnected The Battery, Now The Car Only Idle...
Power Trunk And Driver Seat And Steering Wheel Stop Moving
Hello have 2015 mkz when i got the car and started it the steering wheel and seat would move now there not moving anymore trunk haven't working with trunk release button
Lincoln MKZ
Overview
The car now known as the MKZ has undergone enough recent name changes to make its head gasket spin. The mid-sized luxury sedan is descended from the rear-wheel-drive Lincoln LS, which was built on the Jaguar S-Type platform and debuted for the 2000 model year.
After a less-than-thrilling run of disappointing sales numbers, the LS became the front-wheel-drive Lincoln Zephyr for 2006. But then the maker's marketing minds decided to streamline their line's names into a letters-only scheme (except for the untouchable Navigator and Town Car), in hopes of attracting more - and younger - buyers.
So after just one year, the Zephyr became the MKZ, harking back to Lincoln's old (and beloved) Mark and Zephyr models and preserving the Zephyr's initial. It shows good promise among entry-level luxury sedans, standing out especially among the domestic competition.