Lincoln MKZ
Model Overview
New Lincoln MKZ

The 2020 Lincoln MKZ has been announced, but it is not yet available for purchase.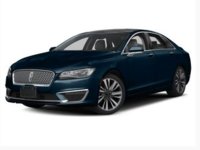 Used Lincoln MKZ
Lincoln MKZ Questions
Car Fax
Does Car Gurus offer a free Car Fax check or VIN number check with each vehicle like other sellerls?
Locking The Key In The Car
If I'm going rafting and don't want my fob with me how can I lock it in the car and then open it when I return with the outside keypad?
Front Windows
My front driver window stop going down, then the passenger window stopped going down and the sunroof stopped working. What do I do and how much will it cost to repair
My Car Didn't Sell In 30 Days, Listing Ended. CarGurus Showed It As SOLD. W...
I listed my vehicle on CarGurus from April 25 to May 25, when listing ended. Why was my vehicle listed as "SOLD" when clearly it was NOT?
A/C Blowing Hot On Drives Side. Blows Cool On Passengers Side.
Lincoln MKZ
Overview
The car now known as the MKZ has undergone enough recent name changes to make its head gasket spin. The mid-sized luxury sedan is descended from the rear-wheel-drive Lincoln LS, which was built on the Jaguar S-Type platform and debuted for the 2000 model year.
After a less-than-thrilling run of disappointing sales numbers, the LS became the front-wheel-drive Lincoln Zephyr for 2006. But then the maker's marketing minds decided to streamline their line's names into a letters-only scheme (except for the untouchable Navigator and Town Car), in hopes of attracting more - and younger - buyers.
So after just one year, the Zephyr became the MKZ, harking back to Lincoln's old (and beloved) Mark and Zephyr models and preserving the Zephyr's initial. It shows good promise among entry-level luxury sedans, standing out especially among the domestic competition.
Great deals from top-rated dealersTM
Search