Lincoln MKZ
Model Overview
New Lincoln MKZ

The 2018 Lincoln MKZ has been announced, but it is not yet available for purchase.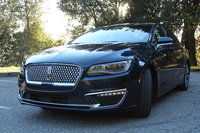 Used Lincoln MKZ
Lincoln MKZ Questions
Looking For Best Replacement Tires For Mkx 2014 ?
Need. Tire for Gulf coast summer driving and wet conditions,
Power Seat Moves A Little And Stops. I Wait A Little And It Moves A Little....
The power seat moves a little and stops. I will wait a little and it will move a little more when I push the button. It does not move all the way up. It will go back to a Sat position when I cut ...
I Need Contact Number For Dealer That Has A Car I Am Interested In !!!
Vin # is 3ln6l2gk3er800265 stock # 0265 Pittsburg pa area ....
My Drivers Window Kepps Going Up And Down When I Try To Put The Window Up. ...
How Do I Replace The Wires For The Window Washer Pump In My 2013 Lincoln Mk...
I checked the fuse and it is good and when I use the test light on the connector, the light doesn't come on. I was hoping it was the fuse or the pump, but looks like it may be the wires.
Lincoln MKZ
Overview
The car now known as the MKZ has undergone enough recent name changes to make its head gasket spin. The mid-sized luxury sedan is descended from the rear-wheel-drive Lincoln LS, which was built on the Jaguar S-Type platform and debuted for the 2000 model year.
After a less-than-thrilling run of disappointing sales numbers, the LS became the front-wheel-drive Lincoln Zephyr for 2006. But then the maker's marketing minds decided to streamline their line's names into a letters-only scheme (except for the untouchable Navigator and Town Car), in hopes of attracting more - and younger - buyers.
So after just one year, the Zephyr became the MKZ, harking back to Lincoln's old (and beloved) Mark and Zephyr models and preserving the Zephyr's initial. It shows good promise among entry-level luxury sedans, standing out especially among the domestic competition.