About the Honda Fit
Available Now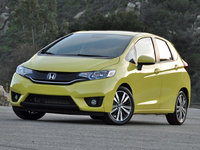 Most little cars are good only for equally little people with little cargo, but Honda's Fit stands to contradict every assumption ever made about subcompact cars. The Fit may look tiny, but on the inside it's bigger than most SUVs, and it even comfortably accommodates tall passengers while being exceptionally fuel-efficient.
The secret is Honda's "Magic Seat" in the rear, which folds completely flat, affording an amazing 57 cubic feet of cargo space - just 1 less than the flabby Chevrolet HHR. Total passenger space rivals the Civic sedan's thanks to the compact rear suspension and unusual fuel tank position beneath the passenger seat, leaving modest headroom and legroom no matter where you sit.
Although almost nothing has changed about the second-generation Fit since its introduction in 2009, nothing needs to change. The Fit is already in shape and only gains previous options as standard additions in every 2011.
The Base and Sport Fit both come with air conditioning, antilock brakes, full power accessories, keyless entry, a tilt-and-telescoping steering column, audio system with CD player, auxiliary audio jack, and for 2011 also come standard with Vehicle Stability Assist, cruise control, remote entry, and USB audio connectivity.
The Sport Fit also gets bigger 16-inch alloy wheels, foglights, sporty details, two more speakers with the sound system, and carpeted floormats as the only 2011 addition. If your phone isn't smart enough, the optional touchscreen navigation system can help you get there.
Powering this year's Fit is the very same 1.5-liter engine Honda has used since its 2007 North American birth, but a few tweaks in the '09 boosted power up to 117 horses with 106 lb-ft of torque. Coupled with a standard 5-speed manual transmission, the Fit hits 60 mph in a zippy 9.5 seconds. The optional 5-speed automatic in the base Fit however, takes almost 2 full seconds longer to reach 60 mph than even the automatic with paddle shifters in the Sport - but either combo will still get 27/33 mpg.
After the '09 revisions, the only complaint left is the sluggish automatic transmission which for some reason bites the biggest chunk out of the base Fit's acceleration. Even still, 11 seconds to go from 0 to 60 mph is at least on par with, if not better than, the get-up-and-go of comparable cargo-carrying and subcompact cars.
The Fit is something rarely seen in today's market - a solid, corners-included car with zero disappointments. Even the automatic won't cause wishful thinking in a driver ignorant or uncaring of the manual's acceleration power.
When you consider the massive capacity, tall-passenger comfort, modern features, and built-to-last feel together with fuel economy and go power - the Fit is clearly the best little car to grace the big wide world.
Model History
The Fit was first perfected in Japan, making its American debut for 2007 only after 6 consecutive years of record sales. In fact, Honda has maxed-out production to 500,000 Fits annually, and because Japanese demand is so strong, only 80,000 can be devoted to the U.S. market.
The first-generation Fit had only two downsides - a noisy cabin and a static steering wheel that couldn't be adjusted for taller drivers. The 4-door hatchback came in the same 2 trims it always has - Base and Sport - with the "Magic Seat" in the rear, which can be folded 4 different ways, depending on your needs, for a total of 42 cubic feet of cargo-carrying power.
Although the 1.5-liter, 109-hp 4-cylinder engine in the '07 and '08 Fit sported smaller numbers than the present configuration, the resulting performance was still quite peppy for the then-smaller car, reaching 60 mph from a standstill in less than 10 seconds. A 5-speed manual transmission was standard, and a 5-speed automatic was optional, but the Sport automatic got steering-wheel-mounted shift paddles.
The Base Fit was sparsely featured, with air conditioning and a CD player being the only standards without a single factory option available. The Sport came standard with larger, 15-inch alloy wheels, upgraded rubber, sporty styling, keyless entry, cruise control, a leather-wrapped steering wheel and a premium audio system with an auxiliary input jack and MP3 compatibility.
The 2008 Fit added only a couple new colors and a tire-pressure monitor, and the Sport got a sportier body, but sales nearly doubled, capping out at the maximum number of Fits available to the U.S. market. The first-generation Fit won a total of 12 awards along the lines of "Best Small Car" or "Car of the Year" before its complete overhaul for 2009.
The second-generation Fit grew 4 inches longer and 2 inches wider with at least 15-inch wheels, and the 1.5-liter 4-cylinder engine was tweaked to put out 117 horses to handle the larger body. The "Magic Seat" was also modified to provide an amazing 57 cubic feet of carrying capacity.
Standard features across the board were air conditioning, antilock brakes, full power accessories, keyless entry, tilt-and-telescoping steering column, audio system with CD player and auxiliary audio jack, and the Sport also got aerodynamic add-ons with 16-inch alloy wheels. Options included an antiskid system with a touchscreen navigation system and USB connectivity for the stereo.
That winning combination stands pat to this day, with only a few options added as standard features for 2011.
Used Versions
While you're better off getting a Sport if you buy the first-generation '07 or '08 Fit, every single year and trim is fit for second-hand ownership. The second generation is larger and more suited to tall drivers with more features and a few more horses, but both are equally peppy and utilitarian - although you will get 15 more cubic feet for cargo in the second generation.
Even better, aside from a few silly computer glitches, the Fit conforms to Honda's historically high reliability. Interestingly, the first-generation Fit has fewer issues, but a new antenna, blower motor, and front armrest are pitifully cosmetic issues when you think of how much was overhauled in the latest model.
However, as you would expect of such a reliable, problem-free, valedictorian of subcompact cars, used Fits have really held on to their value and even the oldest models will not go for much less than $10,000 - if you can even negotiate it down that low.
Used Honda Fit