New BMW M5

The 2022 BMW M5 has been announced, but it is not yet available for purchase.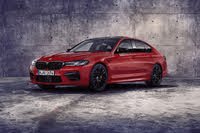 Used BMW M5
BMW M5
Overview
Now in its fourth generation, the BMW M5 has been produced continuously since 1985. The car was based on the design on BMW's 5-series but designed for racing. Models available to consumers are essentially tamed down race cars.
Originally hand built, the M5 has been produced on an assembly line since its third generation debuted in 1998. A fourth generation, built on the BMW E60 platform, was introduced in the 2004 model year.