Pontiac G6
Model Overview
About the Pontiac G6
Available Now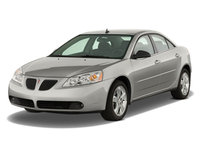 The Pontiac G6 rolled into showrooms for the 2005 model year as a replacement for the Grand Am and was completely phased out by the end of 2010 as GM shuttered the Pontiac brand. However, GM continues to provide service and support for the G6, and honors the 5-Year/100,000-Mile Transferrable Powertrain Limited warranty attached to new G6s sold before production shut down.
The G6 made one of its most memorable appearances on the Oprah Winfrey show in 2004, when the host and GM gave a new car to every audience member. The giveaway generated plenty of buzz for the G6, which received fairly good reviews when it debuted. In an attempt to break with its more conservative roots, Pontiac had recently adopted a new, sportier design philosophy, and GM was attempting to return the make to its performance-car roots. When it arrived, the G6 sat on GM's new midsize, front-wheel-drive Epsilon platform, which resulted in sportier handling. In addition, the G6 displayed European influences in its exterior styling, which also helped differentiate it from the Grand Am it replaced.
Pontiac ceased production of the G6 in 2009, but the car remained on sale into 2010. In its final year, the G6 came in Base, GT, and GXP trim levels, with the Base trim available in a sedan body style only. The GT trim level came as a sedan, coupe, or convertible with a retractable hardtop, while the GXP was available in sedan and coupe body styles.
A 164-hp, 2.4-liter EcoTech four-cylinder engine, which delivered fuel economy numbers of up to 33 mpg with an optional six-speed automatic shifter, powered the Base trim. The GT trims received a 219-hp, 3.5-liter V6, which posted numbers of 17/26 mpg, while the high-end GXP trims came standard with a 252-hp, 3.6-liter V6, which managed 15/22 mpg. In addition, Pontiac offered an optional 222-hp, 3.9-liter V6 for convertible trims. It also posted fuel economy numbers of 17/26 mpg.
Early reviewers appreciated the G6 as a breath of fresh air in the Pontiac lineup, and praised its performance, handling, exterior design, and spacious, well-equipped interior. However, some found the quality of interior materials lacking and weren't impressed with the cabin's overall fit and finish, a complaint that plagued the G6 throughout its run. Others found fault with the G6's steering and braking systems. Still, the G6 provided good value for buyers, according to many reviewers, and continues to offer an affordable option for prospective buyers seeking a solid used car.
Model History
When creating the Pontiac G6, GM drew on its global resources, including its German subsidiary Opel, which designed the Epsilon platform. The Epsilon first served as the platform for the Opel Vectra, which debuted in 2002, as well as for the Saab 9-3 in 2003. GM also used the Epsilon platform for the '03 Cadillac BLS executive car, sold only in Europe. For the G6, GM used an extended version of the Epsilon platform, which Chevy also used for the 2004 Malibu Maxx. In 2008, when the seventh-generation Malibu made its debut, all trims rode on the extended Epsilon platform. GM plans to continue to use the Epsilon for its global vehicles in the coming years.
The new platform gave the 2005 G6 a wheelbase of 112.3 inches and an overall length of 189 inches, which resulted in a roomy cabin with plenty of legroom for rear-seat passengers. In addition, the Epsilon platform ensured good handling and a stable ride for the G6. Outside, Pontiac opted for clean, simple exterior lines, with a long hood, a short rear deck, and a sporty overall appearance.
Initially the G6 came in Base and GT trim levels. All trims were powered by a 200-hp, 3.5-liter V6 mated to a four-speed automatic transmission with the TapShift manual shift feature. Standard features for the Base trim included a power-adjustable driver's seat, keyless entry, a six-speaker audio system with CD, and power windows and door locks. The GT trims added a sport suspension, an upgraded audio system, antilock brakes, traction control, an integrated rear spoiler, and 17-inch wheels.
One of the G6's early controversies concerned its optional Panoramic sunroof, which featured four panels that opened in stages and folded up accordion-style. Some owners reported rattles from the Panoramic sunroof, while others noted it compromised visibility out the rear and reduced rear-seat headroom, which already was reduced due to the G6's high back-end. Some owners also noted leaks from the traditional sunroof, also offered as an option on the G6.
The G6 lineup expanded in 2006 with the addition of the new high-performance GTP trim level, which came in sedan, coupe, and convertible body styles. Pontiac equipped the GTP trims with a 240-hp, 3.9-liter V6 engine, while the Base trim received a new 167-hp, 2.4-liter four-cylinder engine. The GTP convertible came equipped with the 3.9-liter V6, although with slightly reduced horsepower of 227, due to its tweaked exhaust system. The GTP was also the only G6 trim level equipped with electronic stability control.
For 2007, Pontiac upgraded horsepower for the entry-level four-cylinder engine to 224 hp, while the GT trim level also received a new powerplant, in the form of a 224-hp, 3.5-liter V6 with variable valve timing (VVT). The 3.9-liter V6 became a temporary option for the GTs, while the GTP received a new 252-hp, 3.6-liter V6, also with VVT. In addition, Pontiac added side-curtain airbags as a standard feature for G6 coupes and sedans, and replaced electronic steering with hydraulic steering for the GT. Also, the automaker dropped the GTP convertible from the lineup.
For the 2008 model year, the GTP trim level became the GXP, and Pontiac tweaked the G6's exterior styling. In addition, the 3.9-liter V6 became optional in G6 convertible trims only, with horsepower reduced to 222.
For 2009, the G6's final year in production, Pontiac added a sport package for the Base sedan and made minor exterior updates to the G6's front and rear ends.
Used Versions
Pontiac produced more than 675,000 G6s, most of which remain on the road today, providing plenty of good used-car values for prospective buyers. Those buyers who do opt for the G6 will gain a competent car with decent handling and acceptable gas mileage. However, they'll also find a somewhat bland interior that doesn't live up to the standards set by several competitive imports.
Buyers seeking a G6 have a number of options when it comes to performance, equipment, handling, and body style. While the lower-horsepower powerplants can sometimes leave the G6 feeling underpowered, the higher-end 3.6- and 3.9-liter V6 engines provide quick acceleration and solid performance, making them good choices for buyers seeking a sportier ride. Similarly, the GT and GTP/GXP rode on sport-tuned suspensions, which improved handling over the Base trims.
Safety-minded buyers should look for G6s built after 2007, when side-impact airbags became standard equipment. All trims except the Base came standard with antilock brakes, while GTP/GXP included electronic stability control beginning in 2007. In safety tests, the G6 received a rating of Good from the IIHS for protecting passengers in front-impact crashes, but only an Acceptable rating for protecting passengers during side impacts.
According to reports, some owners experienced problems, including leaking, with the optional sunroof available on the G6, while the optional Panoramic sunroof tended to limit rear headroom and visibility. However, owners give good marks to the retractable hardtop on the G6 convertible. Finally, prospective buyers who plan on regularly carrying passengers should remember that the G6 sedans seat five passengers, while the coupes and convertibles seat four in a 2+2 arrangement.
Although production for the G6 has ceased, GM says it will continue to provide support and service, so used-car buyers can rest assured they'll be able to get their vehicles repaired. In addition, many of the G6's parts and components are interchangeable with those of other GM models, so parts should be available for some time.
Used Pontiac G6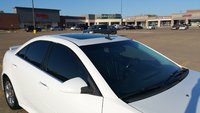 Used 2010 Pontiac G6 For Sale
| | |
| --- | --- |
| | 2 GOOD Deals |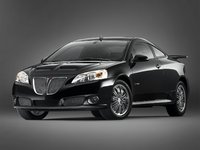 Used 2009 Pontiac G6 For Sale
| | |
| --- | --- |
| | 24 GOOD Deals |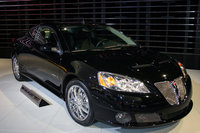 Used 2008 Pontiac G6 For Sale
| | |
| --- | --- |
| | 30 GOOD Deals |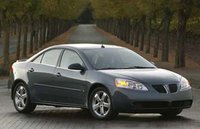 Used 2007 Pontiac G6 For Sale
| | |
| --- | --- |
| | 12 GOOD Deals |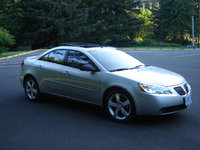 Used 2006 Pontiac G6 For Sale
| | |
| --- | --- |
| | 3 GOOD Deals |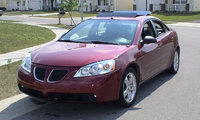 Pontiac G6 Questions
Charger Parked Message
Radio shows charger parked message . Disconnected battery, it clears but comes back. Sounds like CD player is searching for a disk.
2007 Pontiac G6 Gt Hardtop Convertible
Need someone in my eara that can help me figure out why the top won't go down maybe a censor diagram
Where To Start I Guess The Car Dies When You Shift It Into Gear
I got a whole list of problems I'm not very mechanically inclined I can handle the basic stuff that's about it. but there's a whole bunch of stuff that started going wrong at one time and I think ...
Trunk Lid Won't Open With Button On Door
Keyfob with unlock trunk, but button in door won't, the fuse is ok and when I press button on door I don't hear relay, can someone tell me what this would be. Thank you
Pontiac G6 Radio
My 2007 Pontiac G6 GTP AM & FM don't work. The CD player and XM channels work. What can I check?
Find great deals from top-rated dealersTM
Search