Chevrolet Chevelle
Model Overview
Used Chevrolet Chevelle
Chevrolet Chevelle Questions
Chevelle Transmission
What should it cost to replace an auto transmission in a 71 Chevelle SS with a 5 speed manual?
Heating Up And Stops Running
I have a 1970 Chevelle 454 engine that will stop running once its warmed up. The engine will not crank over and has already burned out a new starter. The engine behaves like the heated metal has e...
1967 Chevrolet Malibu
I have a chance to buy a 1967 Chevrolet Chevel that is in total mint condition. It is not a true SS, but has SS badging. I thought it was a SS until I looked at the VIN# which began with 136. The c...
What Year Did They Make Chevelle Nomad Ss
Chevelle SS With Column Shift
I am Thinking that SS Chevelles did not come with a column shift is that correct?
Older Chevrolet Chevelle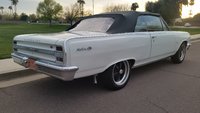 1964 Chevrolet Chevelle reviews:
Chevrolet Chevelle
Overview
The Chevelle was Chevrolet's mid-size car for over a decade. It came in many trims and with many engines. The most well-known of these is the SS 454, which was best known for the LS5 and LS6. This powerful engine achieved well over 400 horsepower and was available in limited numbers.
Many people forget that the Chevelle was available in trims that did not carry the "SS" in their names. Sedans and wagons were popular as well. They were large (as most cars of the era were) and seated adults comfortably.
The SS trims were impressive in how much power their engines achieved under the hood of a front-heavy car. Wheelbases remained large in true '70s style, which made turning an adventure.