Cadillac CTS
Model Overview
New Cadillac CTS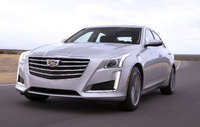 Used Cadillac CTS
Cadillac CTS Questions
Misfiring
It's a 2004 cadillac cts with the 3.6l engine. It has codes p0443, p0300, p0302, and p0202. I've replaced the fuel injector and spark plug on cylinder 2. I switched the coils between cylinders 2 an...
Cts Wagon Reliability?
Overall, is the CTS as bad as they make them out to be? Unreliable and quickly depreciating?
Mileage Vs Price
I am looking at a 2009 Cadillac Cts 3.6 for $8000, but it has 134,000 miles on it and clean Carfax the only thing is kbb says the average miles for this model is 99,000 priced between $7400 and $91...
Cadillac Cts No Brake Lights
Hello just bought it and have no brake lights. Have out new fuses and new relay also put the new brake pedal sensor and still no luck. Any ideas?
Does It Really Cost $800 To Replace A Daytime Headlight On A 2009 Cadillac ...
Cadillac CTS
Overview
Introduced in 2003, the Cadillac CTS represents the domestic maker's best attempt at competing with European luxury midsize sedans. Through 2007, we've seen three noteworthy engine revisions.
The first V6 powertrain lasted from 2003-2004 and featured 3.2 L displacement and 220 hp. The CTS then upped the ante to 3.6 L and 255 hp in 2004, and introduced 2.8 L, 210 hp engine in 2005.
Cadillac also instituted the more powerful CTS-V in 2004. Look for future models to feature a standard 3.6 L powertrain with either 258 or 300 hp. Overall, reviewers like the CTS' style and ride. However, Cadillac could do a little better on the details, including road noise and lack of quality interior materials.