Cadillac CTS
Model Overview
New Cadillac CTS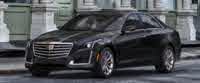 Used Cadillac CTS
Cadillac CTS Questions
Transmission Fluid
I have a 2007 Cadillac CTS with 49% of transmission fluid. Do I have to change the transmission fluid then refill or just refill from 49%?
Driveline Vibration 80 To 100km/h
I have a vibration occuring at speeds of 80 to 100km/h. It feels like imperfections in the road surface resinating through the car. The autmatic gear shifter shakes and the vibration can be clearly fe...
My Cadillac Just Stopped Running And The Motor Does Not Turn
my Cadillac do not start it stop driving when I the motor doesn't turn
2004 Cadillac Cts
I have a 2004 Cadillac CTS 3.6. Upon startup the car makes allowed clanking sound when driving it gets worse until it reaches running temperature then it pretty much goes away. I've also noticed th...
Is There Anyway You Can Send A Car From Warren Robbins To Conyers If I Buy ...
I found a 2004 Cadillac CTS listed $3950 but going rate is $3200 if the car in going running condition I am interested. Actually I have $3,000 I have a 2005 Chrysler Pacifica for trade in
Cadillac CTS
Overview
Introduced in 2003, the Cadillac CTS represents the domestic maker's best attempt at competing with European luxury midsize sedans. Through 2007, we've seen three noteworthy engine revisions.
The first V6 powertrain lasted from 2003-2004 and featured 3.2 L displacement and 220 hp. The CTS then upped the ante to 3.6 L and 255 hp in 2004, and introduced 2.8 L, 210 hp engine in 2005.
Cadillac also instituted the more powerful CTS-V in 2004. Look for future models to feature a standard 3.6 L powertrain with either 258 or 300 hp. Overall, reviewers like the CTS' style and ride. However, Cadillac could do a little better on the details, including road noise and lack of quality interior materials.