Cadillac CTS
Model Overview
New Cadillac CTS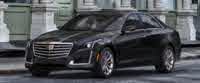 Used Cadillac CTS
Cadillac CTS Questions
Lost Key And Replacement Key Is Not Starting Car
Son lost key and had dealer make one. He also had to replace starter and now car will still not start
2005 CTS P0340 Code
I can't get my CTS through inspection. P0430 catalyst efficiency below threshold bank 2. Changed 02 sensors and cats and still getting this code. HELP!!!
2004 Caddillac CTS 3.6 Oil Burning
My cts is having a problem with burning oil and its burning quickly I have to add 2qts every 4 days. I've taken it to Caddillac and they said the engin looks great and they don't know where the pro...
Brake Lights Doesn't Work
Hello, the brake lights of my car doesn't work. What could it be the problem?
2004 Cadillac CTS... My Engine Temperature And Gas Gauge Stop Working. Coul...
2004 Cadillac CTS... My engine temperature and gas gauge stop working. Could this be a fuse problem?
Cadillac CTS
Overview
Introduced in 2003, the Cadillac CTS represents the domestic maker's best attempt at competing with European luxury midsize sedans. Through 2007, we've seen three noteworthy engine revisions.
The first V6 powertrain lasted from 2003-2004 and featured 3.2 L displacement and 220 hp. The CTS then upped the ante to 3.6 L and 255 hp in 2004, and introduced 2.8 L, 210 hp engine in 2005.
Cadillac also instituted the more powerful CTS-V in 2004. Look for future models to feature a standard 3.6 L powertrain with either 258 or 300 hp. Overall, reviewers like the CTS' style and ride. However, Cadillac could do a little better on the details, including road noise and lack of quality interior materials.
Find great deals from top-rated dealersTM
Search