Cadillac CTS
Model Overview
New Cadillac CTS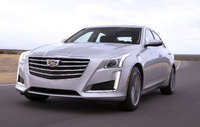 Used Cadillac CTS
Cadillac CTS Questions
Ecm Passkey 3 Relearn Issue
Hello, I'm wondering if someone can assist me in pointing out if I'm doing something wrong or if there is another issue at hand before I move to other measures. I recently bought an ECM for my 2006 Ca...
Why Does Check Brake System Light Stay On 2008 Cadillac Cts
Why Is Water Getting Inside My Doors? You Can Hear It When Opening And Clos...
I can hear water inside my doors
2003 Cadillac Cts Automatically Going Into Sport Mode
-Check engine light came on. -Got it checked out and it said "c shift solenoid is "stuck on" -Had the solenoid replaced but the problem came right back the next time time I drove it The car drives...
My Cts Transmission Hits Hard When I Shift From Reverse To Drive
Other than that it's fine
Cadillac CTS
Overview
Introduced in 2003, the Cadillac CTS represents the domestic maker's best attempt at competing with European luxury midsize sedans. Through 2007, we've seen three noteworthy engine revisions.
The first V6 powertrain lasted from 2003-2004 and featured 3.2 L displacement and 220 hp. The CTS then upped the ante to 3.6 L and 255 hp in 2004, and introduced 2.8 L, 210 hp engine in 2005.
Cadillac also instituted the more powerful CTS-V in 2004. Look for future models to feature a standard 3.6 L powertrain with either 258 or 300 hp. Overall, reviewers like the CTS' style and ride. However, Cadillac could do a little better on the details, including road noise and lack of quality interior materials.