Cadillac CTS
Model Overview
New Cadillac CTS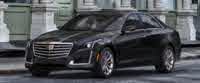 Used Cadillac CTS
Cadillac CTS Questions
How Do I Open My 2010 Cadillac CTS With Keys Locked Inside And A Dead Batte...
How do I open my 2010 Cadillac cts with keys locked inside and a dead battery?
2005 Cadillac CTS
Does my 2005 Cadillac have a north star engine it has the 3.6L in it and is misfiring a common problem
Has Anyone Has Problems With The Timing Chain Tensioner
Key Fob Not Working
I'm facing a problem with my remote locking system. The key fob is not working while the car battery is still alive and also after changing the fob battery (CR2032) it is still inactive. How to check ...
Heater Problem
I have also a second problem with the heater that stopped working: - I'm no more getting hot air on both driver and passenger sides. - The fan speed is still controllable. Can it be the heater valve o...
Cadillac CTS
Overview
Introduced in 2003, the Cadillac CTS represents the domestic maker's best attempt at competing with European luxury midsize sedans. Through 2007, we've seen three noteworthy engine revisions.
The first V6 powertrain lasted from 2003-2004 and featured 3.2 L displacement and 220 hp. The CTS then upped the ante to 3.6 L and 255 hp in 2004, and introduced 2.8 L, 210 hp engine in 2005.
Cadillac also instituted the more powerful CTS-V in 2004. Look for future models to feature a standard 3.6 L powertrain with either 258 or 300 hp. Overall, reviewers like the CTS' style and ride. However, Cadillac could do a little better on the details, including road noise and lack of quality interior materials.