Cadillac CTS
Model Overview
New Cadillac CTS

The 2019 Cadillac CTS has been announced, but it is not yet available for purchase.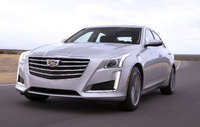 Used Cadillac CTS
Cadillac CTS Questions
Cadillac CTS
The silver metallic lining on one side of my Cadillac CTS fell off. I would like to replace it but I'm not sure what the name of the part is. I have a pic, anyone know what this part is called & wh...
Car Won't Crank Over
My 2006 Cadillac CTS 2.8 will not crank over all the way, it sound like its trying to but won't. I've already replaced the crankshaft position sensor but it is still doing the same thing
Cadillac CTS Trunk Remote Will Not Work In Hot Weather
my cts remote will not open the trunk. the trunk button also will not open the trunk. This only happens when the car has been sitting out in the hot sun. Both remotes open the trunk when the car has b...
Help!!!!!
So I have a 2005 Cadillac CTS. I took it to auto zone and it had some misfires. We replaced all the coil packs and
2007 Cadillac CTS Stopped Accelerating And Leaked What Seems To Be Transmis...
2007 Cadillac CTS stopped accelerating and leaked what seems to be transmission fluid. Does it need to just flushed and refilled or new transmission?
Cadillac CTS
Overview
Introduced in 2003, the Cadillac CTS represents the domestic maker's best attempt at competing with European luxury midsize sedans. Through 2007, we've seen three noteworthy engine revisions.
The first V6 powertrain lasted from 2003-2004 and featured 3.2 L displacement and 220 hp. The CTS then upped the ante to 3.6 L and 255 hp in 2004, and introduced 2.8 L, 210 hp engine in 2005.
Cadillac also instituted the more powerful CTS-V in 2004. Look for future models to feature a standard 3.6 L powertrain with either 258 or 300 hp. Overall, reviewers like the CTS' style and ride. However, Cadillac could do a little better on the details, including road noise and lack of quality interior materials.