Cadillac CTS
Model Overview
New Cadillac CTS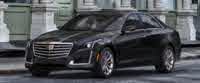 Used Cadillac CTS
Cadillac CTS Questions
Engine Replacement For A 2004 Cadillac CTS 4dr.
I have a 2001 Northstar engine out if an eldorado etc and was wondering if it could work and fit in a 2004 CTS.
Im Having A Problem Getting Key Out Of Ignition
the key ignition will not turn all the way to get key out
Vacuum Line
After changing the battery on a 2008 CTS I found a vacuum line disconnected in the battery compartment in the trunk. Where does the line hook up?
05 Cts Engine Power Reduced
My 05 Cadillac CTS 3.6 has the engine power reduced fault on the screen I've replaced speed sensors on the wheels the ECM the transmission control module the throttle body and it started only when...
Codes For 2008 60,000 Miles
Please if anyone could help I would be grateful ... B0014 An issue has been detected in the Air Bag Deployment System. Service within 1 day C0050 An issue has been detected in the Traction Control...
Cadillac CTS
Overview
Introduced in 2003, the Cadillac CTS represents the domestic maker's best attempt at competing with European luxury midsize sedans. Through 2007, we've seen three noteworthy engine revisions.
The first V6 powertrain lasted from 2003-2004 and featured 3.2 L displacement and 220 hp. The CTS then upped the ante to 3.6 L and 255 hp in 2004, and introduced 2.8 L, 210 hp engine in 2005.
Cadillac also instituted the more powerful CTS-V in 2004. Look for future models to feature a standard 3.6 L powertrain with either 258 or 300 hp. Overall, reviewers like the CTS' style and ride. However, Cadillac could do a little better on the details, including road noise and lack of quality interior materials.