Cadillac CTS
Model Overview
New Cadillac CTS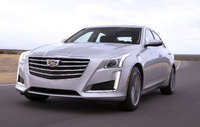 Used Cadillac CTS
Cadillac CTS Questions
Sun Roof On 2012 Cadillac Cts Extremely Loud!
I've been told that the noise level between the CTS with a sun roof and one without should be negligible, however, I feel like I'm in a wind tunnel whenever I drive it a highway speeds. The car has b...
Wont Shift Out Of Park
2003 cadillac cts wont shift out of park
I Have A Cadillac Cts Station Wagon And My Rear Right Led Tail Light Went ...
2004 Cadillac Cts Battery Voltage Low
Voltage reading at 11.4
Coolant/transmission
I have a 2006 CTS. Coolant was leaking a little so i topped it off with the right caddie coolant. Had the car for 4 weeks. Last night I was driving noticed a lot of smoke coming out the temp gage w...
Cadillac CTS
Overview
Introduced in 2003, the Cadillac CTS represents the domestic maker's best attempt at competing with European luxury midsize sedans. Through 2007, we've seen three noteworthy engine revisions.
The first V6 powertrain lasted from 2003-2004 and featured 3.2 L displacement and 220 hp. The CTS then upped the ante to 3.6 L and 255 hp in 2004, and introduced 2.8 L, 210 hp engine in 2005.
Cadillac also instituted the more powerful CTS-V in 2004. Look for future models to feature a standard 3.6 L powertrain with either 258 or 300 hp. Overall, reviewers like the CTS' style and ride. However, Cadillac could do a little better on the details, including road noise and lack of quality interior materials.