New Audi S4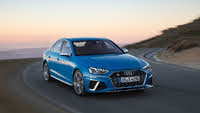 Used Audi S4
Audi S4
Overview
With the disappearance of the Audi 200 turbo, Audi's midsized 100 sedan lacked a performance counterpart. Enter the Audi S4 with its sports-tuned suspension, quattro all-wheel drive, and 2.2-liter turbo engine. Sometimes referred to as the UrS4 (Ur for "original"), it was housed in the Audi 100 understated body and featured Audi's typically luxurious interior, yet it was hard to tell the S4 apart from the 100, until you got behind the wheel.
When the 100 got a name change to the A6, the S4 became the S6. Not until the Audi A4 compact sedan was introduced did the S4 make a comeback in 2000, this time with a twin-turbo engine that was supposed to solve the turbo lag problem common in Audis. Because it was based on the A4 platform and carried the quattro system, the S4 was always heavier than a true sports performer should be. The new S4 tried to correct that with an aluminum lighter-weight suspension to improve handling, fuel economy, and make the most of its 2.5-liter turbo engine. Though issues such as turbo lag and a cramped backseat bothered drivers, most enjoyed the crisp handling, cornering, and engine power, in addition to the great standard features, such as sports seats, leather upholstery, and power everything.
With a brief hiatus in 2003, the S4 sedan reappeared with two new cousins -- an Avant wagon and Cabriolet convertible. Now the S4 was not only fun, but practical as well, serving a variety of needs and purposes. The turbo was ditched (thereby solving the turbo lag problem!) and all trims sported a new powerful 340-hp 4.2-liter engine and firmer, sportier suspension. A revised quattro system in 2005 put more torque differential to the rear wheels in an effort to enhance the sporty feel of the car. The new powertrain combo turned the S4 into a true sports car, able to compete with the BMW M3 in both handling and performance. Yet it still maintained the classy elegance and comfortable interior of the A4, making it a perfect transition car from work week to playful weekend.
Audi still hasn't solved the problem of the small backseat in the S4 to people's satisfaction, despite a general lengthening of the A4 platform. And expensive parts and lousy customer service are an Audi trademark. But those problems seem to fall by the wayside as soon as drivers take their car on the highway and open it up to take full advantage of Audi's engineering and luxury styling.
Not to be outdone by BMW's new m3, Audi recently released the new RS4. With 420 hp and all-wheel drive, its going to be very hard to beat.