New Audi Q7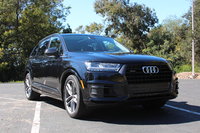 Used Audi Q7
Audi Q7 Questions
Battery Was Dead When I Got Home
Car was dead when I got home jump started it and crunk let run for about a hour drove down the street park and left running gauges on dash went dark and car died now it start then die gauges don't ...
Q7 Pulling Right Side
Dear friends, My self and my friend brought two q7 in August 2017. We have recently noticed that The car is pulling to the right side on a straight road as soon as we lift our hand slightly from t...
Audi Q7 Tdi Common Problms...
Hi i hav audi q7 diesel 3.0 Its done 180000km . I just want to know engine and transmission life...do i need change anything....like in future transmission or timing chain or anything... Rear main...
Valve Cover Gasket
Can anyone help me with directions on how to change the valve cover gasket on my 2008 Audi Q7 3.6
I Have An Audi Q7 2007 With Blank Mmi Display Screen, The Only Thing That C...
I have an Audi Q7 2007 with blank MMI Display screen, the only thing that comes on the screen is some white vertical lines across the screen, please is there any solution to this?
Audi Q7
Overview
The high-end luxury SUV market has been saturated by Mercedes, Porsche, Lexus, and Cadillac for years now. Is there any room for a newcomer? Audi hopes so, as it unleashes its sleek Q7 in 2007. A little late to the game, perhaps, but offering the usual Audi abundance of luxury features inside, in addition to its technologically advanced quattro and variable air suspension, Audi hopes the Q7 will be attract a whole new breed of SUV owners looking for comfort as well as performance.
The Q7 displays Audi's trademark gaping grille, and its sloped back recalls the Avant wagon more than bulky SUV. A rooftop spoiler adds to the streamlined sportiness of the car. Inside, it is no Avant, however. With seating for seven in three rows of seats, which fold down to offer 28 different storage configurations, the Q7 is much bigger than it looks. It is currently powered by a 3.6-liter, 233 V6 or 4.2-liter,350-hp V8 engine and 6-speed Tiptronic. Standard ABS, traction control, and dual front airbags and side curtain bags for all rows maintain Audi's record for safety.
Variable suspension offers four settings for ride heights, adjusting to road conditions for optimal handling and performance. The quattro is a beast in the snow, but strangely, the Audi Q7 has no low-range gear ratios for offroading capabilities. Perhaps because the focus here is on luxury. Leather seats, powerliftgate, sunroof, MMI centralized control, and plenty of storage compartments deck out the inside of the Q7. Seats are roomy and comfortable, though the rear seat is appropriate for children only. The Premium trim adds heated seats, navigation system, rearview camera, and various parking, blind spot, and imminent collision warning systems, so you really don't even have to bother trying to drive your Q7. It does it all for you.
The Q7 could benefit from its late entry, because it offers a unique style and engineering that might seem refreshing next to the old-school luxury SUVs. Early reviews from owners are good, with particular praise for the light car-like handling and maneuvering. Problems with awkward gearing and lack of offroading capabilities could hurt it a bit. A V12 diesel engine, the most powerful diesel to be put in a commercial car, is set to debut in Europe next year. Audi is also working on a hybrid Q7 for 2008.