New Audi Q5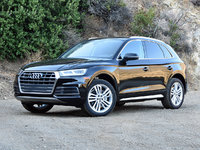 Used Audi Q5
Audi Q5 Questions
How Do I Reset Service Due Light On Dash For Inspection Due On My 2011 Audi...
how do i reset the service due light for inspection due on m 2011 audi q5
Deceiving Price Practice
I brought an Audi Q5 from Audi Pacific, in your website, they advertised as Premium Plus. I brought the car based on Premium Plus pricing and later found out that sold me a premium model. The pric...
Website
I've entered the car info at least twice and saved it but it doesn't show, this is a frustrating site. Where do I find my "garage"?
Audi Q5 Key Fob Not Recognized By Car
When I walk up to my Audi Q5 with the key fob in my purse, 50% of time it won't open. I have to place key fob right next to car door handle, and often this requires multiple attempts before the door...
Display Screen On My 2014 Audi Q5 Quit Working Only Get Lines No Info