New Audi Q5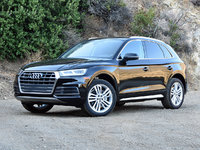 Used Audi Q5
Audi Q5 Questions
Window Sticker By VIN#: WA1DKAFP3CA132152
Cargo Area Cover
Does the 2018 Audi Q5 come with a cargo area cover as standard?
Broken Boot Struts Audi Q5 62 Plate
I have had my brake pads front and back replaced and when picked car up from garage my boot struts have gone all gas has come out just wondering if this could be related or is this just bad timing ...
WHY DOES THE AUDI 2012 Q5 - SUV USE SO MUCH OIL
Audi Q5
Is there a significant difference between 2.0 And 3.0??