New Audi Q5

The 2019 Audi Q5 has been announced, but it is not yet available for purchase.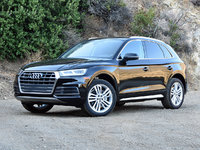 Used Audi Q5
Audi Q5 Questions
Intermittent Starting 2012 Audi Q5
My 2012 Q5 would intermittently not start. The car uses a Start push button. The lights would come up, but it would not even attempt to crank. This is a frequent issue some days, and may disappear f...
Audi Q5 Key Fob Not Recognized By Car
When I walk up to my Audi Q5 with the key fob in my purse, 50% of time it won't open. I have to place key fob right next to car door handle, and often this requires multiple attempts before the door...
Does Audi Q5 Still Have The Engine Oil Consumption Issue?
I'm looking into purchasing Audi Q5, but have second thoughts after reading about engine excessive oil use. I'm interested in models build in 2013 and up.
Tire Size
what is the widest tire i can put on and audi Q5 18" stock rim
Don't Ask For A Review And Then Only Do A Rating For Only One Car.
If you want me to just go with one just say so. I will not responded to any other of you ratings as I don't feel you really want comparisons.