New Acura MDX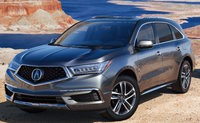 Used Acura MDX
Acura MDX Questions
Some Driver Assist Systems Cannot Operate:radar Obstracted
Transmission
My check transmission light came on after I had starter replaced cuz car wouldn't start. Now is a flashing D and it won't go on reverse. I had no hesitation when driving b4 car wouldn't start. Now ...
Acura Mdx 2002 Navigation (time)
I have an acura mdx 2002 everthing was fine with the car until yesterday...... Yesterday i turn on my car as usual i did my thing use my phone a little waiting for the engine to warm up and then i ...
Acura Mdx 2002 - Clock
The clock on my MDX with the Tech Pkg is showing 0:00. When I try to reset the time, it only allows you to increase or decrease the time, not do an actual Reset. The GPS and all other digital aspect...
Acura Mdx Wet Floor
I have a 2001 Acura MDX. A few months ago I noticed the drivers side floor was wet after it had rained the night before. I didn't pay it much attention at first but then it got worse and worse and now...
Acura MDX
Overview
Acura first released its MDX in 2001 into a market full of luxury SUV's. The MDX sits on the same platform as the Honda Odyssey, and shares much in common with the Honda Pilot.
Competing with the BMW X5 and Mercedes M-class, the MDX has many fine appointments that are expected of a luxury vehicle. Leather seats and wood trim create a plush interior, complete with a dashboard full of cutting-edge electronics.
Drivers of these vehicles have loved the agility, acceleration, and all-weather capability of these vehicles, while complaining about a lack of cargo space and questionably comfortable seats.