New Acura MDX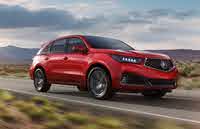 The 2019 Acura MDX has been announced, but it is not yet available for purchase.
CarGuru's preview of the 2019 Acura MDX

Used Acura MDX
Acura MDX Questions
Trip Computer Screen Has Dots All Over It? What Happened?
I turned my car on and all of a sudden a bunch of random lines covered a number on my screen. When I turned my car off and then turned it back on there were suddenly dots all over it. I have no ide...
How Do I Enter My Nav Code
Windows And Sunroof Won't Open 2003 Suv Acura
Is It Likely That 3 Out Of 4 Door Lock Actuators On My 2005 MDX Would Fail ...
In Home Financing. Buy Here Pay Here.
I've always driven Toyota's. I cannot get used to driving this SUV. To me it's an alien.
Acura MDX
Overview
Acura first released its MDX in 2001 into a market full of luxury SUV's. The MDX sits on the same platform as the Honda Odyssey, and shares much in common with the Honda Pilot.
Competing with the BMW X5 and Mercedes M-class, the MDX has many fine appointments that are expected of a luxury vehicle. Leather seats and wood trim create a plush interior, complete with a dashboard full of cutting-edge electronics.
Drivers of these vehicles have loved the agility, acceleration, and all-weather capability of these vehicles, while complaining about a lack of cargo space and questionably comfortable seats.