Used Saab 9-3
Saab 9-3 Questions
Have A Saab 2005 9-3 Convertible Car Has Power But When Turn The Key Nothin...
Is There A Vibration Caused By Ball Joint Failure?
low speed vibration during acceleration not always but often on right curves.
Engine Fault Codes
P0441 is the code that. Comes. Up on my car Im not sure. What. Part thats. Needing repaired. Or. Fixed.
I Just Finished Detailing The Inside Of My 2006 Saab 9-3 Wagon And Neither ...
I finished detailing the inside of my wagon. I did push down in the ignition area when cleaning. Now neither key fob works in turning on the car nor do their buttons. Battery charger indicates th...
How Do U Flash Out The Computer On 2005 Saab 9-3 Convertible?
Older Saab 9-3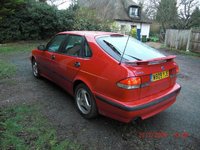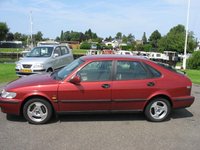 Saab 9-3
Overview
The Saab 9-3 is the direct descendant of the legendary Saab 900. Their changing of the guard occurred in 1998, as the 9-3 debuted as a 1999.
The major differences in the 9-3 were behind the scenes, rather than on the surface; much in the way of technical improvement marked this new model. But the big departure cane in 2003, when the 9-3 became a four-door sedan, a notable change from the typical Saab hatchback. It has also been available as a convertible since 2004.
The Swedish carmaker's 5-passenger sport sedan has as its main competitors these other European-branded cars: the Audi A-4, the BMW 3 Series, and the Volvo S Series. Each is considered a sporty luxury sedan, with slightly varying emphasis on handling, safety, performance, and plushness.
Every Saab 9-3 features a turbocharged engine, whether it's 4- or 6-cylinder. The original theme of the manufacturer lives on, with the driver's "cockpit" reminiscent of that of a jet aircraft. As always in Saab tradition, the ignition is located not to the right of the steering wheel, but down at the base of the center console.