Used Saab 9-3
Saab 9-3 Questions
2002 Saab 9-3 Dies While Driving
I have a 2002 Saab 9-3 that randomly shuts off while driving and starts up again. sometimes right away sometimes in 10 minutes. Note: I have most recently changed out the old crank position sensor f...
2004 9-2 AC Only Works On Drivers Side Vent.
Center and passenger vent discharge warm air only while drivers vent discharges cold air. Temp control both left and right side is set on LO. Tried defrost and heat discharge settings then returned ...
2000 Saab 93 Turbo Se Manual Transmission
manual transmission does not shift properly hard to get it into gear
9-3 2.0 Water Pump
1999 saab 9-3 2.0 water pump replacement videos?
The Key Fob Will Not Lock Or Unlock Doors Or Trunk But Will Start The Car. ...
Older Saab 9-3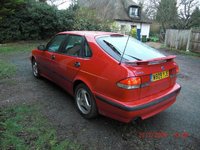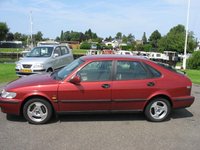 Saab 9-3
Overview
The Saab 9-3 is the direct descendant of the legendary Saab 900. Their changing of the guard occurred in 1998, as the 9-3 debuted as a 1999.
The major differences in the 9-3 were behind the scenes, rather than on the surface; much in the way of technical improvement marked this new model. But the big departure cane in 2003, when the 9-3 became a four-door sedan, a notable change from the typical Saab hatchback. It has also been available as a convertible since 2004.
The Swedish carmaker's 5-passenger sport sedan has as its main competitors these other European-branded cars: the Audi A-4, the BMW 3 Series, and the Volvo S Series. Each is considered a sporty luxury sedan, with slightly varying emphasis on handling, safety, performance, and plushness.
Every Saab 9-3 features a turbocharged engine, whether it's 4- or 6-cylinder. The original theme of the manufacturer lives on, with the driver's "cockpit" reminiscent of that of a jet aircraft. As always in Saab tradition, the ignition is located not to the right of the steering wheel, but down at the base of the center console.