MINI Cooper
Model Overview
About the MINI Cooper
Available Now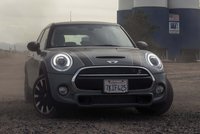 Green means "go" - and the MINI Cooper does it in style. Offering nearly 40 miles to the gallon in a distinctive package with plenty of pep and agility, the latest generation of this half-a-century-old world-renowned star is an eco-friendly miniature amusement park. It's not perfect, but those who prefer distinctive style and don't mind the hard ride, road noise, cramped cargo space and comical back seat are sure to find a big win in this little car.
The 2011 edition provides a few more ponies under its diminutive hood than previous models, plus a cosmetic touch-up alongside steering torque tweaks, newly optional adaptive headlights, and newly standard HD and satellite radio. Additional sound insulation this year makes an attempt to block out more road noise, but the end result offers little improvement.
The familiar Cooper, Cooper S and John Cooper Works (JCW) trims return again this year, each available as a 2-door coupe or convertible with a 6-speed manual by default or a 6-speed automatic optional for all but the JCW.
Although it may not look like much on paper, the Base's 121-hp 1.6-liter four-banger is more than ample, but drivers demanding considerably more punch can look to the turbocharged 181-hp Cooper S or turbo 208-hp John Cooper Works. Base fuel economy is estimated at 29 mpg city/37 highway with the manual transmission, while opting for the automatic shaves 1 mpg off both figures. The manual Cooper S loses 2 mpg from the Base, with the automatic only 1 mpg better than the JCW, which uses 25/33 mpg. Opting for a convertible will cost another 2 mpg and slow down acceleration somewhat due to its slightly bigger wheels.
Standard equipment includes 15-inch alloy wheels, full power accessories, keyless entry, air-conditioning, cruise control, a height-adjustable driver's seat, tilt-and-telescoping leather-wrapped steering wheel, multicolor ambient lighting and 6-speaker stereo with CD player, HD radio, satellite radio and an auxiliary audio jack. The Cooper's Sport package adds 16-inch wheels on the hatchback and 17-inch wheels on the convertible, fog lights, traction control, a spoiler, sport seats and hood stripes.
The Cooper S adds 16-inch wheels, firmer suspension tuning, fog lights, sport seats and alloy pedals. The Cooper S Sport package adds 17-inch wheels, xenon headlights, traction control and hood stripes. The John Cooper Works includes a more powerful turbo engine, upgraded brakes and cloth upholstery. Both the JCW and Cooper S may be fitted with a limited-slip differential and firmer suspension.
Beyond that you can tailor your MINI to suit your needs and style with its exceptionally long list of optional features ranging from different wheels, interior flairs and upholstery to parking sensors, a navigation system, adaptive xenon headlights, dual-pane sunroof, automatic climate control, heated front seats, keyless ignition/entry, a 10-speaker Harman Kardon surround-sound audio system, Bluetooth connectivity and iPod interface. If your Cooper just isn't customized enough with these factory options, the dealer has several other features on hand to further mold it into your very own MINI dream machine.
Although its crash test ratings are not the best in the industry, the Cooper holds up pretty well with a strong complement of safety features from airbags to rollover bars, and drivers commend its ability to come out of an accident relatively unscathed despite its obvious size disadvantage. This is one unforgettable little oddball with a lot of love for the right driver - some even describe it as a "pet they can drive" with few detriments worth mentioning.
Model History
Michael Jackson will forever be the King of Pop, but even his career pales in comparison to the MINI Cooper's 50-plus years as a youthful icon. The Mini first landed on UK soil in 1959 as a fuel-efficient answer to the region's oil crises and a super-compact companion on tight British roads with room for 4 adults and their luggage.
Fortunately it was also very light, since the original 34-hp engine almost certainly wasn't going to make it up any real hill on its own, but that's probably why only 20,000 Minis were produced in its first years. By 1962, however, the Mini had achieved stardom, and no fewer than 200,000 were produced in each of the following 15 years by the British Motor Corp.
The Mini Cooper debuted for 1961, and for a short while it was an American counter-culture favorite. By 1990 Mini became a part of the Rover group, which was then purchased by BMW in 1994, but the first BMW-produced MINI didn't arrive until 2002. The lineup up to that point was largely hit or miss, with a few anniversary bright spots and a slow progression toward modernity, although it always has been and still is a sharp little number - in both maneuverability and style.
The latest chapter in the MINI Cooper's long life tells a tale of impeccable German engineering indelibly married to irresistible British charm. However, like all marriages, it took a few years and a lot of elbow grease to make the MINI what it is today.
The first-generation modern MINI hatchback was produced from 2002 to 2006, at first as Cooper and sporty Cooper S models, with the convertible arriving for 2005 and sticking through 2008. The baseline 115-hp engine was enough move the Cooper adequately enough, but the 163-hp supercharged Cooper S was easily the favorite.
A few updates for '04 offered a more comfortable three-spoked steering wheel and digital speedometer, and the 208-hp John Cooper Works debuted for '05 alongside the convertible, some style updates and an engine tweak for the Cooper S resulting in 5 more ponies.
This generation however suffers from constant squeaks and rattles out of its loosely constructed body, and the optional continuously variable automatic transmission (CVT) seriously held back performance over the manual. Taller drivers should also note this generation lacks a telescoping steering wheel, although there is surprisingly ample legroom otherwise.
The second generation began for the hatchback as a 2007 model, while the convertible ran with its first-generation setup until 2008, when the John Cooper Works also made a comeback on the new build. The ride was made softer, the body made more solid, the steering made less tiresome at low speeds, and the engines were more refined with significantly better fuel economy. In one fell swoop, BMW transformed the MINI from a quirky cult favorite to a mainstream dream with real star quality.
The original engines were not quite as powerful as the latest models, starting out at 118 hp for the Base and 172 hp for the turbo Cooper S, moving to 121 hp and 177 hp respectively for 2011, with the John Cooper Works still running on the same 208 hp it did for its '09 re-introduction. The 2011 overhaul likewise addressed the torque steer in the Cooper S and some quirks with the interior decorating.
Just prior to that overhaul, the MINI Camden and MINI Mayfair 2010 special editions were loaded with cutesy features like a "Mission Control" system and in-car voices for certain vehicle functions along with special trim and style. Cruise control and a multifunction steering wheel were only optional prior to 2010, and until '09 so was stability control. 
So far there do not appear to be any significant changes for the 2012 lineup, and certainly not anything like a new generation to address the presently hard and noisy ride, despite the insulation added for 2011. Still, it is one adorable little spitfire with plenty of character for any driver desiring something a bit more distinctive and tailored.
Used Versions
The marriage of German engineering with British charm has done wonders for the latest incarnation of the MINI, with only first-model-runs having any problems at all - and even then, it's just a loose wire or leak. Only the '02 and '07 model years are affected by these shortcomings, with every single other model year having an impeccable track record.
The first generation was loosely constructed however, without the improved suspension, steering and power of the latest generation and so may be worth avoiding altogether - but do definitely steer clear of the CVT and larger tires. This includes the '07 and '08 convertibles, which were built as a first-gen even as the rest of the lineup was brought into the second generation for '07. Despite those shortcomings, you will have to look far and wide for a genuine bargain - don't be tempted by unusually low sticker prices, as these are likely exceptionally frugal in the feature department.
As for the second generation, stability control became standard for '09, and cruise control along with the multifunction steering wheel became standard for '10. The 2011 improves on road noise and steering torque alongside a few cosmetic touches, but every year aside from the '07 is absolutely worth every penny. The '09 model year is ripe for bargains, being just a hair underpriced and overlooked for the '10 Camden and Mayfair special editions, but demand for this beautiful little buggy is only going up, so any bargain is not going to last very long.
New MINI Cooper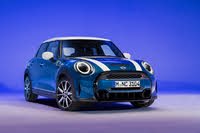 Used MINI Cooper