Lincoln Aviator
Model Overview
Used Lincoln Aviator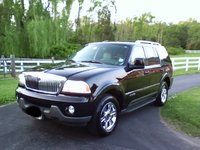 Used 2005 Lincoln Aviator For Sale
| | |
| --- | --- |
| | 4 GOOD Deals |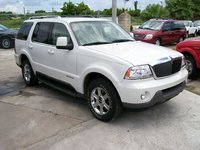 Used 2004 Lincoln Aviator For Sale
| | |
| --- | --- |
| | 11 GOOD Deals |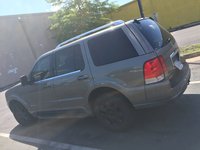 Lincoln Aviator Questions
It Wont Shift
My aviator 2004 lincoln starts but wont let me shift to drive?
O2 Sensor
How many oxygen O2 sensors does my vehicle have?
Headlamp Replacement
Model number for headlamp replacement
2003 Lincoln Aviator
He All, I have a 2003 Lincoln Aviator with 180k. I bought it a few months ago. I've had it serviced by a mechanic and he said the engine is running really good now with no check engine lights comin...
2005 Lincoln Aviator Engine Died While Driving, Cranks But Won't Start - He...
2005 Lincoln Aviator 4.6L V8 - Any advice / experience is greatly appreciated!! Last week I was driving my finance's 2005 Lincoln Aviator when the engine shut off while doing about 45mph. Even thoug...
Lincoln Aviator
Overview
There's no Flubber involved, no Chitty-Chitty-Bang-Bang nickname included. That's because, of course, the Lincoln Aviator can't really fly. In reality, it's a midsize luxury SUV that borrows its body-on-frame platform from the Ford Explorer and its luxury trappings and exterior styling from the Lincoln Navigator. From outward appearances, the Aviator is just a shrunken Navigator, making it more appealing to childless drivers who want the cargo space, three rows of seating, towing power, and AWD capability available in larger SUVs.
Introduced in 2003 as a more manageable alternative to the beefier Navigator, the Lincoln Aviator was available in Luxury and Premium trims, with either rear-wheel or automatic all-wheel drive. It had a stronger standard engine than the Explorer - a 4.6-liter V8 and a 5-speed automatic tuned for 302-hp and 300 ft-lbs of torque. Creature comforts abounded, with heated leather seats, power everything (including pedals), and a host of standard and optional safety features. The Premium trim added the popular heated and cooled seats, and other options available included a sunroof, navigation system, and DVD player.
Over its three-year lifespan, the Premium trim became the Ultimate and then was dropped and offered only as an option package. Traction control with rollover protection became standard in 2005. Though not equipped for off-roading, as it lacked low-range gearing, the all-wheel drive system provided extra security in rough climates or tricky driving situations. The Aviator could be configured to seat either six or seven, though a common complaint was that the third row offered little legroom.
The Aviator was meant to appeal to drivers looking for a luxury SUV who didn't need the space or size of the sometimes unwieldy Navigator. Good towing power and easy driveability rated high with owners. Sales never amounted to much, however, perhaps because its equipment list didn't differ much from those of the less expensive Explorer and Mountaineer and its overall appearance wasn't distinct enough from its bigger brother. Low fuel economy and a hefty pricetag did not help its cause. Gone after 2005, rumors of a revised car-based crossover Aviator for 2007 were quashed with the release of the Lincoln MKX. This new crossover carries only a V6, however, and plans for a more Aviator-like crossover are still in the works.