Kia Optima
Model Overview
New Kia Optima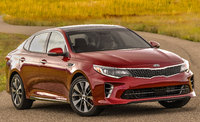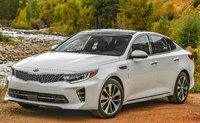 Used Kia Optima
Kia Optima Questions
How Do I Replace The Bulb On The Center Brake Light On A 2008 Kia Optima?
How To Replace The Bulb For The Center Brake Light On A 2007 Kia Optima
the bulb for the brake light that's against the rear window of the car must be replaced
Is This 2013 Kia Optima Buy Or A No
I am looking to purchase a vehicle soon it's a clean 2013 Kia Optima with 35k mile going for 8k since the guy is known personally it was going for 11k if it were someone else
Ignition Switch Stuck,
How do I get a switch to unstuck from the key being snatched out of the ignition switch on the acc instead of being in the lock position
It Is -31 Here And The Wind Chill Is -50. Yesterday Morning When I Started...
Older Kia Optima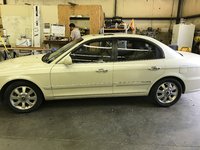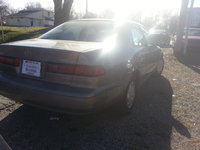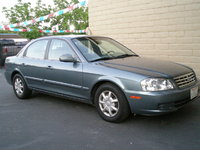 Kia Optima
Overview
The Optima is Kia's entry into the mid-size sedan market. Its goal is to offer many of the same upscale features, performance, and quality, but at a lower price than comparable competitors.

Launched in 2001, the Optima is a four-door, front-wheel drive sedan. It came with either an I4 or a V6 engine, and the base model came equipped with power windows and locks, air conditioning, intermittent wipers, and a rear defrost. Higher trims added on cruise control, remote entry, a sunroof, heated mirrors, and leather trim. Aside from some minor exterior and interior styling changes, the Optima looked very much like the car upon which it was based, the Sonata.

It wasn't until 2006 that the Optima started to forge its own identity separate from the Sonata, with an all-new redesign, including a ittle more stylish flair to its lines and a different front end. It also got new, more powerful engines and was now loaded with six airbags. Standard luxury features remained about the same, with the new EX the top-of-the-line model.

Drivers have liked the overall performance of the Optima, complimenting its quiet ride and new rounded style. Performance suffers with the I4, obviously, and the V6 isn't winning any races, but it reliability is greatly improved. Along with the long list of standard equipment, one of Kia's most attractive features is its 10,000 miles/10-year warranty. That, combined with a lower pricetag than similarly equipped cars, positions the Optima as a luxury sedan for even the smallest wallets.