Kia Optima
Model Overview
New Kia Optima

The 2019 Kia Optima has been announced, but it is not yet available for purchase.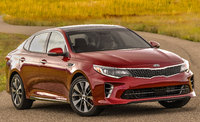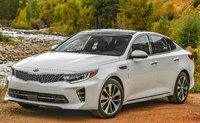 Used Kia Optima
Kia Optima Questions
2004 Kia Optima Stop Light
my 3rd break light is out and when i replaced the bulb with a new one it still doesnt turn on i also checked the fuse and it still looks good what could be causing the light not to turn on?
Does Kia's Factory Warranty Cove The Car After The Vehihicle Has Been Sold ...
Kia Optima Lx 2003
It's good on short trips long trips battery slowly dies belt squeaks some time after driving it won't start replaced alot now it is sluggish Cam shaft positioning sensor or belt bolt sure for ...
No Power At All
I parked My 2015 Kia Optima SXL Car covered on last week of February until May 8, 2018. Upon on returning I had no power once I attempted to unlock with key fab. Once I opened door with the key NO ...
A/c Can Anyone Give Me A Clue Or Solution To My A/c Problem? When I Start...
Then it blows neutral air ( not hot, not cold). If I turn the car off for about 5 minutes, then it works again. My mechanic has replaced a valve, put coolant in it, and checked the pressure. He thi...
Older Kia Optima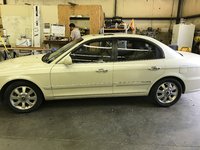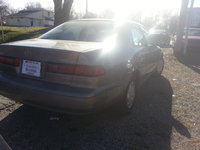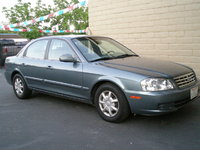 Kia Optima
Overview
The Optima is Kia's entry into the mid-size sedan market. Its goal is to offer many of the same upscale features, performance, and quality, but at a lower price than comparable competitors.

Launched in 2001, the Optima is a four-door, front-wheel drive sedan. It came with either an I4 or a V6 engine, and the base model came equipped with power windows and locks, air conditioning, intermittent wipers, and a rear defrost. Higher trims added on cruise control, remote entry, a sunroof, heated mirrors, and leather trim. Aside from some minor exterior and interior styling changes, the Optima looked very much like the car upon which it was based, the Sonata.

It wasn't until 2006 that the Optima started to forge its own identity separate from the Sonata, with an all-new redesign, including a ittle more stylish flair to its lines and a different front end. It also got new, more powerful engines and was now loaded with six airbags. Standard luxury features remained about the same, with the new EX the top-of-the-line model.

Drivers have liked the overall performance of the Optima, complimenting its quiet ride and new rounded style. Performance suffers with the I4, obviously, and the V6 isn't winning any races, but it reliability is greatly improved. Along with the long list of standard equipment, one of Kia's most attractive features is its 10,000 miles/10-year warranty. That, combined with a lower pricetag than similarly equipped cars, positions the Optima as a luxury sedan for even the smallest wallets.