Kia Optima Hybrid
Model Overview
New Kia Optima Hybrid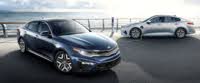 Used Kia Optima Hybrid
Kia Optima Hybrid Questions
2013 Kia Optima Hybrid Start Issues
Replaced battery and worked fine for a week. Jumped started fine and drives fine but when I shut off it won't start back. Key fob inop and steering wheel light is all that is showing on dash
Why My Car Makes A Loud Air Shot When Accelerating From 1st To 2nd Gear?
Hi! I own a 2013 kia optima lx hybrid. For some reason my car makes a loud noise when going from 1st to 2nd gear like an air shot. Anyone knows what the problem is? Thanks!
Wont Start Says Check Brake On Dash
lights come on but car wont start and says check brake
My 2012 Kia Optima Won't Start Says Won't Detect Key
Why Won't My Kia Optima Start If The Battery Is New And The Brake Lights Wo...
I have a 2013 Kia Optima Hybrid that won't start. There is no power, not even the key fab will work. The only power is that the brake lights come on and they look very bright. We replaced the bat...
Find great deals from top-rated dealersTM
Search