Honda S2000
Model Overview
Used Honda S2000
Honda S2000 Questions
Engine Knowledge
What Honda engine was touted as more powerful per liter than a Ferrari Enzo?
Honda S20000
Is honda still making the s2000 convertible
Why Does It Take So Long For You To Remove Cars That Are No Longer For Sale...
Contact
How will I know if someone wants to contact me about my car? Will I receive an email?
S2000 Price Drop?
I am wondering... will the price of the old S2000 drop if a new one is released as the rumors state?
Older Honda S2000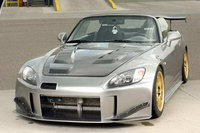 2000 Honda S2000 reviews:





Honda S2000
Overview
The Honda S2000 is a sports car for the power hungry with its rev-happy, 237 hp 2.2 liter engine. And the sports car part is no joke. In both 2004 and 2005 the car placed in the Indy 500.
Drivers praise its performance, power and responsiveness, even if they don't praise the gas mileage. But then, as they say, if you got the car to enjoy its drive, you don't really car about the gas.
The S200 is too small to be a family car, and it's really light on the cargo space. But the seats are comfy, the sound is good, and the top should almost always be down.