Dodge Ram 1500
Model Overview
Used Dodge Ram 1500
Dodge Ram 1500 Questions
Motor Swap
Can you swap a motor from a 1999 dodge ram 1500 to a 2003 dodge Durango?
No Dash Or Tail Lights On 97 Ram 1500 Sport
My headlights come on brake lights work turn signals but I have no dash lights or tail lights... no fuses are blown and the headlight switch has been replaced any Ideas as to what the problem migh...
2001 Dodge Ram 1500 5.2 Liter 87k Miles
I have a 2001 dodge ram 1500 5.2 liter. When I start it, it has a rough idle and then wants to die. Also while traveling up hills, the truck is lacking power. Tends to only want to shift when it hits ...
1998 Dodge Ram 1500
The check gauges light came on and the oil pressure goes to 40. Then the truck will start but not stay on.
Jack Bourcier
Test,I have a 98 Dodge 1500 ram pickup.when you drive it about 10 miles the truck will shift down out of overdrive to drive and the transmission heat light will come on and it will down shift to sec...
Older Dodge Ram 1500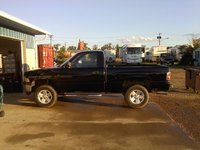 1994 Dodge Ram 1500 reviews:
Dodge Ram 1500
Overview
The Dodge Ram Pickup 1500 half-ton truck is a machine built for work. Two engines were available in the 1994 Dodge Ram 1500: a 3.9-liter V6 in the 2WD model, or a 5.2-liter V8 in the 4WD. The V6 has 175 hp of pulling power, while the V8 has an impressive 200 hp. All trims are available with a 6.5-foot or 8-foot bed, depending on your personal work needs. The half-ton pickup easily stands up to this rating.
Comfort wise, the 1994 Dodge Ram 1500 has a number of options available, depending on the package you want. Options include air conditioning, tilt steering, cruise control, a tachometer, and a cassette player. For driving ease, a 4-speed automatic transmission is available in all trims of the Dodge Ram half-ton, although a 5-speed manual comes standard. Gas mileage isn't great, especially with the V8, but that's to be expected from a heavy-duty truck.
Owners of the 1994 Dodge Ram 1500 were generally happy with the truck, though there were a few problems that seemed to come up a few times. Transmissions and water pumps needing replacement too early were the main complaints, though a number of people commented on the poor factory paint job that came with the Ram 1500. But over and over, people were happy with the overall performance of the 1994 Dodge Ram, which seems to be a true workhorse.