Dodge Ram 1500
Model Overview
Used Dodge Ram 1500
Dodge Ram 1500 Questions
I Have A 2007 Dodge Ram 1500 4x4 And It Is Acting Like There Is Something H...
Will A 95 Ram 2500 Oil Pan Fit A 1500 Ram
Oil plug stripped inside of pan on my 97 ram 1500 with 5.2 i got a 95 2500 ram with a 5.9 for a parts truck will oil pan fit and match up with my 97 ?
Truck Acting Like Struggling To Get Fuel
2005 Dodge Ram 1500 Won't Move When In Gear
My truck starts fine, idles fine, and will even shift into any gear. The problem is that it won't move when it's in gear. I shift it to drive (or reverse or anything else), give it gas, and the engine...
What Years Will Fit, For Left Front Axle Housing On My Dodge Ram 1500 Laram...
Older Dodge Ram 1500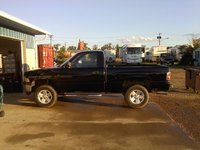 1994 Dodge Ram 1500 reviews:





Dodge Ram 1500
Overview
The Dodge Ram Pickup 1500 half-ton truck is a machine built for work. Two engines were available in the 1994 Dodge Ram 1500: a 3.9-liter V6 in the 2WD model, or a 5.2-liter V8 in the 4WD. The V6 has 175 hp of pulling power, while the V8 has an impressive 200 hp. All trims are available with a 6.5-foot or 8-foot bed, depending on your personal work needs. The half-ton pickup easily stands up to this rating.
Comfort wise, the 1994 Dodge Ram 1500 has a number of options available, depending on the package you want. Options include air conditioning, tilt steering, cruise control, a tachometer, and a cassette player. For driving ease, a 4-speed automatic transmission is available in all trims of the Dodge Ram half-ton, although a 5-speed manual comes standard. Gas mileage isn't great, especially with the V8, but that's to be expected from a heavy-duty truck.
Owners of the 1994 Dodge Ram 1500 were generally happy with the truck, though there were a few problems that seemed to come up a few times. Transmissions and water pumps needing replacement too early were the main complaints, though a number of people commented on the poor factory paint job that came with the Ram 1500. But over and over, people were happy with the overall performance of the 1994 Dodge Ram, which seems to be a true workhorse.