Dodge Ram 1500
Model Overview
Used Dodge Ram 1500
Dodge Ram 1500 Questions
A/C Issue
I can turn my AC on in the truck on any setting and it works and then after a little while it just slows down to where it's barely blowing any air even on high it's still cool but it is not eno...
Timing Chain
94 dodge ram magnum v8 5.2 won't start after replacing the timing chain
TPS Sensor
Replaced entire assembly for the throttle body. Is not reading any codes, but still keeps shutting down. I was told it could be gas petal sensor or fuel pump. At a loss of where to go next.
Transfer Case
In theory shouldnt the transfer case out of 94 Dodge 1500 fit in a 97
Older Dodge Ram 1500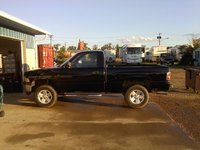 1994 Dodge Ram 1500 reviews:
Dodge Ram 1500
Overview
The Dodge Ram Pickup 1500 half-ton truck is a machine built for work. Two engines were available in the 1994 Dodge Ram 1500: a 3.9-liter V6 in the 2WD model, or a 5.2-liter V8 in the 4WD. The V6 has 175 hp of pulling power, while the V8 has an impressive 200 hp. All trims are available with a 6.5-foot or 8-foot bed, depending on your personal work needs. The half-ton pickup easily stands up to this rating.
Comfort wise, the 1994 Dodge Ram 1500 has a number of options available, depending on the package you want. Options include air conditioning, tilt steering, cruise control, a tachometer, and a cassette player. For driving ease, a 4-speed automatic transmission is available in all trims of the Dodge Ram half-ton, although a 5-speed manual comes standard. Gas mileage isn't great, especially with the V8, but that's to be expected from a heavy-duty truck.
Owners of the 1994 Dodge Ram 1500 were generally happy with the truck, though there were a few problems that seemed to come up a few times. Transmissions and water pumps needing replacement too early were the main complaints, though a number of people commented on the poor factory paint job that came with the Ram 1500. But over and over, people were happy with the overall performance of the 1994 Dodge Ram, which seems to be a true workhorse.