Chrysler Sebring
Model Overview
Used Chrysler Sebring
Chrysler Sebring Questions
2006 Sebring 2.7 Boiling Coolant In Reservoir
Have found some articles talk about the same problem in this type car, but everyone is in different situation, Hope someone can help me find the correct way to troubleshooting the problem. When my S...
Trunk Release Won't Open Trunk
The pull lever won't release trunk lock
New Breaks Are Going Out
I recently replaced my wheel bearings and decided on getting a the kit, however my breaks are no longer holding pressure, and occasionally will squeal followed by a loud pop and loss in break pres...
Starter
Will a starter from a 2004 Chrysler intrepid 2.7L fin in a 2008 Chrysler Sebring 2.4L as a quick fix as I have my old intrpid that's no longer kn the road but my starter in my sebring just let go a...
2009 Chrysler Sebring Interior Fuse Box Location?
My break lights have all stopped working, i am having trouble finding the interior fuse box to check the fuses. The rear lights work and hazards. (Its not inside door panels that i can see or unde...
Older Chrysler Sebring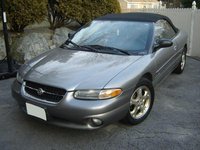 1998 Chrysler Sebring reviews: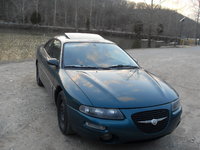 1997 Chrysler Sebring reviews: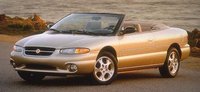 1996 Chrysler Sebring reviews: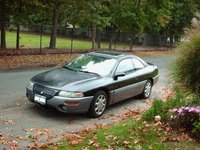 1995 Chrysler Sebring reviews:
Chrysler Sebring
Overview
The first Sebring was introduced in 1995 as a replacement for the discontinued Lebaron model in Chrysler's midsize slot. The initial 1995 model was a coupe, and a convertible version followed in 1996. In 2001, Chrysler also applied the Sebring name to a new midsize sedan, filling the void left by the Cirrus.
The new sedan was built upon the same JR platform as the Cirrus, while the coupe's foundation was shared with the Mitsubishi Eclipse. The coupe vanished after the 2005 model year, and the convertible will not be available in 2007.
Significant changes this decade include a mid-generation styling refresh in 2004 and a complete redesign in 2007. The new Sebring shares the Mitsubishi GS platform, but its primary basis is the Airflite concept car. Many of the new styling details are similar to that of the Crossfire sport coupe.
The Sebring became the first Chrysler model to feature the Harman Kardon audio and navigation combination system. Refered to as MyGIG, this comprehensive package includes real time Sirius-generated traffic reports, a 20GB hard drive, and a USB upload.
Find great deals from top-rated dealersTM
Search