Chrysler Sebring
Model Overview
Used Chrysler Sebring
Chrysler Sebring Questions
Does Anyone Know Where To Buy An Interior Drivers Door Panel For A 1998 Chr...
I am looking for an interior driver's door panel(leather/tan in color) for a 1998 Chrysler Sebring Convertible JX. I have looked many places but no luck. Please help.
My Radio And Interior Lights Dont Work On My 1999 Chrysler Sebring Lxi
Car was sitting for a while. I decided to put in back on the road. I had a new fuel pump and distributor cap installed. Car starts and runs fine, but my radio and interior lights don't work. Help!!!
Cooling System
Over heating problems. It's got new pump timing components thermostat,radiator cap temperature unit , fans work been bled won't overheating idle until you drive it
Ac
I just had my oil changed and my ac is only blowing hot air. I told the mechanics st jiffy lube and they told me to go and get a csn of coolant and they would try and fix it. Still doesnt work!
Obdii Code: P2004 Need Help! Chrysler Sebring 2008
Hi all! I've went to a local auto parts and services location and had a free OBDII Scanner reading for my vehicle that had an engine light on. They discovered the trouble code to be P2004 and I atte...
Older Chrysler Sebring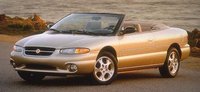 1996 Chrysler Sebring reviews: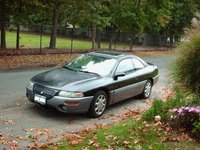 1995 Chrysler Sebring reviews:





Chrysler Sebring
Overview
The first Sebring was introduced in 1995 as a replacement for the discontinued Lebaron model in Chrysler's midsize slot. The initial 1995 model was a coupe, and a convertible version followed in 1996. In 2001, Chrysler also applied the Sebring name to a new midsize sedan, filling the void left by the Cirrus.
The new sedan was built upon the same JR platform as the Cirrus, while the coupe's foundation was shared with the Mitsubishi Eclipse. The coupe vanished after the 2005 model year, and the convertible will not be available in 2007.
Significant changes this decade include a mid-generation styling refresh in 2004 and a complete redesign in 2007. The new Sebring shares the Mitsubishi GS platform, but its primary basis is the Airflite concept car. Many of the new styling details are similar to that of the Crossfire sport coupe.
The Sebring became the first Chrysler model to feature the Harman Kardon audio and navigation combination system. Refered to as MyGIG, this comprehensive package includes real time Sirius-generated traffic reports, a 20GB hard drive, and a USB upload.