New BMW X3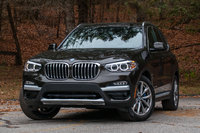 Used BMW X3
BMW X3 Questions
Used 2015 Bmw X3
this car has close to 120k miles. is it worth buying? or will repairs start happening frequently because of high mileage?
AC In A 2007 BMW X3
My ac has been acting up the last 6 months. I would get it charged and have cold air as I sit idle. When I get above 45 mph it would go warm. So I thought I had a leak and would go back to my mech...
Why Is Your Web Site Such A Piece Of Shit! It Does Not Have A Selection For...
My Abs Brake Like Comes On After I Start Driving Then Stays On.
Is it dangerous driving with the abs and brake lite on. I can't afford to fix now. My cancer treatment is costly now
What Is High Mileage When Purchasing A BMW X3
I am looking to purchase a 2006-2010 BMW X3. I have looked around for a couple months and went to see one vehicle so far. It had 97XXX miles on it but seemed to be in very good shape. I would like t...
BMW X3
Overview
BMW launched its X3 in 2004 as a compact, five-passenger SUV. The standard, 3.0i features 17-inch alloy wheels and a 3.0 liter engine (a smaller, 2.5i - with a 2.5 liter engine - is also available). Both the 3.0i and 2.5i come with a standard six-speed manual transmission, or an optional five-speed automatic transmission with overdrive.
The X3 was introduced as a cheaper, entry level version of BMW's popular X5 line. And while the price of an X3 is about $10,000 cheaper than its big brother, the vehicle offers more cargo space and almost as much passenger space as the X5.