New BMW X3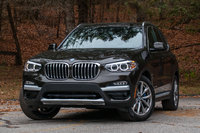 Used BMW X3
BMW X3 Questions
Eml Problem
Hello i have a bmw x3 2005 i have a problem with the car eml part. This problem is then caused by a 25-minute drive, which turns off and sometimes loses the engine, but eventually the car turns off...
2007 BMW X3 3.0si
I had my ignition on and was wiping the dash off and around the gear shift. I noticed that the background lights on the stereo came on along with the park light next to the shifter. I cannot get t...
2013 X3 28i
How do I go about getting ahold of bmw , 2013 x3 28i 78000 on it just started knocking really load.
Engine Failure On My 2013 BMW X3
I am very upset re: 2 weeks ago my BMW x3, only 5 years old, had engine failure. 76,000 miles and of course out of warranty. This is my 3rd BMW. Corporate BMW just called and they are not willing t...
Bmw X3
x3 windshield washer keeps saying its empty
BMW X3
Overview
BMW launched its X3 in 2004 as a compact, five-passenger SUV. The standard, 3.0i features 17-inch alloy wheels and a 3.0 liter engine (a smaller, 2.5i - with a 2.5 liter engine - is also available). Both the 3.0i and 2.5i come with a standard six-speed manual transmission, or an optional five-speed automatic transmission with overdrive.
The X3 was introduced as a cheaper, entry level version of BMW's popular X5 line. And while the price of an X3 is about $10,000 cheaper than its big brother, the vehicle offers more cargo space and almost as much passenger space as the X5.