New BMW X3

The 2018 BMW X3 has been announced, but it is not yet available for purchase.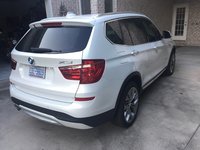 Used BMW X3
BMW X3 Questions
Hi I Have A 2004 Bmw X3 Runs Good Below 40mph And When Im About To Reach 40...
Coolent Sign Come On And Off
Car No Starting But Cranking
my bmw x3 is cranking but not picking. before that it was running then stopped suddenly
Tire Size For Bmw X3
Just bought new tires for my X3. I stayed with oem spec for size. I still wonder if I could've bought a bigger tire that wouldn't negatively affect the handling? My current tire is a 235. Does an...
My Truck Won't Start
My truck will not start sometimes in the morning and sometimes after I drove it for a little bit and on top of that it is jerking when I take off
BMW X3
Overview
BMW launched its X3 in 2004 as a compact, five-passenger SUV. The standard, 3.0i features 17-inch alloy wheels and a 3.0 liter engine (a smaller, 2.5i - with a 2.5 liter engine - is also available). Both the 3.0i and 2.5i come with a standard six-speed manual transmission, or an optional five-speed automatic transmission with overdrive.
The X3 was introduced as a cheaper, entry level version of BMW's popular X5 line. And while the price of an X3 is about $10,000 cheaper than its big brother, the vehicle offers more cargo space and almost as much passenger space as the X5.