New BMW X3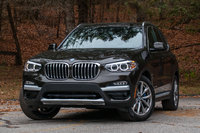 Used BMW X3
BMW X3 Questions
What Should An Oil Pan Gasket Replacement Cost?
Car Features Did Not Match To CarGurus' Listing
We bought a used car yesterday and we realized that the package that is listed as in the car at CarGurus is actually missing. They stated that we needed to stick what's on their own webpage and don'...
Pet Nails
I'm considering the Sensatec or Mercedes equivalent, but my dog tends to claw at car seats. If I'm going to by a nice car, I don't want to add ugly seat covers. My cloth seats now are fine . How ...
AC Mixing The Air After Driving About 100klm Thé Distance
Bmw x3 e83 3.0d AC mixing the air after driving about 100klm thé distance. Thé AC works good but when i drive about 100klm distance he starts to mix the air. Any suggestion ?
Could Not Add VIN Number Due To An Old (removed) Listing
I recently moved from Greenville SC to Charlotte NC. I had my 2008 BMW X3 (WBXPC93418WJ13430) posted on my old account which has Greenville as default location. SInce I can't change the default loca...
BMW X3
Overview
BMW launched its X3 in 2004 as a compact, five-passenger SUV. The standard, 3.0i features 17-inch alloy wheels and a 3.0 liter engine (a smaller, 2.5i - with a 2.5 liter engine - is also available). Both the 3.0i and 2.5i come with a standard six-speed manual transmission, or an optional five-speed automatic transmission with overdrive.
The X3 was introduced as a cheaper, entry level version of BMW's popular X5 line. And while the price of an X3 is about $10,000 cheaper than its big brother, the vehicle offers more cargo space and almost as much passenger space as the X5.