New BMW X3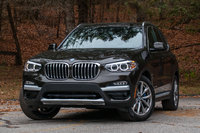 Used BMW X3
BMW X3 Questions
Installing Blind Spot Detector/2019
I bought a new 2019 X3 and for some odd reason they told me I didn't request the driving assistance package which comes with the blind spot detector. Is there a way I can get this installed?
How To Change Clock Time On 2018 BMW X3
How do your change the clock time on the dashboard?
Engine Failure On My 2013 BMW X3
I am very upset re: 2 weeks ago my BMW x3, only 5 years old, had engine failure. 76,000 miles and of course out of warranty. This is my 3rd BMW. Corporate BMW just called and they are not willing t...
I Have A 2006 BMW X3. When I Lock The Doors, From My Remote Lock, The Light...
Starting Problem
I scanned my car and removed all the fault codes. Then after i removed the scanner the car wouldnt start and Restraint warning pops out. It starts only when i reconnect the scanner. Pleased help
BMW X3
Overview
BMW launched its X3 in 2004 as a compact, five-passenger SUV. The standard, 3.0i features 17-inch alloy wheels and a 3.0 liter engine (a smaller, 2.5i - with a 2.5 liter engine - is also available). Both the 3.0i and 2.5i come with a standard six-speed manual transmission, or an optional five-speed automatic transmission with overdrive.
The X3 was introduced as a cheaper, entry level version of BMW's popular X5 line. And while the price of an X3 is about $10,000 cheaper than its big brother, the vehicle offers more cargo space and almost as much passenger space as the X5.