Volvo XC60
Model Overview
New Volvo XC60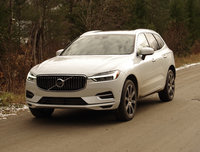 Used Volvo XC60
Volvo XC60 Questions
Volvo XC60 Remote Lock Audio Confirmation Stopped Working After Battery Die...
My 2016 Volvo XC60 is set to have a "Chirp" (AKA Audio Confirmation) occur when I lock the doors with my FOB key. But ~2 weeks ago the battery died, and ever since jumping the battery, this feature ...
I Have A 2015.5 Xc60 Volvo With Platinum Package. Manual Is Terrible. Doe...
'10 Volvo Xc60 Won't Start
Over the last month randomly I would get a message "replace the battery in the key fob". I had not yet done that and yesterday I came out for my lunchbreak from work and the car would not start. I...
Squealing Noise
I have had my used 2013 Volvo XC60 for 2 months. This car has 23000 miles on it. I have taken the car to a Volvo dealership, Toyota and external mechanics and no one can seem to tell where this soun...
Volvo XC60 Retracacting Mirrors
My automatic mirrors fold when locking the car, or thru L/R mirror button pushes. Both mirrors assemblies open/unfold when unlocking the car or thru button push above. However, the drivers side opens ...
Older Volvo XC60