Volvo XC60
Model Overview
New Volvo XC60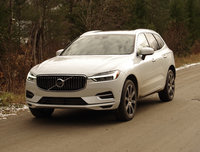 Used Volvo XC60
Volvo XC60 Questions
What Is Difference Between 2017 Volvo Dynamic Ans Inscription
Squealing Noise
I have had my used 2013 Volvo XC60 for 2 months. This car has 23000 miles on it. I have taken the car to a Volvo dealership, Toyota and external mechanics and no one can seem to tell where this soun...
Volvo XC60 Retracacting Mirrors
My automatic mirrors fold when locking the car, or thru L/R mirror button pushes. Both mirrors assemblies open/unfold when unlocking the car or thru button push above. However, the drivers side opens ...
Won't Start
I have a 2010 Volvo XC 60. It has always ran well. I have always taken it in for oil changes. The check engine light has been coming on off for about a year. About a year ago all of the Chargers e...
Can One Buy From You If He Stay In Africa (Tanzania)?
Older Volvo XC60