Volvo XC60
Model Overview
New Volvo XC60

The 2020 Volvo XC60 has been announced, but it is not yet available for purchase.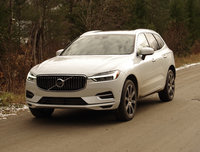 Used Volvo XC60
Volvo XC60 Questions
How Can A Rate My Experience
I want to give a 5 star rating to Lakeside Auto Exchange!! I was very pleased with the service and conversation from Drew and Ryan! Thank really appreciate them very much!
What Is The Auxiliary Belt On A 2011 XC60? Is This The Same Thing As A Tim...
My 2011 Volvo XC60 has ~127,000 miles and when taken in for scheduled maintenance was told I need to replace the "auxiliary belt" due to cracking. What is the auxiliary belt? Is a quote of $770 too ...
Drivetrain Noise
Rotational vumpf vumpf noise when accelerating between 25 and 45 mph
I Want To Review A Dealer I Bought A Car From But Computer Ssystem Will Not...
Again, I did not contact the dealer thru Car Gurus, but used Car Gurus during my six month search for my new used car...I would like to assist other car Gurus users such as I do with Trip advisor and ...
Volvo XC 60 Brake Light Not Working
I changed the bulb, checked the fuse but my left rear brake light is still not working. I don't know what else to do?
Older Volvo XC60