New Kia Rio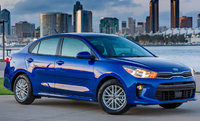 Used Kia Rio
Kia Rio Questions
Kia Rio 2012 Won't Start
I have neen reading all the questions and am curious as to why oeople mention putting the key in the ignition. The 2012 has push button. I kust spent thousands on new battery and fuel pump because ...
#3 Misfire On 2011 Kia Rio, Check Engine Light On, How Do I Fix It?
check engine light came on, car sputters, reading says #3 spark plug misfire. car has 52000 miles and I owe $10,000 should
2013 Kia Rio With Terrible Gas Mileage?
I recently bought a 2013 Kia Rio sedan 4d from a car rental location in Burien, WA. It had roughly 49k miles on the odometer and i bought it because i heard it had good gas mileage. But as soon a...
Car Won't Start Sometimes
Okay my 2012 Kia Rio won't start sometimes. I'll put the key into the ignition and try to and it won't do anything. I know it's not a bad battery, but all I have to do is take the key out and kee...
Older Kia Rio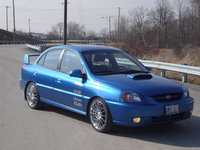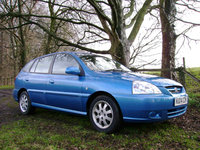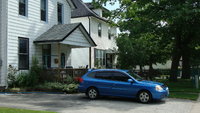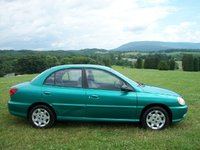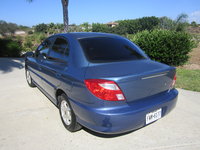 Kia Rio
Overview
Once the cheapest car in America, the Kia Rio is a subcompact sedan and hatchback designed for budget drivers. Its small size makes good use of its 4-cylinder engine, and though base models are minimally equipped, higher trims and the sporty hatch come standard with enough features to make you forget this is an economy car.
The Rio emerged in 2001 as a sedan and Rio Cinco hatchback. Based on the Kia-built Ford Aspire, the Rio was smaller than Kia's inaugural U.S. compact, the Sephia. The first Rio featured a 1.5-liter, 96-hp DOHC I4 engine with a choice of 5-speed manual or 4-speed automatic. The engine got a little bigger and more powerful over the first few years, but the Rio essentially stayed the same. The front-wheel drive subcompact came in one trim. The hatch featured standard power steering, front console, rear defrost, and tilt steering wheel, which were only options in the bare-bones sedan. Front airbags were standard, and side airbags were never available.
A slight upgrade to the front end, suspension, dashboard, and introduction of cupholders and standard power windows occurred in 2003, but it wasn't until 2006 that the Kia Rio got a whole new look. The second generation, based more on the Hyundai Accent, carried a 110-hp 1.6-liter I4 engine. The overall size and interior space was bigger and more airbags were added. The hatchback was renamed the Rio5 (or rather translated, since Rio Cinco means Rio 5), and the sedan came in both a base and LX trim. Once again, the base had no air conditioning or power features, which you could find on the LX. In 2007, the sedan gets a sporty SX trim that carries many of the same features as the Rio5 SX.
Though it's purely no frills, the Rio's price tag makes it an attractive option for drivers on a budget. Good fuel economy and a decent engine (for the Rio's light weight) make it fun to drive and overshadow the strained acceleration and cramped backseat. There is supposedly a Rio hybrid in the works, but no date has been set yet for its release.