Hyundai Accent
Model Overview
About the Hyundai Accent
Available Now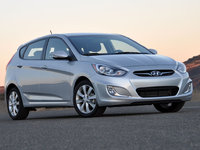 Fun-loving fuel-conscious drivers will find much to appreciate about the 2011 Hyundai Accent. Zippy and deceptively spacious, the Accent is built to please the spontaneous small family without cutting into the fun budget.
Everything you loved about the last Accent is still in this year's model, but rumor has it there's a re-design slated for 2012. Available trims were shuffled a bit, replacing "Blue" with "GL" for the baseline hatchback. The GL's upscale brothers include the midrange GS hatchback, high-end SE hatchback, and the GLS sedan.
New features this year include two exterior colors, an upscale stereo, Bluetooth and satellite radio connectivity, and an iPod/USB port for all models with an MP3 auxiliary audio jack standard in the GS only. The SE lost its power sunroof as a standard feature to decrease production costs, but it is still available as an option.
Hyundai helps you get all 28 to 36 miles out of every gallon with an Eco indicator for the Accent's 1.6-liter, 110-hp inline four-cylinder (I4) CVVT engine. The GL gets only the 5-speed manual transmission, also standard equipment in the SE and GLS, for 28/34 mpg. The 4-speed automatic transmission getting 28/36 comes standard in the GS and is an option for all but the GL.
However, the Accent is definitely a budget car. Antilock brakes come standard only in the SE and are not at all available - even as an option - for the GL. The automatic transmission also takes a full 2 seconds longer to reach 60 mph than the manual and may be a bit underpowered for steep hills with a full load. Speaking of full loads - the Accent's soft suspension is likely to bottom out with too much weight, so don't offer to pack up and transport the soccer team if you value your undercarriage.
Drivers love the Accent's fuel economy, supportive seats, roaring stereo, relatively quiet cabin, massive cargo space and, of course, Hyundai's generous warranties. The only major complaints are about the small gas tank (less than 12 gallons), lack of cruise control and other features typically standard in today's cars, and an uncomfortable backseat for adults.
Otherwise the fun-to-drive Accent is a light-duty compact ready for almost anything.
Model History
Replacing the Excel as Hyundai's compact entry, the Accent topped company sales charts for the first two years after its 1995 debut. Although North American sales have been consistently strong throughout the car's history, the Accent is most acclaimed in Australia, where it was voted the nation's best small car in 2000 and '01. This after being Australia's third best-selling car in '96 and '98, making it arguably the most successful imported car in the nation's history.
The '95 Accent came as a compact sedan and three-door hatchback with a 1.5-liter, 92-hp I4 engine. The '96 and '97 Accent gained a full 13 horses on a facelift adding a DOHC engine, but Hyundai reverted to a 1.5-liter, 89-hp engine thereafter. You could get antilock brakes in any Accent with an automatic transmission through '98, then the feature was discontinued altogether until 2005.
Engine output and features didn't vary much from the '98 Accent until a 1.6-liter, 104-hp engine was dropped into a 2001 model and made into the standard for 2003 and beyond. Front-seat-mounted airbags were also standard equipment for the '03 GL, and then for all models in the two following years.
Undersized 13-inch wheels hampered handling and braking, though, and that wasn't much improved in the '04 and '05 models with 14-inch wheels and a firmer suspension - but at least ABS was an option in the '05.
The 2006 Accent came in only sedan flavors but with impressive fuel economy between 28 and 36 mpg. The next year saw the addition of GS and SE hatchbacks, all netting between 26 and 35 mpg with that same 104-hp engine. Hyundai kept those tried-and-true configurations and hasn't changed much at all since the outset of the third-generation Accent.
The Accent's fuel economy and power were slightly improved in '09 - bumping power up to 110 horses with fuel economy between 24 and 33 mpg - along with the addition of an economical Blue trim. The SE gained cruise control, sunroof, and USB connectivity, while the GS was afforded an ABS option. The upscale SE gained again in 2010 with the standard addition of previously premium options.
Although some of those features were dropped as standard additions to the 2011 models, all but cruise control can be added back through options. The changes make for a basic, zippy little new car - complete with Hyundai's generous warranties - at used-car prices. However, drivers looking for the feature-filled "wow" typical of today's Hyundais should probably look elsewhere.
Used Versions
The Accent hasn't changed much since its debut in 1995, but that doesn't mean you should go clamoring headlong for a '97 just because it has ABS and an itty bitty pricetag. Hyundai was not known for its quality before '99. Indeed, Hyundai was the laughingstock of the industry, licensing its motors from Mitsubishi (an equally shoddy manufacturer at the time) and throwing together cars best showcased next to the other knockoffs at a flea market.
Even still, a '96 or '97 Accent could be a great buy at less than $1,500 if you're satisfied with the paper trail of repairs. The 105-hp DOHC engine is second only to the 110 horses in the '09 and newer models, and ABS is available for models with an automatic transmission.
However, make sure the repair trail includes things like a modified transmission control module, transmission rebuild, end clutch replacement, in-tank fuel line replacement, new power-steering bracket, and new pulse generator - or expect those repairs to come out of your pocket, as failure is almost guaranteed. Watch out for harsh shifts, transmission slips, hard starts, buzzing noises and the check-engine light when you test drive a '96 or '97 Accent, as they are telltale signs of those problems.
If you care about stopping before the end of the world, definitely look to the '05 and newer models equipped with ABS. The feature was rarely standard, so don't assume it's in your pick of the litter, and also expect to invest in good tires for your '05 - the 14-inch wheels make handling and braking somewhat less than fun. Maybe you will get lucky and find someone offering an '05 with new tires for the $5,000 average asking price.
The '06 sedans are the best of this bunch for fuel economy (28/36 mpg), but the '09 and '10 are prime picks for power and high-end features, especially in the SE. The '06 goes for no less than $6,000, and expect to fork out five digits for an '09 or '10 - but it's still less than you would pay for a comparably equipped 2011 Accent.
The '05 is a hardy make with few problems, but you can expect the typical transmission woes and even more so in the '06, in which total transmission failure is a common problem. Watch out for leaks too, especially oil from the differential and transmission fluid. Don't mind the low tire-pressure warning light, though - it just lights up from electromagnetic interference. Otherwise the '05 through '10 models are golden on reliability.
If antilock brakes are low on your list, the 1.6-liter, 104-hp engine in all '03 and newer Accents makes for a powerful, highly reliable, and inexpensive alternative at 3 to 5 grand. Anything older is severely under-powered with fewer safety features. Although slightly larger tires and a firmer suspension in the '04 and '05 improved the braking and handling of this generation, you should still expect to invest in good tires for any Accent between '03 and '05 - but these years have exceptionally few problems otherwise.
New Hyundai Accent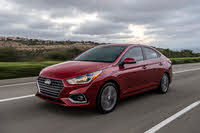 Used Hyundai Accent