Honda Insight
Model Overview
New Honda Insight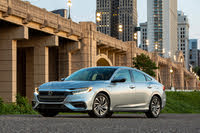 Used Honda Insight
Honda Insight
Overview
The Honda Insight debuted in the United States in late 1999 and was the first hybrid (gasoline/electric) automobile available in the U.S. With fantastic fuel economy, this is certainly a technology we all should take seriously.
The Insight has a small three-cylinder motor and electrical backup to help with acceleration, but drivers should be careful how much and how hard they accelerate, since that drains the battery.
The Insight comes with a specially designed five-speed manual transmission and has an aerodynamic design to maximize fuel efficiency. The Insight can go up to 70 miles on one gallon of gasoline.