GMC Savana
Model Overview
New GMC Savana


Used GMC Savana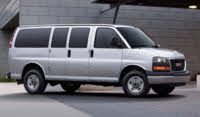 GMC Savana
Overview
Long enough to carry the family without getting mistaken for the Mystery Mobile, the GMC Savana offers consumers a full-size domestic van that gets 14 mpg in the city and 18 on the highway. Seating capacity comes in at 8, 12, or 15 depending on the trim. As of 2007, the Savana gives you your choice of 5.3 L, 295 hp or 6.0 L, 300 hp V8 powertrain.
This van has undergone two major changes since its inception 1996. In 2003, the Savana started offering all wheel drive and in 2007, it turned to an exclusively V8 powertrain lineup.
In any event, the GMC Savana has demonstrated solid staying power and looks ready to adapt to any changes that may come its way in the market for vans.