New Ford Flex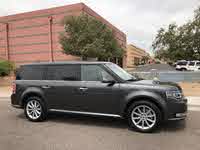 Used Ford Flex
Ford Flex Questions
Can I Put Diesel Fuel In A Flex Fuel Vehicle?
2015 Ford Flex Power Stearing Assist Problem In Cold Weather?
Doors Looking It Self With Likes Flashing
So my car is making a clicking sound as it locks itself even when car is running lights are flickering as if I was pushing the lock button continues to do it even if I lock the car what could this ...
Air Conditioning
Air conditioning won't turn on but heat fies
Air Conditioning
Air conditioning won't turn on but heat does
Ford Flex
Overview
Taking cues from the past to bring itself into the future, Ford has ditched its minivan lineup and replaced it with the retro Ford Flex. Feeling that consumers are tired of the boxy blandness and suburban stigma assocated with minivans, Ford revitalizes the genre with a stylish head-turner that recalls 1950s station wagons, yet serves up enough innovative features to appeal to the modern family.
Set to debut in the summer of 2008 as a 2009 model, the Ford Flex will be powered by a 3.5-liter, 265-hp V6 and 6-speed automatic to start, but may add Ford's new Twin-Force V6 as well. Three trims will initially be offered (the SE, SEL, and Limited), with a Lincoln trim likely for 2009. Both rear-wheel and all-wheel drive versions will be available. At 202 inches long and with a 118-inch wheelbase, the Flex will be Ford's longest crossover, able to seat seven in three rows. Convenience features will include voice-activated navigation, keypad entry, a second-row fridge, and the new Ford Sync entertainment system.
Recognizing the American family's growing attraction to sleeker crossovers, Ford hopes the MINI-like looks of the Flex will inject a jolt of energy into the stagnant minivan segment.