Ford Five Hundred
Model Overview
Used Ford Five Hundred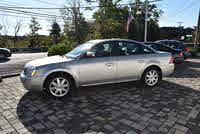 Ford Five Hundred Questions
WILL NOT ACCELERATE
IF HAVE DID THE FUEL PUMP FUEL FILTER INJECTORS THROTTLE BODY AND GAS PEDAL
Part Name
Part has 3 lines, 1 air hose from engine with 2 small hoses on both sides
Car Will Not Start Clicks But Wont Turn Over Battery Good Starter Good Need...
just wants to click when key turned on. lights come one everything works just wont turn over
2005 500 Pcv Valve Location
where is the pcv vavle on a 2005 ford 500 limited
Check Charging System Light
I have a 2006 ford 500 and recently had to replace my alternator and battery. After all was put back together car ran until "check charging system" light came on and all my electrical shut off as I...
Ford Five Hundred
Overview
The Ford Five Hundred is Ford's replacement for its oft-troubled Taurus. Released in 2005, it has a sharper design-most likely a beneficiary of Ford's acquisition of Volvo.
The Ford 500 has plenty of interior room, but maintains good gas mileage for the extra cargo it may carry. The seating is much higher than that of the Taurus, giving its drivers a more commanding view of the road.