Ford F-450 Super Duty
Model Overview
New Ford F-450 Super Duty

2019 Ford F-450 Super Duty
Used Ford F-450 Super Duty
Ford F-450 Super Duty Questions
No Start
I have a 1990 f450 7.5L engine I replaced the distributor to get spark to the plugs. I'm not for sure about the injectors they have a small voltage , used a GM noid light but it didn't flash,the fo...
2008 F450
2008 F450 under hood fuse block relay 53 getting hot, wire is light brown with yellow stripe, what is this feeding that I should check? Not crew cab.
Legit Offer ?
I accepted an offer from GuruT8ZG7 and since then the offer has disappeared and I get no reply other than an initial "yes" reply to, is the truck still available?" Is this a legitimate offer ?
2015 E450 Ford Where To Find Fuse For Electric Adjusting Mirror
WHERE TO FIND FUSE FOR ELECTIC ADJUSTING MIRROR
1997 Ford Econoline V10 - Electrical Upgrades For Towing
Towing my Jeep using 12v power from my motorhome to power brake and signal lights are too dim. Unattached, my Jeep lights are bright and very appropriate. What do I need to upgrade in my Class C...
Older Ford F-450 Super Duty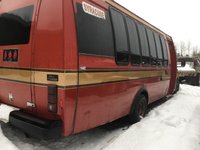 1998 Ford F-450 Super Duty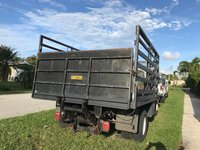 1997 Ford F-450 Super Duty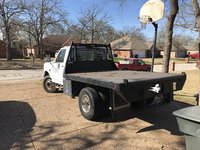 1996 Ford F-450 Super Duty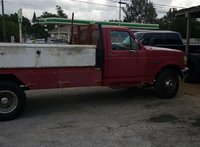 1995 Ford F-450 Super Duty
Ford F-450 Super Duty
Overview
Ford's hard-working Super Duty line of pickup trucks was redesigned and expanded for 2007 with the addition of the Ford F-450 Super Duty. It joins the Ford F-250 and the F-350 in the Super Duty lineup.
As its designation indicates, the F-450 is the most powerful of the bunch, with the highest towing capacity of any non-commercial vehicle in the U.S. It's capable of towing up to 24,500 pounds with a fifth-wheel hookup. That makes it the truck of choice for drivers who need to tow trailers, RVs, boats or other heavy loads.
The Super Duty series has been completely redesigned for 2008, the first revamp in a decade, and the F-450 is a beneficiary of that redesign, since it sports a bold new exterior design as well as all sorts of cutting-edge features.
Design-wise, the F-450 has a large, imposing grille stamped with the Super Duty name, stacked front headlights, sculpted fender flares, and embossed fender vents that release engine heat. Optional PowerScope mirrors adjust, telescope, or fold as needed.
Power is provided by a 6.4-liter, 350-horsepower Power Stroke V8 diesel engine with dual-stage turbochargers. The engine incorporates Clean Diesel Technology and is optimized to use the latest ultra-low sulfur fuel. It's linked to a six-speed manual TorqShift overdrive transmission with a selectable Tow/Haul mode.
Other features include a toughened suspension and the first-even factory-installed integrated Trailer Brake Controller that works with the anti-lock brakes to synchronize truck and trailer brakes for seamless braking when hauling loads.
The F-450 is available with a regular cab (the XL trim), a supercab (the XLT trim) or a crew cab (the Lariat trim). The XLT trim package includes a chrome grille with platinum insert, power side mirrors, power windows, and cruise control, while the Lariat trim adds leather-trimmed front seats, a six-way power-adjustable driver's seat, a leather-wrapped steering wheel, woodgrain-style interior trim, fog lights, and polished aluminum wheels.
Other options include a Stowable Bed Extender, which splits, folds, and stows in the sides of the bed, and an integrated tailgate step.