Ford Escape Hybrid
Model Overview
New Ford Escape Hybrid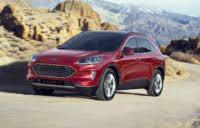 Used Ford Escape Hybrid
Ford Escape Hybrid Questions
Whatsbwrong
my 2006 ford escape hybrid cranks and then says stop safely now service emission system
2008 Escape Hybrid Didn't Start This Morning
Wife tried to start her car but engine didn't crank/start. Thought the OEM battery died, but the lights came on bright. Could the lights somehow run off the Hybrid battery? could the voltage on the 1...
Stop Safely Now
I have. A 2008 ford escape hybrid and the red triangle comes on with the message Stop Safely Now.. What is it?
I Have A 2007 And A 2009 Ford Escape And Both ACs Are Not Getting Cold. Can...
I am ready to order the part for the hot tub. Can you send me the # or something please
Emission Control Displayed & Tool Symbol
I was just pulling out my driveway when the emission control appeared on my dash. Along with the tool light symbol & check engine light. Any ideas? It did feel like it was sluggish when I pressed ...
Older Ford Escape Hybrid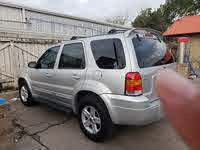 2005 Ford Escape Hybrid reviews:
Ford Escape Hybrid
Overview
The Ford Escape Hybrid is an intriguing attempt by the American automaker to bring an environment-friendly approach to the SUV market segment. The traditionally fueled Escape has caught on with drivers who want that sport utility vehicle comfort, versatility, and toughness, but who don't want a gas guzzler. With this in mind, Ford launched a gas/electric hybrid version of the Escape in 2005.
Although the Escape Hybrid's mileage has never equalled that of other popular hybrid vehicles like the Toyota Prius or Honda Insight, it's far and away superior to the mileage you'll get from a gas-powered SUV. Superior by 70%, according to Ford and the EPA: A regular Escape with an inline-4 gas engine is estimated at 20 miles per gallon city, while the Escape Hybrid clocks in at 34 city miles per gallon.
So the Escape Hybrid may be the best choice for someone who wants to drive green, but needs an SUV. As the model's mascot, Kermit the Frog, says, "Sometimes it's easy being green!" Unfortunately, it's not cheap; the Ford Escape Hybrid is one of the pricier SUVs in its class.
Find great deals from top-rated dealersTM
Search