Ford Escape Hybrid
Model Overview
Used Ford Escape Hybrid
Ford Escape Hybrid Questions
Escape Won't Shift Out Of Park
2007 Ford Escape Hybrid with 150K miles. Lately the vehicle intermittedly will not let me shift out of park. Turn it on and off several times, pushing on brake, nothing seems to work until it feels ...
Noise Under Hood When Remote Unlocking
Just bought a 2006 hybrid 40k miles. Not too familiar with hybrids. When unlocking it makes a weird noise under the hood. Is that normal for this model?
Stop Safely Now
Engine shuts down while driving and having error message of service emission soon and safe to shut down engine
How Can I Solve The Starting Problem On My Ford Escape Hybrid 2007?
I just bidded for this 2007 Ford escape hybrid and it would not dtart? what can I do?
2008 Ford Escape Hybrid Won't Start
The battery, alternator, and starter all test out as good. We get lights on the dash. If you push the key in firmly while turning it sometimes starts. I'm finding 2 problems and wondering which ...
Older Ford Escape Hybrid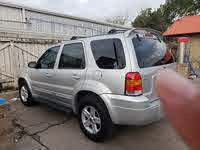 2005 Ford Escape Hybrid reviews:
Ford Escape Hybrid
Overview
The Ford Escape Hybrid is an intriguing attempt by the American automaker to bring an environment-friendly approach to the SUV market segment. The traditionally fueled Escape has caught on with drivers who want that sport utility vehicle comfort, versatility, and toughness, but who don't want a gas guzzler. With this in mind, Ford launched a gas/electric hybrid version of the Escape in 2005.
Although the Escape Hybrid's mileage has never equalled that of other popular hybrid vehicles like the Toyota Prius or Honda Insight, it's far and away superior to the mileage you'll get from a gas-powered SUV. Superior by 70%, according to Ford and the EPA: A regular Escape with an inline-4 gas engine is estimated at 20 miles per gallon city, while the Escape Hybrid clocks in at 34 city miles per gallon.
So the Escape Hybrid may be the best choice for someone who wants to drive green, but needs an SUV. As the model's mascot, Kermit the Frog, says, "Sometimes it's easy being green!" Unfortunately, it's not cheap; the Ford Escape Hybrid is one of the pricier SUVs in its class.