Dodge RAM 2500
Model Overview
Used Dodge RAM 2500
Dodge RAM 2500 Questions
99 Dodge 24 Valve Starts Up Won't Open Up Till It Gets A Mile Down The Road...
starts up but won;t open up for about a mile down the road are ready changed the lift pump
Truck Will Not Move In Any Gear
My 04.5 dodge Cummins would not shift into overdrive. I pulled over killed and tried again. Still nothing. The next day I started driving and when it hit about 40mph it revved up like it went into ...
Truck Cranks But Won't Start
Why won't my 2001 2500 Dodge ram start it cranks over but won't start I can hear fuel pump running battery is good also??
1999 Dodge Ram Extended Cab Diesel Pickup
My husband's 99 Dodge Ram ext Cab pickup is having problems keeping batteries charged, even though they are less than 6 months old. If charged and running, the truck will only idle forward or re...
5.9L Ram 2500 Heat-related Starting Problem
Older Dodge RAM 2500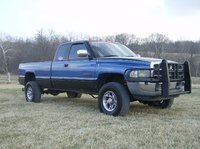 1995 Dodge RAM 2500 reviews: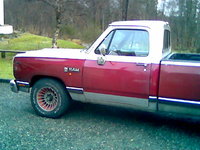 1994 Dodge RAM 2500 reviews:
Dodge RAM 2500
Overview
The Dodge Ram Pickup 2500 not only can move mountains, it can go through them. The entire Ram pickup class is the only pickup certified to be used as underground mining transport, with a modified version of its diesel engine. That is one tough truck. But the full-size Ram 2500 has distinguished itself over its 14-year history by evolving into one roomy truck as well.
When it debuted in 1994 as part of a new heavy duty lineup, the Ram 2500 was the middle offering in a group of pickups that were categorized by weight (half-ton, three-quarters ton, one ton). It came as one regular two-door cab in either rear-wheel or 4-wheel drive. It claimed to have the largest cabin in its class and led its competitors in towing capabilities. A two-row, two-door Club Cab was introduced a year later, with a 40/20/40 split folding front bench. Beds now came in either short (6.3 feet) or long (8 feet) versions. Trims ranged from the base ST, to the SLT, to the luxury Laramie, which featured leather seats. The 2500 was a great success, and its unique separate fender styling inspired competitors who ramped up their offerings.
In 1998, the Quad Cab replaced the Club Cab as the first full-size four-door pickup. It featured reverse-hinged doors that opened wide. In the face of sagging sales, the Ram 2500 received a 2002 makeover which upgraded the suspension and interior materials, and added a new 5.7-liter Hemi V8 engine with over 13,000 pounds of towing action. The revamp proved a big success and Dodge regained the lead in the pickup segment.
The Power Wagon, referencing the military and commercial wagon used in the '40s, 50's and '60s, returned in 2005 as a Ram 2500 trim. This was a pure off-roading vehicle, with a suspension, sway bars, and front and rear differentials designed to tackle rough and rocky surfaces. For those not content with the big cabin in the Quad, the Mega Cab appeared in 2006. It was as long as the Quad, but took away inches from the cargo bed to put in the cabin. Reclining rear seats that also folded flat made the Mega spacious for either cargo or passengers. Today, the Ram pickup (the most durable pickup name on the market) is still a popular choice for those looking for serious hauling power. And for those who want some family comfort and luxury, the Ram 2500 helps meets those needs as well.
Find great deals from top-rated dealersTM
Search