Chevrolet HHR
Model Overview
About the Chevrolet HHR
Available Now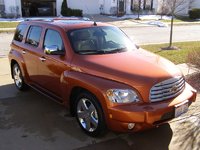 Few cars have created more buzz than the HHR, and here it is again making headlines - this time, heralding the end of Chevrolet's quirky large-cargo vehicle. Modeled after the 1949 Suburban, the "Heritage High Roof" is a dream for drivers with a love for all things large, odd, and rare - especially now with the HHR on Chevrolet's endangered nameplate list after a mere 5 production years.
Most endangered of all is the coveted SS trim, cut from the lineup this year after just 2 years of production. Aside from that, only a couple new features were added into a single option pack for this final edition HHR.
Standard equipment in every HHR includes OnStar, air conditioning, power windows, power locks, power mirrors, remote keyless entry, cruise control, trip computer, an AM/FM/MP3/CD sound system with an auxiliary input jack and satellite radio connectivity. The HHR comes as a four-door, five-passenger hatchback wagon in LS and LT trims, or a two-seat LS Panel van.
The LS gets 16-inch wheels with covers, while the LT trims upgrade the rubber to silver-painted 16-inch wheels. The 1LT adds a power driver's seat and bright trim, and the 2LT is loaded with foglamps, leather steering wheel and shifter, and an upgraded 260-watt Pioneer sound system with subwoofer.
Options include a sunroof, heated seats, and a MyLink package with Bluetooth connectivity, OnStar Directions and Connections, and USB connectivity, and for 2011 you also get a year's subscription included for XM satellite radio.
The four-bangers available in the HHR are a 2.2-liter, 155-hp CVVT engine and a 2.4-liter, 172-hp engine, both capable of running on E85 ethanol-blended fuel and available with a 5-speed manual or 4-speed automatic transmission. The 2.2 standard in the LS and 1LT gets 22/32 mpg, while the 2.4 optional in the 1LT and standard in the 2LT loses just 2 highway miles to the gallon for its additional horses.
However, the fuel economy of the 2.4 may not be significantly impacted, because the bigger number doesn't directly translate to more power - the larger engine still moves and grooves a lot like the smaller, and that is bad news. Both engines are a bit underpowered for even an empty HHR, making steep hills a laborious climb if you use all 58 cubic feet of available cargo room with the seats folded down (63 in the LS Panel edition).
Although the 2LT does seem to do a bit better with the larger engine, its ride and handling are universally rated as jerky and uninspiring. Drivers also comment on large blind spots and the soft suspension getting bouncy at high speeds. However, the HHR is surprisingly maneuverable and easy to park, and the cabin is blissfully silent.
Production is slated to end for the HHR in December, with the Chevrolet Captiva available later in the year as a comparable stop-gap option to fleets only. Since the HHR already pushed similar rides for consumers like Chrysler's PT Cruiser off the production road, it looks like nostalgia lovers will actually have to own something old for their vintage fix.
Model History
The Chevrolet HHR was the car GM executives used to exemplify its new approach to bring the company back to profitability, and for the HHR's first few years it looked to fulfill that promise. The '06 HHR went on sale in July of '05, and about 10,000 left dealerships every month through the end of 2007 - then, it seems, GM ran out of incentives good enough to keep drivers coming back.
The first HHR came in LS and LT trims with a one-piece rear liftgate, air conditioning, power windows, power locks, power mirrors, remote keyless entry, split-folding rear seat, and a fold-flat front-passenger seat for hauling long cargo. Standard power came from a 2.2-liter, 143-hp 4-cylinder with either a 5-speed manual or 4-speed automatic transmission with remote start.
The LT trims got a power driver's seat and 16-inch alloy wheels, with the option of a 2.4-liter, 172-hp I4 engine, which was the standard in the 2LT along with a sport suspension, antilock brakes, 17-inch wheels, and traction control with an automatic transmission. Curtain side airbags, OnStar Assistance, and satellite radio were available as options.
The '07 and '08 HHR are almost identical to the '06, but with 6 more horses for the 2.2 and 3 more for the 2.4 gained through a few tweaks to the same engines. As such, the later years still have the same electrical and transmission problems present in the '06, and still don't perform quite as powerfully as drivers prefer while chugging gas at a rate of 20/28 mpg.
However, the '08 HHR gained stability control, tire pressure monitoring, and OnStar as standard features, and its fuel economy was upgraded to 20/30 mpg. A more powerful SS trim also joined the lineup with a firmer sport suspension and a turbocharged 2.0-liter, 260-hp 4-cylinder engine with an impressive 19/28 mpg despite the massive power - and it quickly became the favorite. Unlike previous renditions, the HHR SS was comfortable, powerful, and fun to drive with zero disappointments.
Although the HHR managed to exceed sales of its closest comparable competitor - Chrysler's PT Cruiser - pushing it out of production in 2010, the victory was short-lived. More utilitarian and quirky-cool competitors moved to the fore, such as the Honda Element and Fit and the Scion xB. Fuel prices skyrocketed - again. Sales dropped nearly 20% in '08 despite the addition of the fun SS and would never again rise above 100,000 annual units.
Chevrolet tried to answer market pressures for something more "green" by modifying the '09 HHR to run on E85 ethanol-blended fuel and bumping fuel economy up 2 miles on every gallon. The LS and 1LT now got a 2.2-liter, 155-hp CVVT 4-cylinder, and the 2.4-liter, 172-hp 4-cylinder engine standard on the 2LT was also an option for the 1LT. The SS got its efficiency upgrade in 2010, now needing just 21/29 mpg to fuel all those horses.
2011 marks the final year for the HHR, and it rides off into the sunset without any significant changes - and without the cherished SS. Although the Chevy Captiva will fill the gap for fleets, there is no word if the Captiva will ever be available to U.S. consumers or whether Chevrolet will introduce something similar in the future - but if you read between the numbers, it's probably safe to assume all 500,000 people who wanted the HHR have it, and nobody else cares.
Used Versions
By far the best HHR is the 2010 SS, hands down, end of story. Given its rarity, however, you might end up paying more than the suggested 20 grand due to thick competition, but if you intend to use all 58 cubic feet of cargo room, those 260 horses will be exceptionally useful and well worth the investment.
Otherwise, a few loose cables aside, the '08 and newer models are excellent alternatives. Chevy managed to fix the majority of the silly issues in the prototype years, so the '08 only has a couple minor glitches like twisted terminals in the fuse block and a loose video feed cable, and you can get one for less than $10,000.
The '09 and '10 are definitely a step up with improved fuel economy and significantly fewer issues. Don't expect a strong resale value on any but the SS - you can probably win with a bid significantly less than the 10 and 14 grand suggested on the '09 and '10, respectively. If you do go the route of a non-SS HHR, don't expect strong performance, but do expect lots of room and comfort.
Longevity is really anyone's guess for this 5-year-old nameplate, but since the HHR is built on the same platform as the Cavalier and Cobalt, you can pretty much expect the same of the HHR as you would the other two.
Used Chevrolet HHR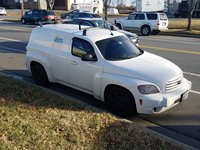 Used 2011 Chevrolet HHR For Sale
| | |
| --- | --- |
| | 6 GOOD Deals |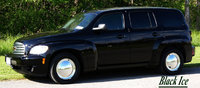 Used 2010 Chevrolet HHR For Sale
| | |
| --- | --- |
| | 9 GOOD Deals |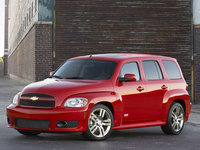 Used 2009 Chevrolet HHR For Sale
| | |
| --- | --- |
| | 11 GOOD Deals |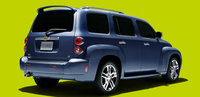 Used 2008 Chevrolet HHR For Sale
| | |
| --- | --- |
| | 11 GOOD Deals |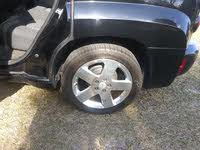 Chevrolet HHR Questions
How To Get Rear Night Lights?
In my 2006 Chevy hhr I have break light but no running lights so that ppl can see me from behind at night.
Where Do I Pour The Transmission Fluid
Where do I pour transmission fluid for 2007 Chevy Uv Hhr ??
2008 HHR Overheating
I have a 08 HHR. I've changed the thermostat and temperature sensor and put new coolant in it and it still overheats. The fan will kick on at 217 degrees and it will still continue to climb I can ...
Im Having A/C Problems.
My fans don't kick on when i run my a/c. Causing my compressor to shut down. How do i fix this problem? .
2006 Hhr Not Charging New Alternator
Find great deals from top-rated dealersTM
Search