New BMW Z4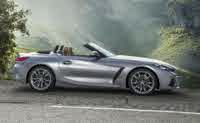 The 2019 BMW Z4 has been announced, but it is not yet available for purchase.
CarGuru's preview of the 2019 BMW Z4
Used BMW Z4
BMW Z4 Questions
Your Site Does Not - Include BMW Z4 As A Option To Search. USLESS
Bmw Z4
Battery light came on shortly followed by check engine soon and a gear with an exclamation mark, as soon as that happened steering became hard and acceleration stop working any idea what it could ...
Srs Airbag Control Module
Hi I just replaced my 03 Z4 airbag control module. It got wet and was making my car do crazy things like no dash lights. blinkers not working on dash but working on the out side. Do you think when...
My Car Squeaks Loud When I Press On My Breaks
Why do my car squeak while I'm driving and why do my car squeak real loud when I press on my breaks ?
I Can't Find My Listing?
I'm trying to finish my listing and I cant find it or edit it?
BMW Z4
Overview
Launched with the 2003 model year, the BMW Z4 was designed and modeled on the classic roadster - the sports car enthusiast's sports car. Available with six- and four-cylinder engines, later models of the Z4 race from zero to 60 in 5.7 seconds, with jumps from 50 to 75 miles per hour in 5.5 seconds.
The Z4 has been available as both a coupe and a convertible. It replaced the Z3, which was discontinued following the 2002 model year after seven years of production.