As a tour of any large parking garage in one of America's major cities would have revealed a couple of months ago, Americans have a very wide range of ideas on how clean cars should be kept. But concerns about the COVID-19 virus and its transmission have set a new and very high mark for car cleanliness, since the virus can survive on many types of surfaces to infect future users. Many Americans work essential jobs, are trying to help family and friends, and need to shop occasionally, so can't fully stop driving. Below we provide guidelines on how you can disinfect your car to minimize the chance it will infect anyone with the coronavirus.
When Should You Worry About It?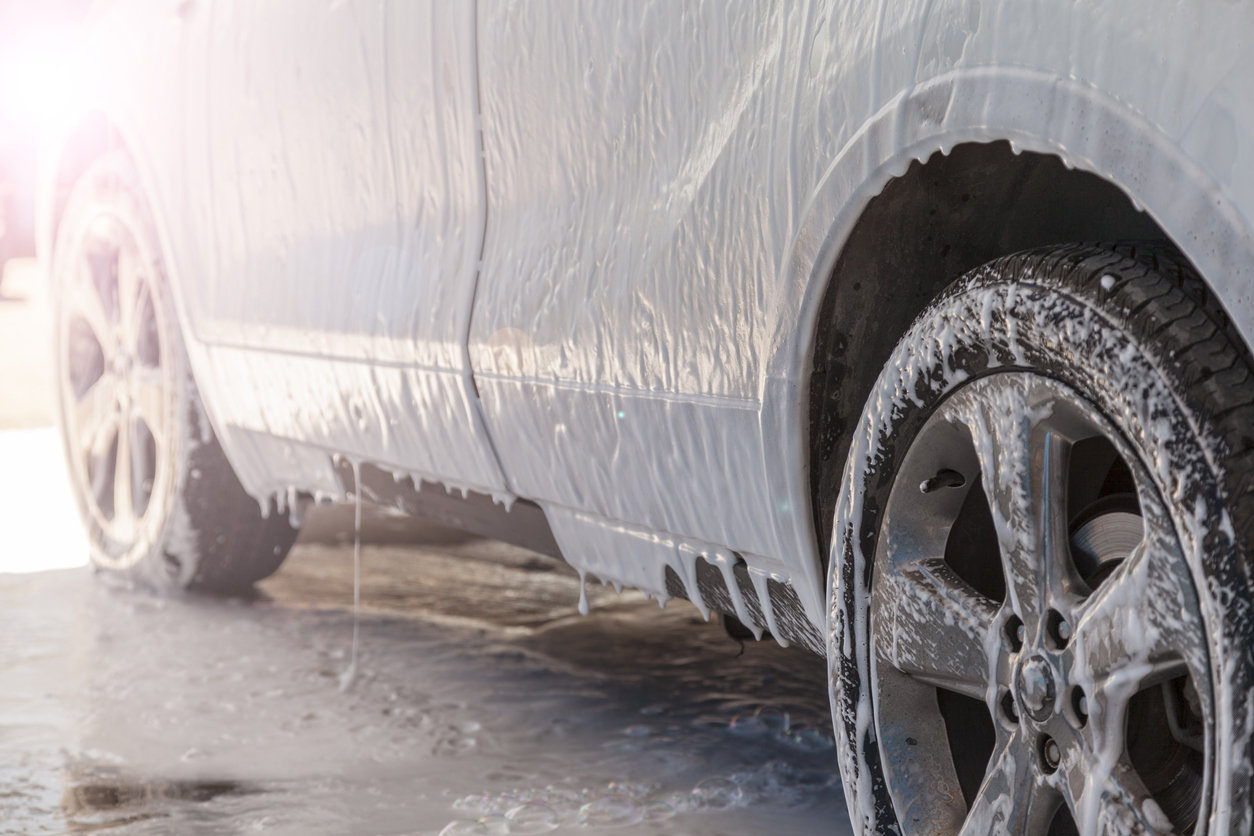 If you know or suspect someone exposed to the coronavirus has driven or ridden in your car, you should clean it. But if possible, you should wait 72 hours, or three days, after they exit your car to do so, because the New England Journal of Medicine performed a study in March that showed the coronavirus can survive on steel and plastic surfaces for that long.
Keep in mind that people with pre-existing medical conditions such as asthma, respiratory illness, heart disease, and diabetes as well as the elderly are considered at higher risk of illness as a result of the coronavirus. If you plan to transport any at-risk individuals in your car, you should definitely disinfect your car in advance.
Hit the High-Touch Areas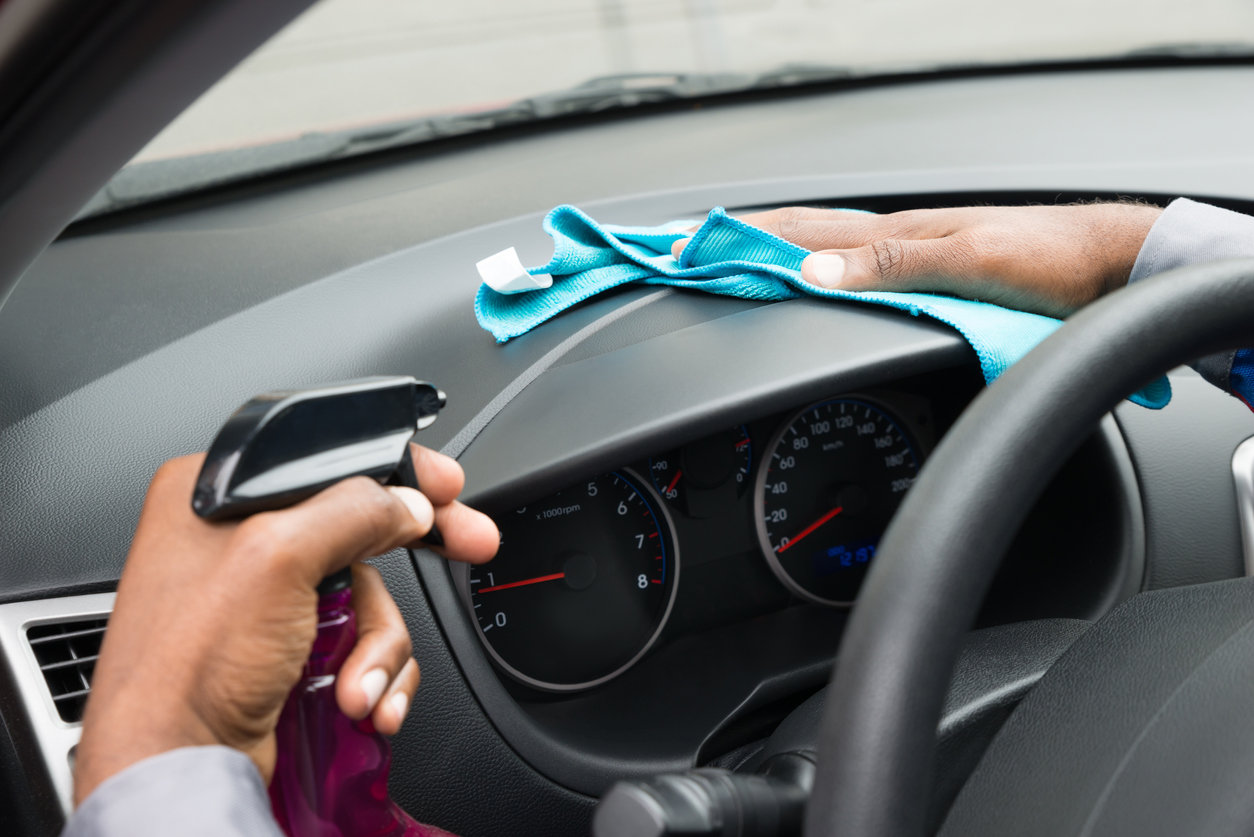 While it's not the primary means of transmission, physical contact is one way the coronavirus can spread, so you should focus your cleaning efforts on those areas that the driver and any passengers are likely to touch. Most of those areas are inside the car, but door handles, trunk and hood releases, and gas caps are exterior features worth extra attention. Inside, you should start with the steering wheel, all buttons and controls on the dashboard and each door, the shifter, emergency brake, air vents, seat controls, glovebox, rear-view mirror, USB and Aux ports, and seatbelts and buckles.
The coronavirus can also spread via droplets expelled by an infected person who coughs, sneezes, or even talks. This means that after you've cleaned all the surfaces occupants might have reason to touch in your car, you should also clean your car's dashboard, carpets, seats, stowage compartments, rear deck, and the inside of each window.
Gas-pump handles get touched quite a bit, so putting a box of disposable plastic or rubber gloves and some hand sanitizer in your car makes sense for the time being. Put on a fresh pair of gloves each time you visit a gas station to fill up, and dispose of the gloves and wash your hands after you finish.
Disinfect, Don't Just Clean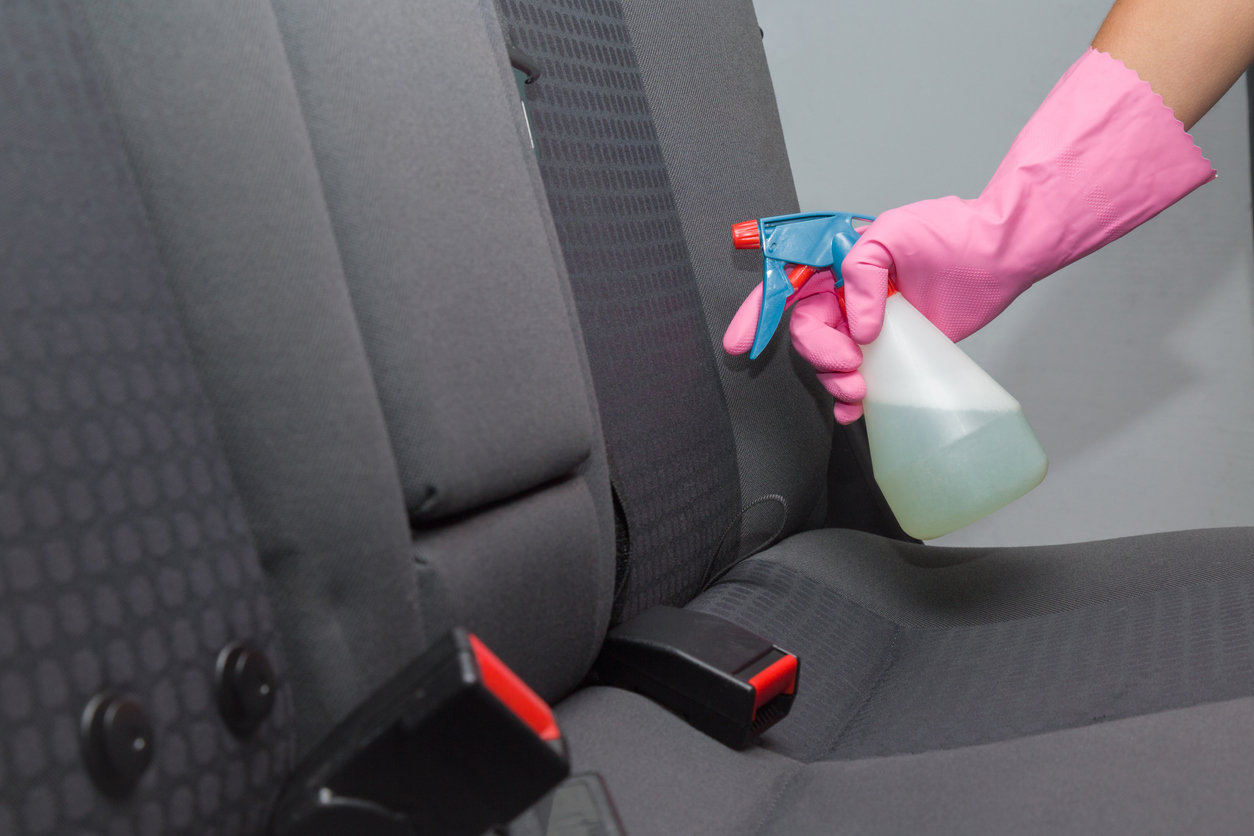 The first step to cleaning your car is to remove and dispose of anything you don't need in it, from leftover bits of packaging and waste in the cabin to extra tools or toys you tossed in the trunk and haven't gotten around to removing yet. Removing particularly big and/or heavy items will not only leave you with more room inside your car, but may even improve your mileage. Then you can use standard car cleaning products for exterior paint, interior plastics, upholstery, windows, and carpets.
But to prevent the spread of the coronavirus, you need to go beyond cleaning your car and actually disinfect it. Happily, many manufacturers now make household wipes and spray specifically designed to kill germs and viruses, and these are great tools for disinfecting your car's interior. The EPA has published a list of disinfectants effective against the virus that causes COVID-19 (you'll want to focus on column 3, which includes Product Names). Be careful, though: Any cleaning products containing bleach or hydrogen peroxide can damage some interior materials, so find products that do not contain those ingredients for use on your car (column 2 of the EPA's huge table includes active ingredients).
Wipes should work best on hard surfaces, while sprays will be more effective on upholstery and carpeting. Note that disinfection is the most important element of preventing the spread of the coronavirus, so don't take short cuts on this step.
Protect Yourself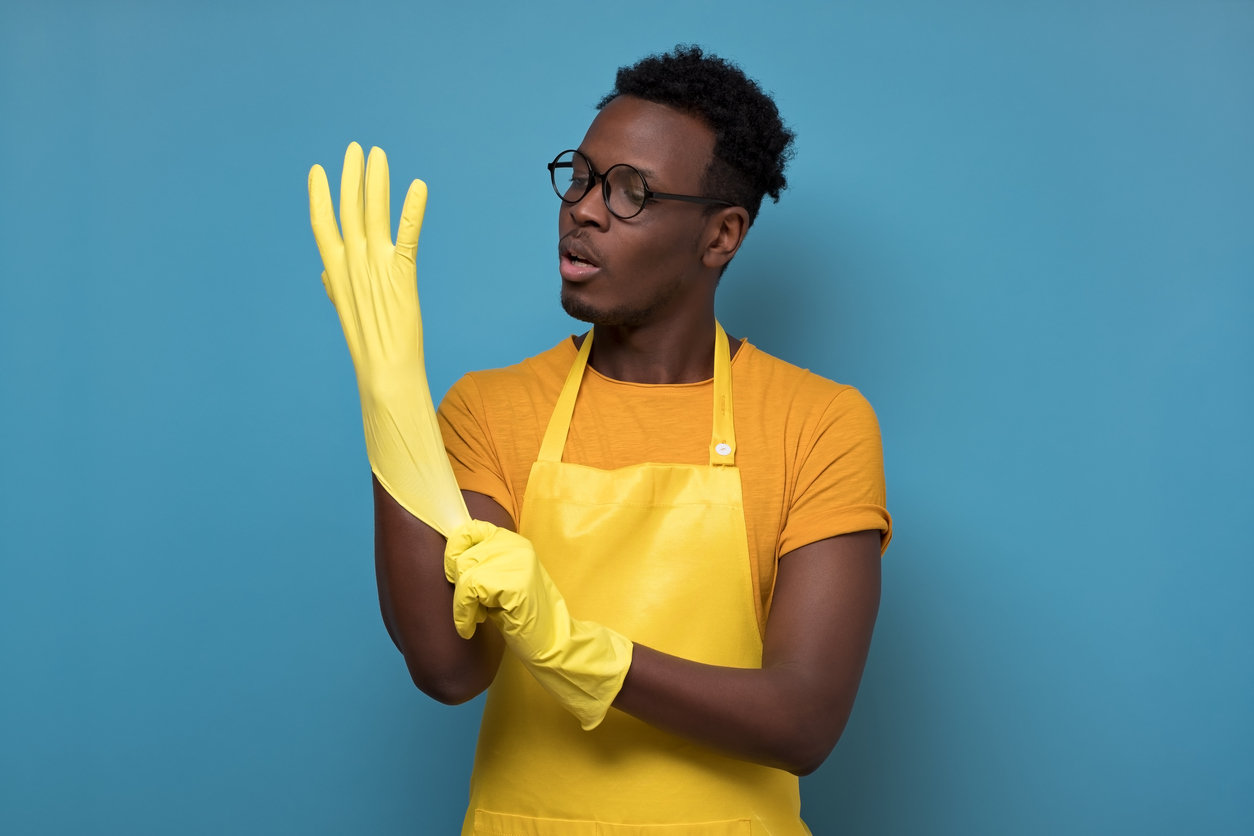 If possible, you should wear a disposable apron and gloves to disinfect your car. If not, you'll want to use an apron and gloves you can easily wash afterward.
If you know or suspect that somebody with COVID-19 has been in your car, you'll want to be even more careful. In that case, you'll want to wear goggles and a mask to cover your eyes, nose, and mouth while you clean.
Either way, after you finish cleaning your car, carefully put anything disposable you wore into a garbage bag (maybe two), seal the bag tightly, and leave it out of the way somewhere for 72 hours before throwing it away. Any non-disposable clothes you wore should be quickly washed at the highest recommended temperature and allowed to fully dry. And finish up with one final bit of cleanup everyone should be doing more regularly these days: Carefully wash your hands, with sanitizer if possible.
The Centers for Disease Control and Prevention has assembled an index of coronavirus information that includes information on how to tell whether you have COVID-19 and how to protect yourself from getting it. The CarGurus Dealer Blog has a dedicated COVID-19 resource section.
Related Topics
COVID-19 Drives Automakers to Offer Low-APR Deals and Deferred Payments
What Should American Drivers Know About the Coronavirus?
U.S. Automakers Respond to the Coronavirus Pandemic
Read More CarGurus Tips and Advice
Updated on: May 28, 2020